Businesses might not be allowed to have the liberty to sell cannabis in Liberty Township in Warren County.
A startup specializing in high-quality CBD products has started renovating a storefront near Hoboken's PATH station.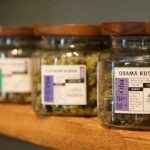 New Jersey's legal marijuana industry could get going next year, and an advancing bill has significant benefits for four of the state's largest cities.
In preparation for the state possibly legalizing the drug, the city council is looking to limit neighborhoods where pot shops could open in Hoboken.
Even if New Jersey legalizes marijuana, you will not be able to make or buy it in one Hudson County town.