The Philippine supermarket has closed their Clifton location and is holding a liquidation sale before shuttering their Newark Avenue outpost later this month.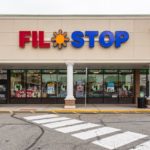 Located off Route 46 in Clifton Plaza, the 16,000-square-foot flagship is officially "The World's One Stop Filipino-Asian Shop."
The Jersey City-based Filipino grocery store expands to Clifton with a 16,000-square-foot flagship store selling 10,000 products.
Jersey City grocery FilStop will open a massive new store and restaurant at Clifton Plaza in 2018.