Home
Tags
650 Grove Street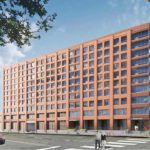 A meeting on Tuesday could be the public's last chance to weigh in regarding two proposed developments near where Jersey City meets Hoboken.
The builder behind Jersey City's Newport neighborhood just received the go-ahead to construct a 10-story mixed-use project near the Hoboken border.
The proposal by Newport Associates Development Company calls for 108 residential units, office space, and parking near 18th Street and Marin Boulevard.