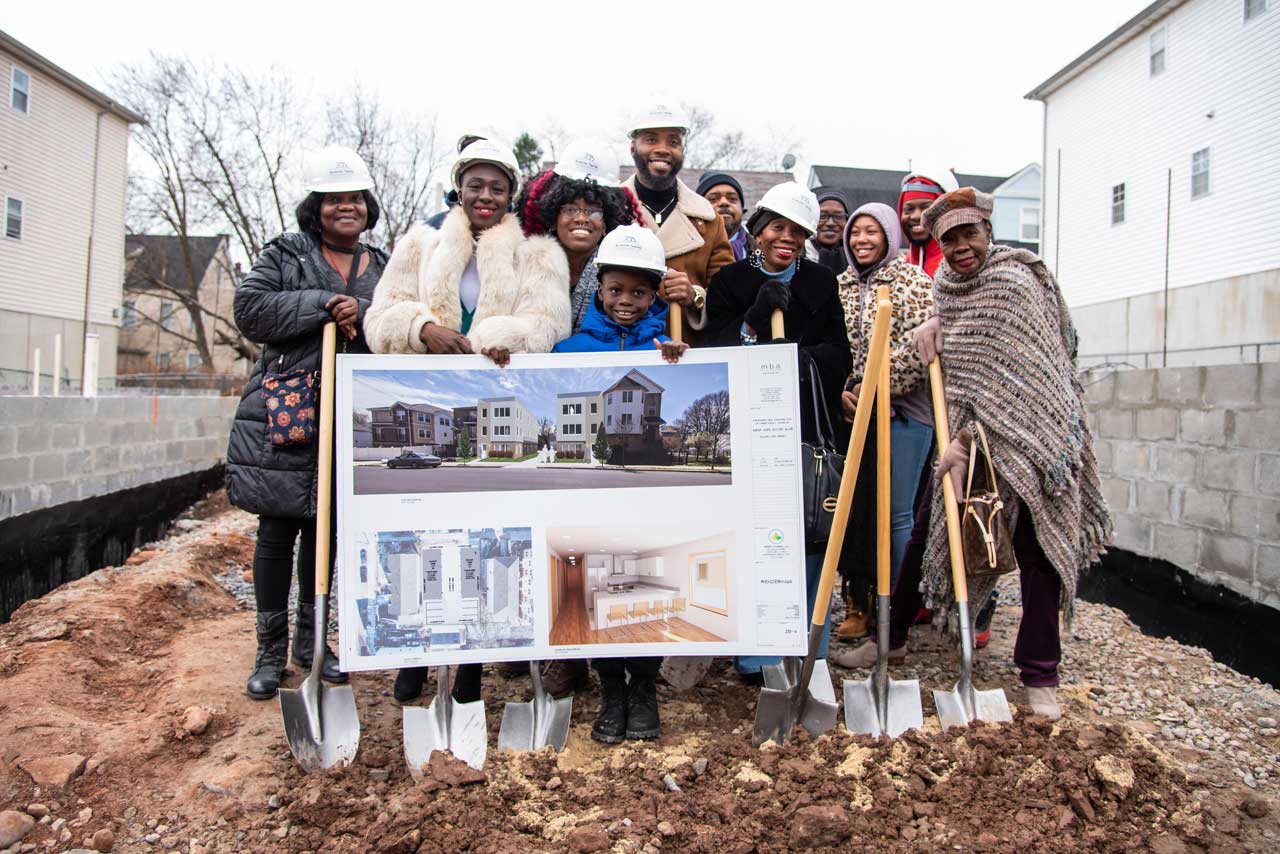 Last week, Ascension Capital Partners Siree Morris and Ryan Curran broke ground on "The Lofts at Avon," two affordable three-family homes that will be built on vacant lots that they purchased from the city of Newark in 2017.
The two buildings will be constructed at 400-402 Avon Avenue and 404 Avon Avenue in the South Ward. Each unit will have three bedrooms and two bathrooms, along with stainless steel appliances and access to a rooftop deck.
The ceremony was attended by Mayor Ras J. Baraka and South Ward Council Member John Sharpe James.
"Affordable housing is a central issue and primary focus of my administration," said Mayor Baraka. "Our groundbreaking measures like the Affordable Housing Ordinance and projects like this one are making the American dream of home ownership a reality for many Newark residents. One of the major developers in this project, Siree Morris, himself represents the American dream in action. He is a Newark native who excelled in sports and school, and has now returned to his birthplace to give back and pay it forward, to help us create a more equitable, collaborative, and empowered Newark."
Siree Morris is a Newark native and was a scholar-athlete McDonald's All-American Basketball player at University High School, where Mayor Baraka was his coach.
Morris's grandmother worked as a City Hall maintenance employee for over 25 years. After he graduated from Rutgers University with a degree in Engineering, he worked as a civil engineer in land development before moving back to Newark to work on expanding affordable housing.
"This is a very important milestone in my career. It is important for me to be an example for my community. I want us to act on the endless opportunities and influence that real estate affords. The only way to preserve our community is to own it," Morris said.
Morris and Ryan Curran own Capital Partners where they prioritize urban revitalization. Their next housing development will be located on Aster Street on the same block where Morris grew up. The development will be named "The Michael" in honor of Morris's late brother Michael Morris.
"Development outside of downtown will be driven by new developers such as Siree Morris, local residents dedicated to the rebirth of old neighborhoods working in partnership with Newark's targeted low cost land sales, and equipped with tools and knowledge learned through our small contractor/developer initiatives," Deputy Mayor Allison Ladd said.
Related: