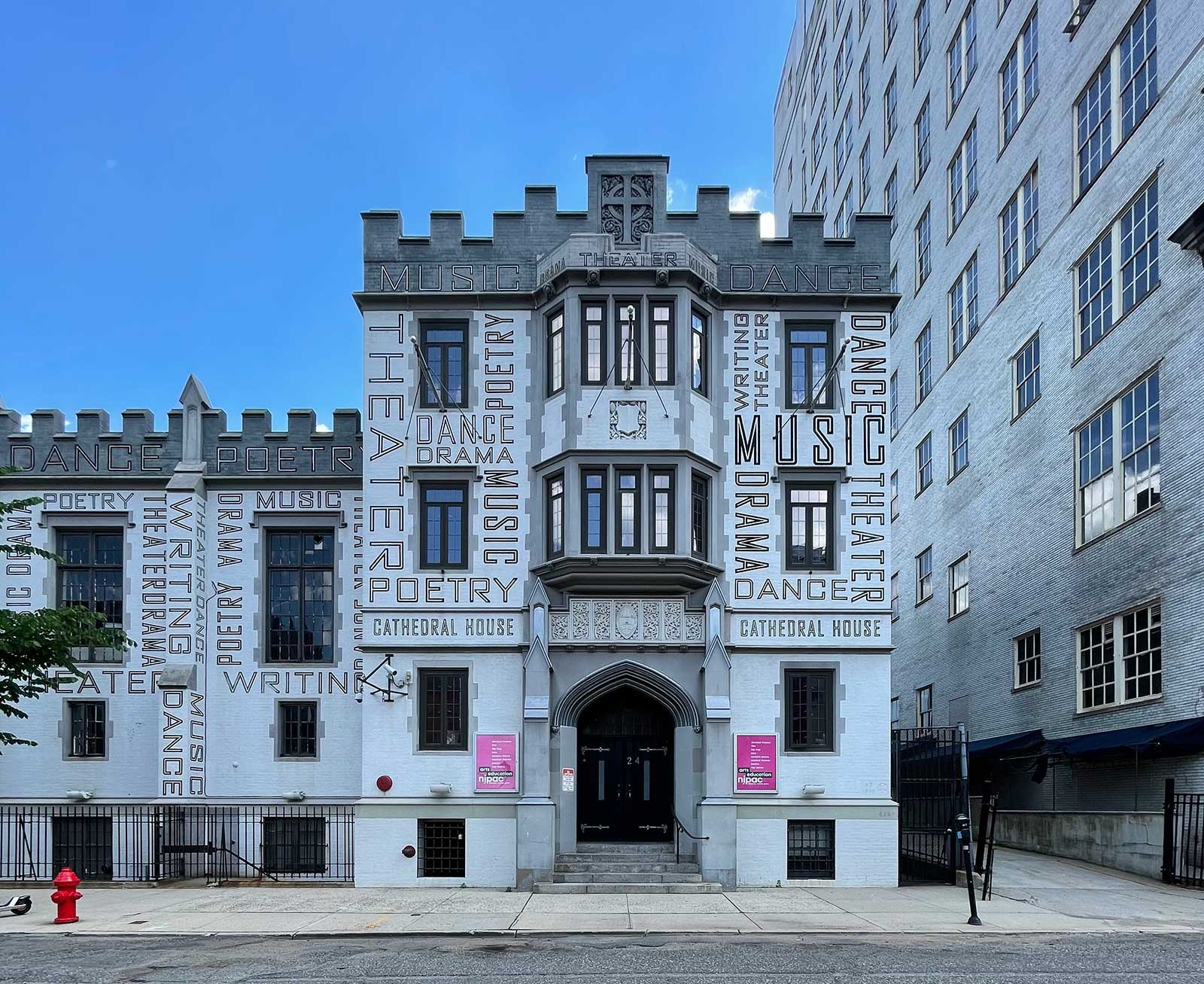 Last month, NJPAC appeared before Newark's historic preservation commission to plead its case for demolishing a protected landmark. The Cathedral House, built in 1941, stands in the way of a multi-million dollar redevelopment plan, they argued.
It was not an easy case to make. Not only is the building listed on the National Register, but it played a critical role in black history. Moreover, nothing is wrong with it structurally. As a last resort, the arts organization hired an expert to badmouth an artwork that NJPAC had commissioned and praised.
Emily Everett, an architectural historian for AECOM, testified for NJPAC that Paula Scher's well-known mural diminished the integrity of the former red-brick rectory.
"The painting of the exterior brick walls, I think, from a preservation standpoint is somewhat problematic," Everett said.
In the two decades since Scher painted her typographic mural, not once has she heard it called problematic. Quite the opposite. It was featured in books like Anatomy of Design, and was exhibited in prestigious museums, Cooper Hewitt among them.
 "I love the building — a lot of graphic designers love the building," said Paula Scher.
An anecdote appears in Anatomy of Design in which Scher, who still works for NJPAC, recalls a meeting with the organization's President John Schreiber, who asked her to "turn a dowdy old building into something that's bright and appropriate for a school."
"The building didn't have much integrity before I painted it," Scher told Jersey Digs. "What I was proud of is that it launched the revival of supergraphics."
Supergraphics, which had a cultural moment in the 70s, is an art style that uses enlarged and in-your-face letters and images as design features that communicate information. The revival spawned iconic artworks, murals, and advertisements, including Sher's Planned Parenthood mural.
Meanwhile, Newark's HPC voted 3-2 for demolition with the condition that the building's facade and entry arch be preserved. Demolition requires five yes votes. But the residents of New Jersey's largest city know well that developers find ways to get around similar restrictions. In fact, NJPAC had promised to preserve the building next to the Cathedral House as well. The former Ballantine Brewery, an art deco industrial building, caught fire after years of neglect and was considered too unsafe to preserve. Such loopholes are often exploited.
Scher said she doesn't want to stand in the way of NJPAC's progress, but she hopes the building can be saved. The plan to demolish the Cathedral House will be heard by the city's planning board on August 1. "It's an institution and it has to remain healthy," Paula Scher said. "If that's what they need — and that's the only way to do it — I don't know how to weigh the value of saving it."