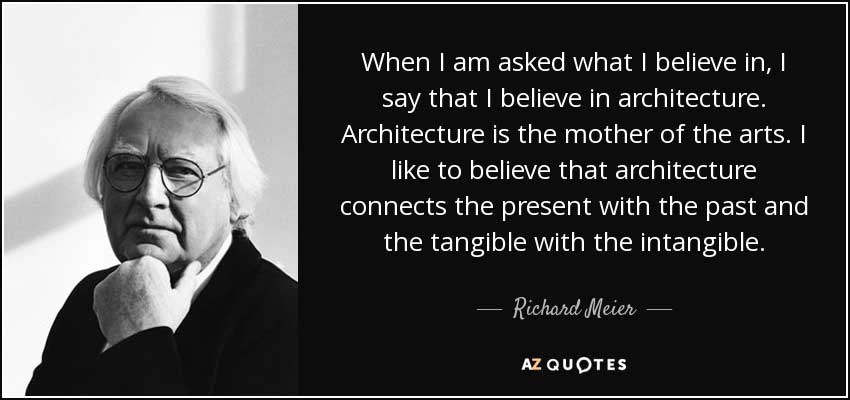 In honor of Newark's 350th Anniversary, The College of Architecture and Design at NJIT will host an famed architect Richard Meier. The exhibit, titled "Richard Meier – Newark Architect and Artist" will display works from Meier's extensive career in the design disciplines of architecture, painting, collage, sculpture and product design.
More from NJIT's news release:
Central to the exhibition will be Meier's current Teachers Village project (client: RBH Group, LLC). This mixed-use development is envisioned for downtown Newark south of Market Street and west of Broad Street. It will encompass eight new buildings, including Workforce Housing, Charter Schools and small to midscale retail located along Halsey Street between Branford and Hill Streets. These elements will provide 200 residential units for teachers, three charter schools, a day care center and a variety of retail spaces at street level.
Meier was born in Newark, New Jersey but grew up in nearby Maplewood, New Jersey. After graduating from Cornell University (1957), Meier worked for Skidmore, Owings & Merrill and then Marcel Breuer before starting his own practice in 1963. In 1972, he was identified as one of The New York Five, a group of modernist architects that included Michael Graves, Charles Gwathmey, John Hejduk and Peter Eisenman.
Meier first gained recognition through numerous residential projects, the Atheneum in New Harmony, Indiana (1979) and the High Museum of Art in Atlanta, Georgia (1983). After winning the prestigious Pritzker Architecture Prize, he was commissioned to design the Getty Center, a large museum complex in Los Angeles, California (1997), which catapulted his popularity into the mainstream. Other notable commissions include museums such as the Barcelona Museum of Contemporary Art in Spain (1995) and the Paley Center for Media in Beverly Hills, California (1996); city halls in the Netherlands (1995) and San Jose City Hall (2007); commercial buildings including the reconstruction of City Tower in Prague, Czech Republic (2008); and residential buildings such as the Perry & Charles Street Condominiums in Manhattan's West Village (2002) and the Rothschild Tower in Tel Aviv, Israel (2016).
Today, Richard Meier & Partners Architects has offices in New York and Los Angeles with current projects ranging from Taiwan and Tel Aviv to Mexico City, Hamburg and Newark, New Jersey. In 2014, Meier opened the Richard Meier Model Museum at Mana Contemporary in Jersey City. The space occupies 15,000-square feet and features architectural projects from the 1960s to the present, sculptures and collages by Richard Meier, and 1,000 books and magazines from Richard Meier's personal library.
"Richard Meier – Newark Architect and Artist" will be on view to the public from Sept. 29 through Nov. 20, 2016 with special programming to coincide with Newark's Open Doors Art Festival during the weekend of Oct. 20-23. The exhibition is open from 9:30 a.m. to 4:30 p.m. Monday through Friday or by appointment only. An opening reception will be held Thursday, Sept. 29 from 5-9 p.m. with refreshments and live entertainment. CoAD Gallery is located on the second floor of Weston Hall, NJIT campus (on the corner of MLK Boulevard and Warren Street).
Read More: CoAD to Present Exhibition of Famed Newark-born Architect Richard Meier Sept. 29 – Nov. 20
[gmap height="250px"]381 Dr Martin Luther King Jr Blvd, Newark, NJ 07102[/gmap]
Weston Hall – 381 Dr Martin Luther King Jr Blvd, Newark, NJ 07102