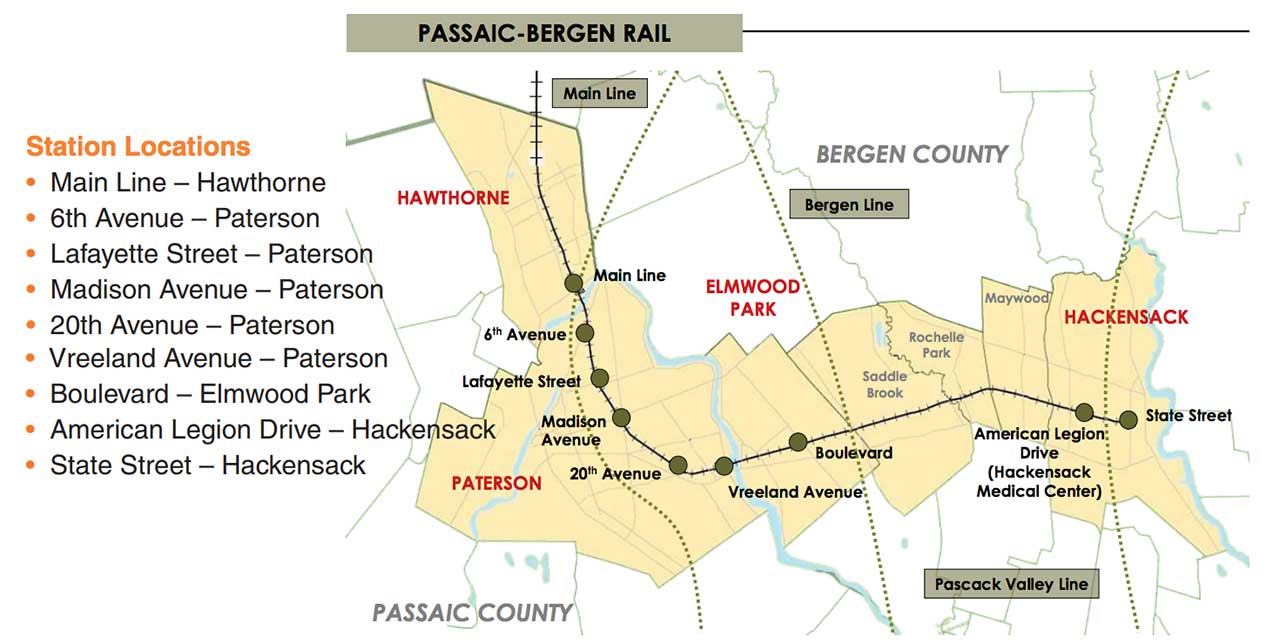 After several years of inaction, plans are once again advancing to develop a new NJ TRANSIT train line on an existing railroad right-of-way through a densely populated corridor in Passaic and Bergen Counties, with a potential extension to Hudson County.
Jersey Digs has learned that the Newark-based State agency is resuming the Passaic-Bergen Passenger Service Restoration Project, which was initially proposed over a decade ago. The proposal calls for offering train service from the existing Main Line train station in Hawthorne and several neighborhoods in the eastern section of Paterson in Passaic County before crossing the Passaic River into Bergen County and passing through Elmwood Park, Saddle Brook, Rochelle Park, and Maywood, terminating on State Street in Hackensack, the county seat.
A NJ TRANSIT report from 2008 stated that seven intermediate stations are proposed, including 6th Avenue, Lafayette Street, Madison Avenue, 20th Avenue, and Vreeland Avenue in Paterson, Boulevard in Elmwood Park, and American Legion Drive near Hackensack University Medical Center in Hackensack, and that construction could have begun as early as 2009. Eventually, rail service could be extended to the Tonnelle Avenue Station on the Hudson-Bergen Light Rail in North Bergen or another station on the upcoming Northern Branch light rail to offer "a seamless connection," according to NJ TRANSIT records. At the time, the agency also reported that service would operate on an additional track every 15 to 30 minutes from 5:30am until midnight, and that all stations will be wheelchair accessible and will include surveillance cameras.
Diesel trains would operate on the railroad right-of-way that has stood in these communities for over a century. It is currently owned by Cooperstown, New York-based New York, Susquehanna and Western Railway, which operates freight service on the line. According to the Maywood Station Museum, trains have been operating along the route since the New Jersey Midland Railway laid the tracks in 1872, and privately operated passenger service ran alongside freight trains until 1966.
The City of Paterson's Urban Supplement Report from the 2008 New Jersey Long-Range Transportation Plan stated that Passaic-Bergen "is considered a high priority project as it would provide an additional transportation option for approximately 300,000 people and 100,000 jobs located within one mile of the corridor," adding that "the stops, particularly within Paterson, will create new opportunities for transit-oriented redevelopment, especially brownfield sites."
Now, NJ TRANSIT has issued a Request for Proposals (RFP) for "to engage consultants to provide professional services for an update and assessment of the current conditions…of the proposed project region." According to the RFP, "the intended outcome is to identify the most viable transportation plan to serve the communities in the project area." The selected consultant would be responsible for roles such as designating a project manager, researching the purpose and need for the project, collecting data, preparing a feasibility statement, community engagement, researching alternatives, and estimating costs and ridership.
A pre-proposal conference meeting was held on Tuesday, August 8th, and proposals are due by September 6th. The Technical Evaluation Committee, which will include officials from NJ TRANSIT, Bergen County, Hudson County, and Passaic County, will look over all proposals, and a contract is expected to be awarded by January 2018.
The planned restoration of passenger service along the line has recently received support from many local officials. According to the Hackensack Daily Voice, resolutions in support of the project were passed by the municipal councils in Elmwood Park, Hackensack, Hawthorne, and Paterson.