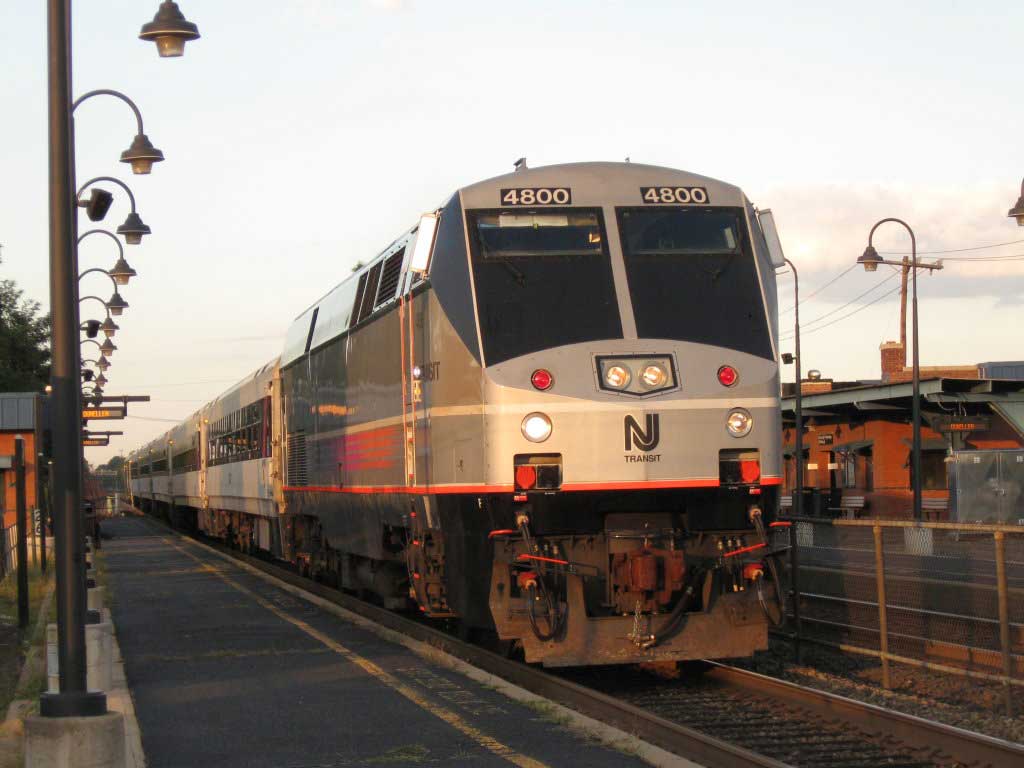 New Jersey Transit (NJT) is looking into the possibility of bringing back transit service on two unutilized rail lines in Essex and Hudson counties but is releasing barely any information regarding its plans.
The Newark-based statewide transportation agency revealed in its 2017 Annual Report that it has conducted initial work for the Boonton Line–Orange Branch Transit Utilization Study, which reportedly aims to find out what "transit opportunities" could come to these two former railroad routes.
Lisa Torbic, NJT's Senior Public Information Officer, told Jersey Digs that "the goal of the Boonton Line-Orange Branch Transit Utilization Study is to examine the feasibility of utilizing the unused portions of the Boonton Line and Orange Branch rail corridors between Montclair, Belleville, and Secaucus to build capacity and resilience into the NJ TRANSIT network by exploring multiple modes of transportation." However, Torbic stated that the study is in its early phases and that she could not provide a timeline or additional information regarding a possible restoration of service on these routes.
Today, trains on NJT's Montclair-Boonton Line operate on the original Boonton Line from places such as Hackettstown and Montclair State University to the Walnut Street Station in Montclair, from which they travel on a small stretch of track known as the "Montclair Connection" to the former 162-year-old Montclair Branch at the Bay Street Station. Trains then continue on to Hoboken Terminal or New York Penn Station. However, until 2002, all commuter trains on this route traveled from Walnut Street to Hoboken using the rest of the original Boonton Line tracks, sending service through communities like Newark's North Ward and Kearny on the way.
In 2004, the Associated Press reported that NJT would not bring service back to the lower Boonton Line because it would cost $72 million for repairs and capital improvements, in addition to a $3 million per year operating cost. Subsequently, the private New York & Greenwood Lake Railway proposed operating their own independent commuter rail service on the line, but those plans never came to fruition.
Meanwhile, trains on the former Orange Branch traveled from a junction with the lower Boonton Line near the corner of Greenwood Lake Street and Highland Avenue in Newark's North Ward before operating southwest through Belleville, Bloomfield, East Orange, Orange, and West Orange. The line opened in 1876 as the Erie Railroad's Watchung Branch, according to East Orange in Vintage Postcards, and connected suburban Essex County with Jersey City's former Pavonia Terminal. Joe Fagan wrote in Stories of West Orange that "the Erie Railroad helped play a vital role in the development of West Orange over a century ago before being slowly replaced by progress and practicality," explaining that passenger trains stopped operating in 1955 and freight service ended a little over a decade later.
Today, some tracks remain, but most of the former Orange Branch's route currently sits vacant or has been redeveloped into parking or industrial use. The one exception is a stretch of the right-of-way between South Franklin Avenue in Newark and Grove Street in Bloomfield, which is occupied by NJT's Newark Light Rail.
Although Torbic was not able to reveal exactly what parts of the former Orange Branch and Boonton Line could be used for transportation once again, the news of this study comes as plans by non-profit organizations like the New Jersey Bike & Walk Coalition are advancing to convert much of the abandoned lower Boonton Line corridor into the Ice & Iron Greenway. As we reported earlier this month, the greenway, which is also being referred to as the Essex-Hudson Greenway, would allow pedestrians and bikers to use the right-of-way to travel between Montclair, Glen Ridge, Bloomfield, Belleville, Newark, Kearny, and Jersey City. The impact that the Boonton Line-Orange Branch Transit Utilization Study will have on those plans is not yet clear.