Guest post by R. Ballantine
During my usual dig through Newark's historical archives, I came across a peculiar piece of our city's history. In 1947, the Central Planning Board issued its newest Master Plan. In it, you will find the usual suspects… statistics, population projections, traffic pattern studies, proposals for new schools and housing projects… the usual stuff. Then you arrive at pages 131 and 132, and suddenly things get interesting. There you will find the diagrammatic plans and an aerial rendering for what was to be Newark's own version of Lincoln Center.
As you probably know, this cultural center never made it past this report. What was to be the last piece cementing Newark as the state's capital of high culture became another shelved dream in a city whose fortunes were driving off into the sprawling wasteland of lawn munchers and Formica. We would eventually get our performing arts complex in the form of NJPAC, but before this piece of cultural infrastructure was built, someplace else had to step in. Filling the role of Newark's center for Drama and Music.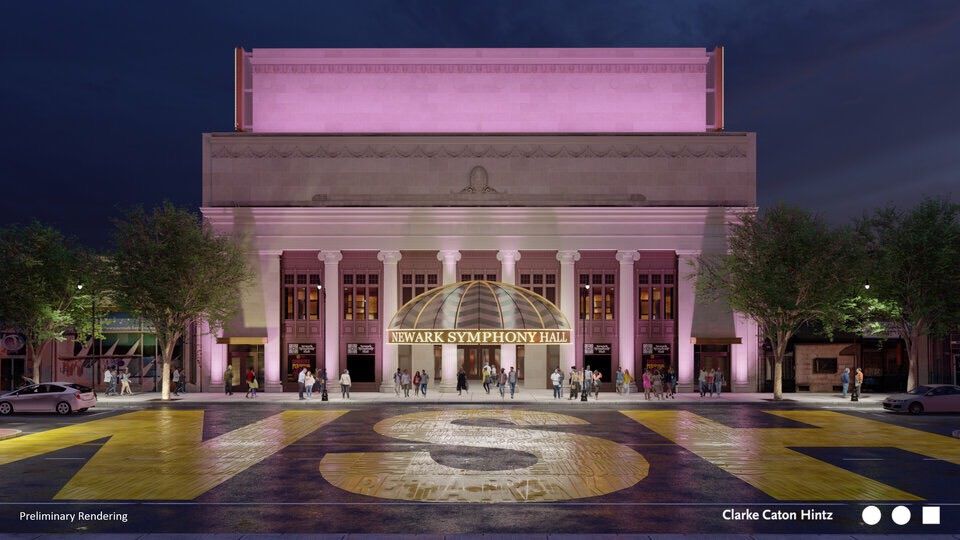 Originally built as a Masonic temple, The Mosque Theater became the home to New Jersey Symphony Orchestra in 1964, later renaming it to Newark Symphony Hall. It's classical exterior and sumptuous interiors certainly give the aura one would expect from a high-brow concert hall, however the same could have been said of the other theaters that existed at the time.
The Mosque Theater was struggling to keep itself open along with The Adams, The Paramount, The RKO Proctor, and countless other smaller neighborhood theaters. One could say that Symphony Hall got lucky, because it lacked the architectural excess and over-embellishment that the other theaters had. Those theaters were places designed to appeal to 'low-brow' amusements like Vaudeville, Hollywood Musicals and Spaghetti Westerns… not Verdi and The Ring Cycle. And so, Symphony Hall succeeded in becoming another center of civic culture such as our Library and Museum.
Even when NJPAC was completed in 1997, it remained a part of our city's creative sphere, sponsoring music and theater, poetry and lecture series, festivals, and community programs. To many Newarkers, Symphony Hall is an institution that evolved to meet the ever-changing cultural and civic landscape of our city.
What is disconcerting, is that we only focused on preserving spaces for erudite cultural endeavors, and we discarded our popular culture in the process. The Paramount Theater is now just a marquee, its roof having collapsed during a storm in 2021.
The Adams and The RKO Proctor may stand, but they also run the risk of meeting the same fate. The Little Theater, originally dedicated to German expressionist film, ended its life as a seedy and decrepit adult movie house.
We celebrate NJPAC and Symphony hall as the best Newark can offer in the dramatic and musical arts, but the average Newarker is not donning suits and fine dresses to go watch the NJSO perform Beethoven's 5th.
When a Newarker wants to go see a movie, they are either relegated to traveling to the suburbs or to neighboring towns such as Jersey City. When Newarkers want to see a play by independent theater companies, they resort to crossing the Hudson River.
There is nothing stopping us from re-activating and rehabilitating the theaters that are still standing in downtown Newark. They can contribute once again to energizing our city as a capital of entertainment for people of all ages and demographics.
Streaming services may be killing the movie megaplexes of the suburbs, but people now more than ever are clamoring to support great stories and songs performed by local and rising talent. Nothing can compare to the feeling one has when they sit in their seat, inside a lavish and extravagant auditorium, waiting for the lights to grow dim, so that for a few hours you can become lost in the frivolity of the stage, or the magic of the silver screen.