A storied arts venue in Newark has reached a milestone in its $50 million restoration. Symphony Hall, renown for its immense auditorium and world-class acoustics, unveiled images of a redesign that pays homage to the past with contemporary features like modern lighting and a street mural.
It is testament to architect Frank Grad's original design that little of the Neo-classical exterior is touched. The most prominent feature is a re-envisioned glass marquee inspired by its predecessor. The old marquee, which had become iconic to the venue, was installed during Alex Bennett Kahn's 1965 renovation.
This respect for the past fits the larger theme of the renovation, which was to "breathe new life into such hallowed ground," according to John Hatch, principal at Clarke Caton Hintz, the Trenton-based firm responsible for the renovation.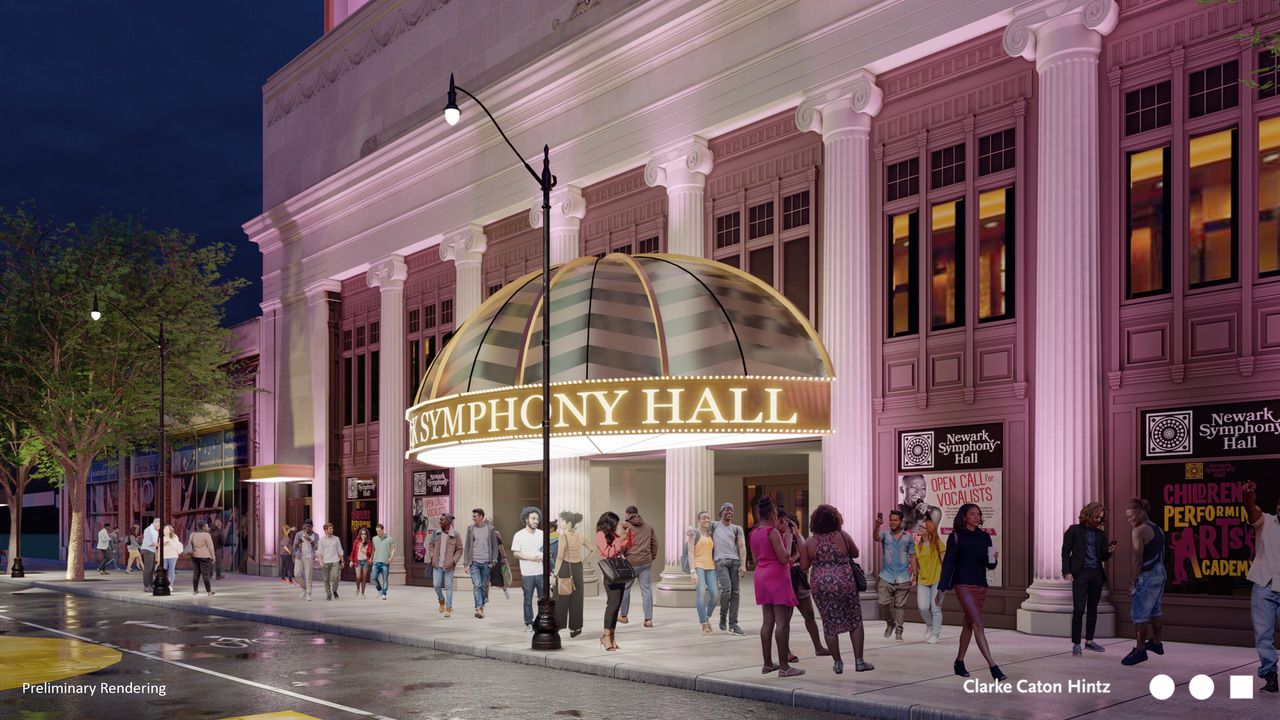 When the upgrades are finished in time for the concert hall's centennial in 2025, it is expected to revitalize the Lincoln Park neighborhood, bringing hundreds of jobs to a long-time arts district that has lingered in the shadows of NJPAC for the last few decades.
The scale of the undertaking doesn't garner enough attention — the 2,800-seat capacity is greater than Carnegie Hall's and the building runs the length of an entire city block. A state-of-the-art performing arts venue of this size and history has the potential to pull the gravitational center of the city slightly to the south of City Hall.
"Grand monuments of this scale are built by civilizations at an apex," once wrote Peter Rubinstein, an architecture specialist at the New Jersey State Council on the Arts, "to celebrate and symbolize the permanence, power, spiritual energy, and affluence of that society."
That grandiose description was in the 1976 application for the National Register of Historic Places, finalized a year later. It was during the mid-century era when Symphony Hall had its most prestigious chapter as a stop on the classical-music circuit, where Leontyne Price performed and conductor Leonard Bernstein praised the acoustics.
Although Symphony Hall has hosted small-scale art exhibitions and theater performances in recent years, it has been closed for the past year due to the pandemic. This is not the first closure Symphony Hall has experienced. In 1933, during the Great Depression, Symphony Hall — then called the Mosque Theatre — not only had to shutter its doors but suffered the ignominy of being sold at a Sheriff's sale to Prudential. The city has owned it since 1964.
When the venue reopens, Taneshia Nash Laird, chief executive officer, will lead the venue into its new chapter as a Black female-run arts organization with programming that celebrates and examines the experience of people of color. Later this year, Laird is producing a streaming performance of Richard Wesley's play, "The Black Terror."
"Through immense determination and collaboration at the city, state and federal levels," said Laird, who secured a $750,000 grant from the New Jersey Historic Trust, "we know that this will be a monumental project and one that will spur job growth and engagement, particularly for BIPOC artists and individuals in our great city and across the Tri-State Area."