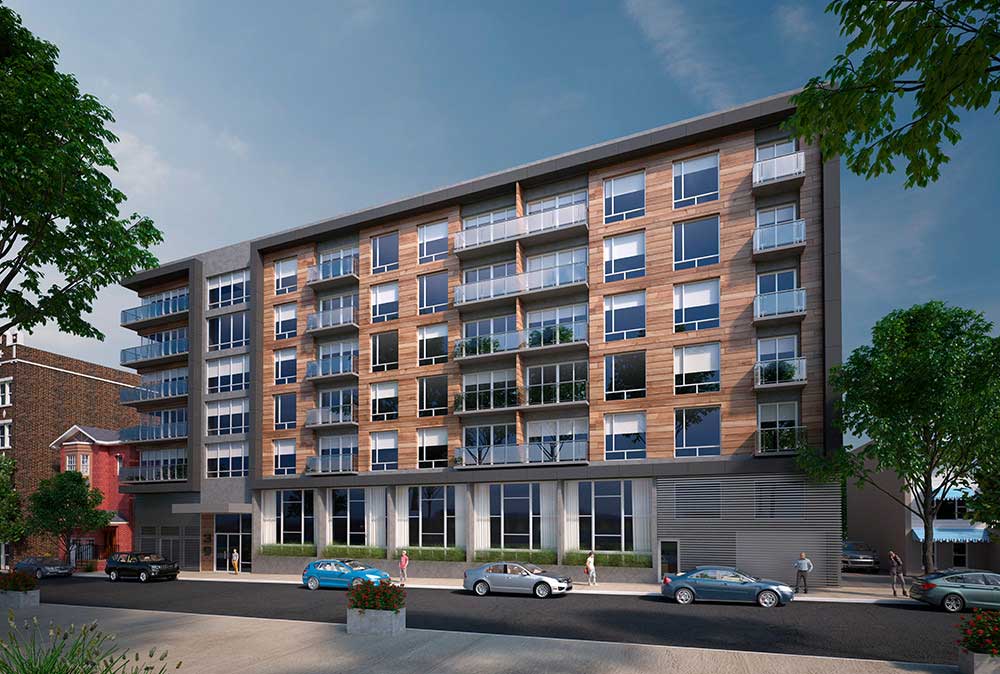 An upcoming development at the edge of Jersey City's Journal Square neighborhood will bring plenty of new apartments to a residential Ward C block.
A six-story building is coming to the properties consisting of 37, 39-41, 43, 45, and 47 High Street between Summit and Baldwin Avenues in the Journal Square 2060 Redevelopment Plan Area. The plans, which were unanimously approved by the Jersey City Planning Board last summer, call for the Hampton Hill Architecture-designed development to include 83 units and 18 parking spaces. 40 of the units would be studios while 30 would contain one bedroom, 10 would have two bedrooms, and three would include three bedrooms, according to the application. None of the apartments would be designated as "affordable housing."
The board's resolution granting Preliminary and Final Site Plan approvals for the project stated in part that "the development will promote a desirable visual environment by redeveloping a residential use appropriate for the neighborhood."
A rendering posted online by Lower Manhattan-based Titanium Realty Group shows that many of the 76,234-square-foot building's units will include balconies facing High Street. The firm's website also mentions that there will be retail space inside the development, though the application indicated that retail space would not be included.
The properties have long contained several homes that partially date back to 1870 along with a surface parking lot. NJ Parcels records show that each of the lots was acquired by 39 High Street, LLC, a firm that is registered out of Titanium's office, last year for between $713,000 and $1.462 million.
Through a public records request, Jersey Digs obtained an April 30 inter-office memorandum from Margaret O'Neill, who serves as a historic preservation specialist at City Hall, to zoning official Nick Taylor and construction code official Raymond Meyer. In it, O'Neill wrote that the houses at 37 and 47 High Street do "not possess significant integrity to prevent [their] demolition," adding that in their current conditions, the buildings do "not appear to meet any criterion for historic, architectural, or cultural significance." The River Drive Companies submitted a demolition application to City Hall in June.