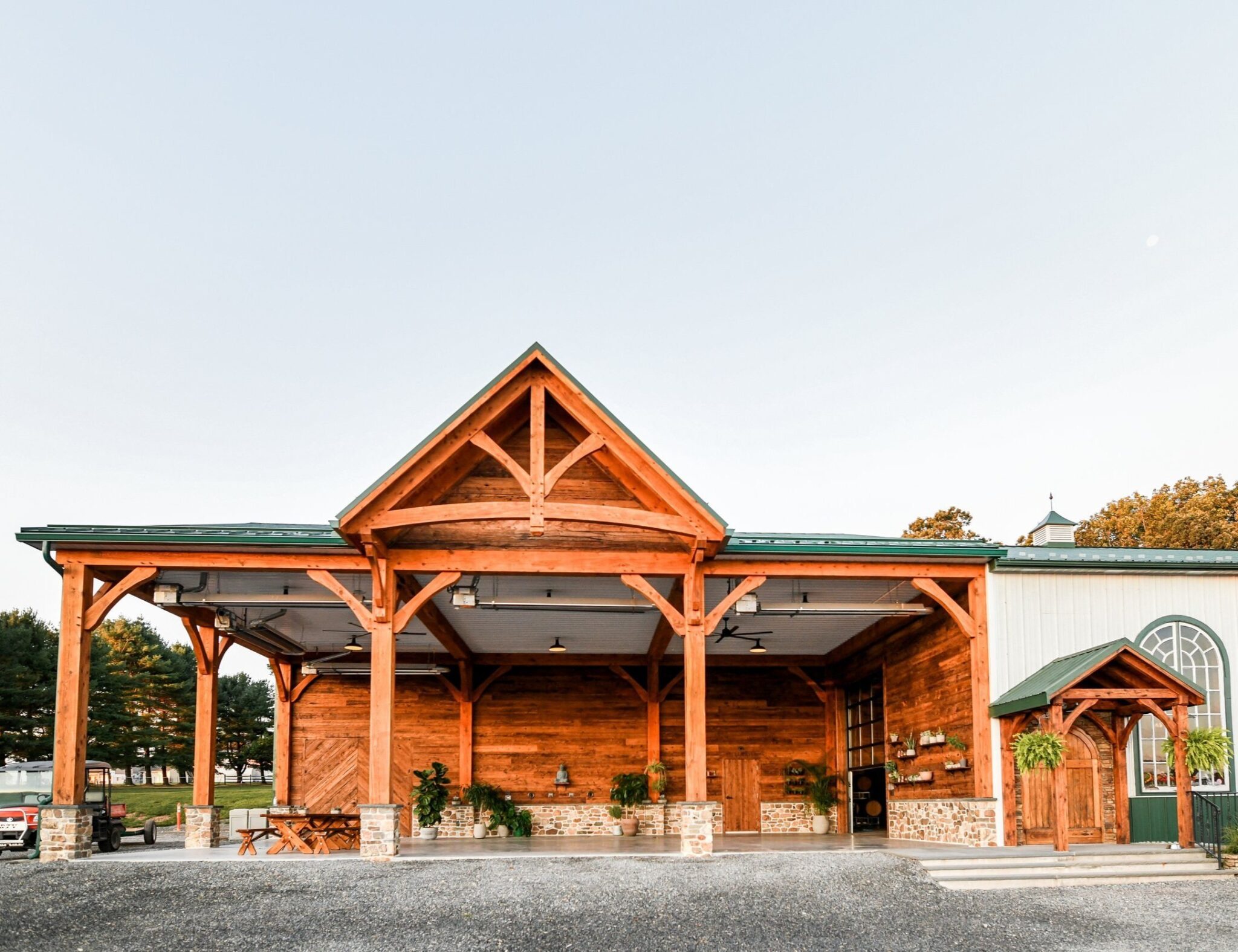 By 2024, there will be 75 operational New Jersey wineries. From traditional New Jersey wine regions in Cape May and Atlantic County to evolving farmland in Hunterdon and Warren County, the New Jersey winery business is exploding.
But why are so many NJ farmers making the transition to vineyard owners? And what makes the Garden State's environment and economics so amenable to wine grape production?
We turned to an expert on New Jersey wines for his take on the future of the industry. Mike Beneduce is the owner of Hunterdon County's Beneduce Vineyards and NJ's 2022 Outstanding Young Farmer of the Year. Mike holds degrees in Plant Sciences and Viticulture/Enology from Cornell University and is a Certified Sommelier under the Court of Master Sommeliers.
A fourth generation New Jersey farmer, Mike Beneduce understands the economics and environmental factors that drive the wine industry. During a wine tasting at Beneduce Vineyards, he spoke at length about the potential for "exponential growth" for New Jersey wineries in the coming decade.
5 Pillars of the New Jersey Wine Industry
During our wine tasting, Mike Beneduce outlined 5 keys to developing NJ winery excellence. Each key was paired with a fine wine sample in Beneduce Vineyard's beautiful tasting room.
Let's break down each of the 5 pillars of the New Jersey wine industry — and mention the wines featured in the tasting which accompanied the conversation.
1. Soil, Climate and Environment
Wine tasting: Gewürztraminer Pet Nat (Sparkling); 2021 Gewürztraminer
The wine tasting began with a pair of Gewürztraminer white wine selections — one sparkling, one still. Both were tremendous examples of the aromatic, full-flavored wine that New Jersey can produce.
The soil and climate mirror several European growing regions. The sandy soil of Cape May and Atlantic County allows South Jersey winemakers to play with coastal grape varieties. Varietals like Cabernet Franc are mainstays in those regions. By contrast, the Hunterdon County region is set inland, with rolling hillsides and deep, well drained soils. As a result, Beneduce Vineyards focuses on a different set of grapes — Gewürztraminer and Blaufränkisch are standouts.
"We do a lot of testing to determine which grapes will perform best in our region," Mike Beneduce says. "We found a lot of compatibility with Austrian grape varieties from places like the Burgenland region."
As much as soil dictates grape selection, climate plays an equally vital role. Beneduce went on to discuss the effects of climate change on New Jersey's agricultural outlook.
"Climate change is driving our temperatures up," Mike notes. "We may see our region's grapes change in the coming decades, and we need to think into the future with the decisions we're making now."
One fact is clear. New Jersey features four distinct American Viticultural Area (AVA) regions — the Outer Coastal Plain, Warren Hills, Cape May Peninsula, and Central Delaware Valley. This diversity and richness of winemaking opportunity in such a compact state creates massive industry appeal.
2. Consumerism
Wine sampled: 2021 Dry Riesling
"We have a built-in market of 30 million consumers, and some of the most knowledgeable wine consumers in the world," Mike says. "New Jersey wineries need to reach that market and show them what we can accomplish."'
The challenge of altering consumer perception is inherently a blessing. The necessary soil, climate and environmental factors to create great wine exists within the largest metropolitan market in the Western Hemisphere. Most New Jersey vineyards are within 2 hours of both New York City and Philadelphia — it's a built-in advantage not to be ignored.
The consumers and wine enthusiasts are already here. For Mike Beneduce and his peers, the mission is to connect them with the NJ wine experience.
"We need to create moments that connect consumers with our wine," Mike explains. "It's not just sending our wine to them — we have to create reasons for them to come here. Whether that's farm-to-table dining, local entertainment… we have to be creative."
Beneduce Vineyard events aim to achieve this objective. Beyond private event planning and wine tastings, the Vineyards offers Sunday Picnics, "Group Therapy" events, live music and food trucks. Other NJ wineries do the same, in an attempt to bring area consumers to the best NJ wineries.
3. Heritage
Wine sampled: 2022 Dry Rosé
The conversation about NJ winemaking heritage was coupled with a surprisingly complex dry rosé. Much like the wine, NJ's wine history is deeper than anticipated.
"We bring generations of experience and new energy to our small farm in the hills of Hunterdon County," says the label on each bottle of Beneduce Vineyards wine. It's this combination of fresh vision and farming legacy that makes New Jersey an exciting wine-growing region.
Like many Garden State vineyard owners, Mike Beneduce is a fourth-generation NJ farmer. (His family owns Great Swamp Greenhouses.) The ever-changing economics of New Jersey farming have swayed many farmers away from traditional NJ crops and towards wine grapes.
"New generations of New Jersey farmers look for value-added crops," Mike explains. "Wine grapes provide that added value that you might not find in other crops. So you see farmers turning from peaches and corn to grapes."
That doesn't mean vineyard owners forget the culture of NJ farming. There are lessons to be learned from the land — even if the crops have changed. The collection and use of that knowledge is crucial to Beneduce's next topic of conversation: winemaker collaboration.
4. Collaboration
Wine sampled: 2020 Pinot Noir
European winemakers can lean on centuries of knowledge and experience. If New Jersey wants to accelerate fine wine production, Mike Beneduce believes a culture of collaboration is vital.
"We need to learn from one another," Mike explains. "There isn't time to wait generations to cultivate knowledge. It's important that NJ wineries share experiences and learn in real time."
Beneduce is a co-founder of The New Jersey Winemakers' Co-Op. Established in 2015, the group seeks to increase the quality and perception of fine wine produced in the Garden State. Members include Hawk Haven Vineyard, Unionville Vineyards, William Heritage Winery, Working Dog Winery, and Auburn Road Winery.
"The goal is exponential growth through cooperation," Mike continues. "We want growth in both quality and quantity in order to achieve the bright future New Jersey can reach."
5. Economics and Perception
Wine sampled: 2019 Blaufränkisch
Beneduce concluded the wine tasting with an outstanding Blaufränkisch, a full-bodied red wine with grape origins in Austria. The Hunterdon County soil drew out notes of blueberry jam and smoky spice.
Much like the full body of Blaufränkisch, New Jersey's regional economics are a sturdy platform for the wine industry to grow.
The built-in market of 30 million NY Metro consumers is a start. The price of operating a modern Garden State vineyard is no small number, and it's paramount to connect as many of those wine buyers with local wine as possible.
The average New Jersey vineyard owner must operate at a relatively high per-bottle price point to survive. As such, the quality of NJ wine has grown quickly to match value with that price. "We have the quality," Mike states. "It's about convincing our local and regional wine lovers that the soils in their own backyards are capable of making world class wine."
The Future of New Jersey Wine Is Happening Now
The focus now, Beneduce stresses, is establishing a New Jersey wine culture and identity all its own. There's no sense in being the "next" Napa Valley or Willamette Valley — the goal is to create the first (and only) New Jersey wine industry.
"Let the land express itself," Mike stresses. "Let it do what it does best, and we can start producing some of the best wine on the market."