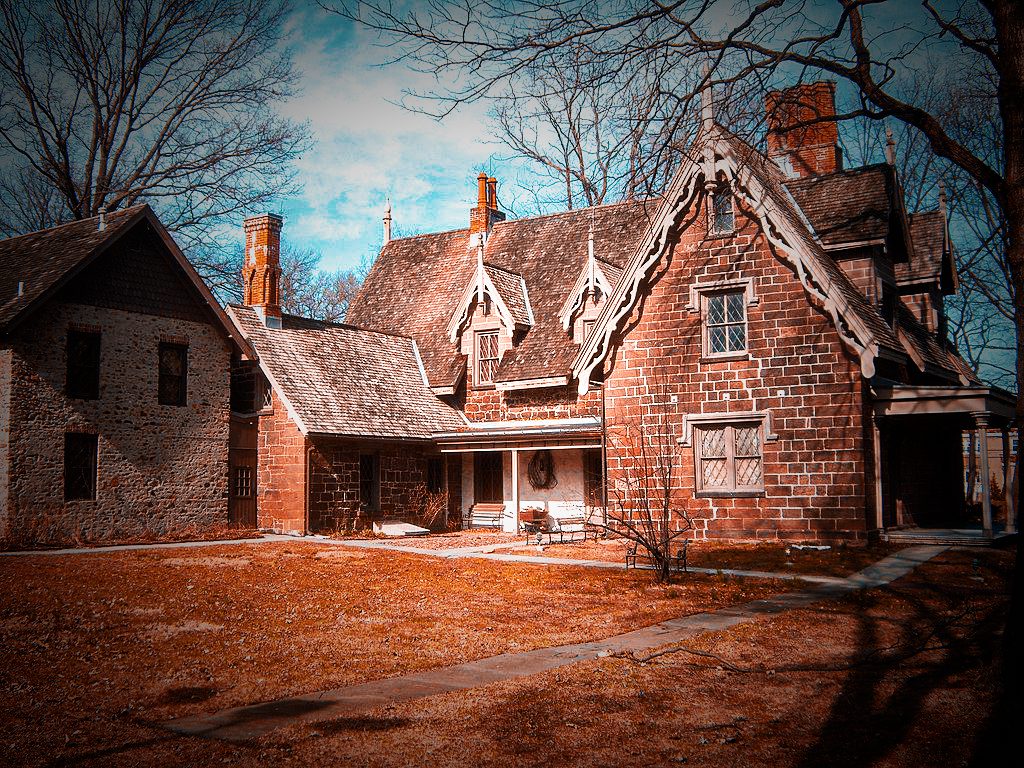 From Brighton Asylum in North Jersey to fright-filled farm events in Central and South Jersey, there are plenty of haunted spectacles in the Garden State. But with Halloween around the corner, we wondered — are there any real New Jersey haunted houses?
Plenty of New Jerseyans seem to think so! Many of NJ's historic homes, mansions and estates have a record of ghost sightings and supernatural events.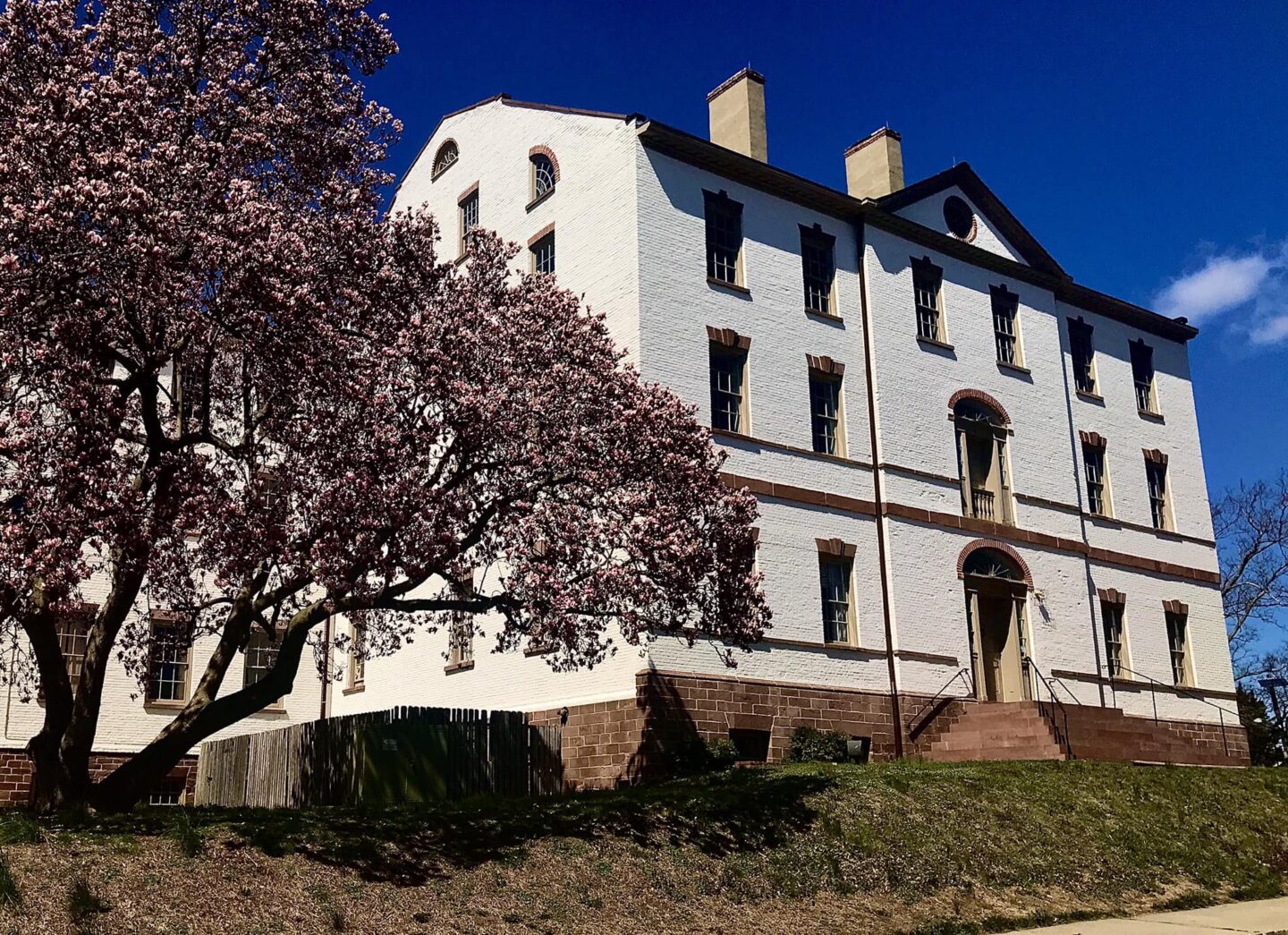 Maybe you've heard the legend of "The Woman in White", or the ghost of William Franklin at Proprietary House. Are you looking for the truth behind the secret abandoned hospital inside Imlay Mansion, or the ghosts of spies at Seabrook-Wilson House?
Let's uncover the spooky secrets behind 12 haunted houses in New Jersey. Are they real? Or is it all one big ghost story?
People Believe These New Jersey Haunted Houses Are Real
New Jersey's historic homes play host to Halloween events like seances and ghost tours. But mediums and paranormal investigators claim there are real, unexplained phenomena happening at these locations.
Reports of ghost sightings and haunted objects at these estates date back to the Revolutionary War era in towns like Ho-Ho-Kus and Perth Amboy. As time passed, the lore around these sightings turned into legend — but the reports didn't stop in modern times.
New Jersey's Haunted History
New Jersey's haunted history extends well beyond historic mansions and old estates. NJ's collection of ghost towns — many of which remain as ruins in state parks and forests — are magnets for ghost hunters and visitors looking for a thrill.
In particular, the remains of Ong's Hat in the Pine Barrens are filled with intrigue. Some claim it's a portal to another dimension, while others call it the birthplace of the Jersey Devil.
Others cite historic Allaire Village in Wall Township as a stomping ground for ghosts and specters from the mid-19th century. Visitors claim to have apparitions in the form of iron ore miners in the abandoned homes.
The 12 Real Best Haunted Houses in New Jersey
These are 12 New Jersey estates with a history of ghost sightings and reports of paranormal activity? Are they really haunted? You be the judge.
Caldwell Parsonage House
Union, NJ
A mysterious fire, a dubious Revolutionary War shooting, and an infamous murder — Parsonage House in Caldwell has all the hallmarks of a haunted estate.
One of Parsonage House's first residents, Reverend James Caldwell, was murdered during the American Revolution in 1782. 18 months earlier, his wife Hannah Caldwell was reportedly shot by a British soldier, and the original Parsonage House was burned around her.
Rev. Caldwell was despised by the British for his reputation as the "Fighting Parson" among locals. The modern-day Union County seal bears a depiction of Hannah Caldwell's murder, and the family name now adorns the town of Caldwell itself.
Is Caldwell Parsonage House Really Haunted? If there's one NJ historic site that's plausibly haunted, it's Parsonage House. Two murders of innocent civilians (including a Presbyterian minister), and an act of arson by British soldiers? It feels like a recipe for ghostly activity.
Cold Spring Village
Cape May, NJ
Like Parsonage House, Historic Cold Spring Village has its share of Revolutionary War-era ghost stories to tell. For decades, South Jersey residents have reported strange noises and gray/white apparitions traveling through the remains of Cold Spring Village
Today, Cold Spring Village is an excellent historic site that offers enriching educational trips for the whole family. 27 buildings have been restored on the property, which features a wide variety of weekend activities all year long.
The Village is highly regarded for its Revolutionary War and Civil War reenactments, as well as a country store, ice cream parlor, and Cold Spring Brewery.
Is Cold Spring Village Really Haunted? Judge for yourself on a 45-minute guided "ghost walk" through historic Cold Spring Village. The tour is hosted by a professional psychic medium, who recounts the long history of unexplained phenomena by Cape May residents.
The Emlen Physick Estate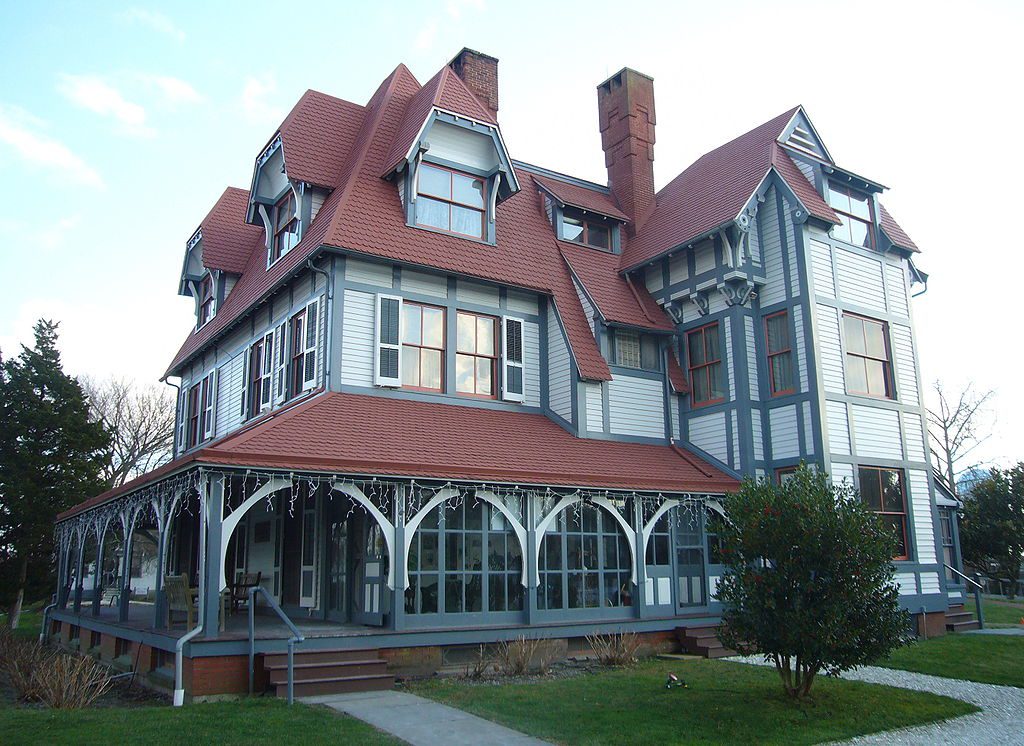 Cape May, NJ
Cape May's Emlen Physick Estate may be NJ's most famous haunted house — it's been featured by local news outlets across the country. The story of Dr. Emlen Physick, his aunt and his estate are Cape May's greatest urban legend.
Locals have been convinced the Physick Estate is haunted for decades. Its last official resident, Dr. Harry Sidney Newcomer, moved out in the mid-1960s because of constant, unexplained footsteps and noises at night. No one would move into the home after his departure.
Beyond its mysterious history, the Physick Estate is also a wonderful center of arts and culture for Cape May County residents. It was saved from demolition in 1970 by the Mid-Atlantic Center for the Arts and Humanities, which uses the estate as its current headquarters.
Is Emlen Physick Estate Really Haunted? Reports of supernatural activities aren't all human at Emlen Physick Estate. Not only have visitors seen the ghost of Dr. Physick's aunt Emily, many claim to have interacted with ghost dogs. The Physick Estate is the center of Cape May's paranormal investigation community, and regularly conducts seances, ghost tours and spooky walkthroughs of the Victorian estate.
Hancock House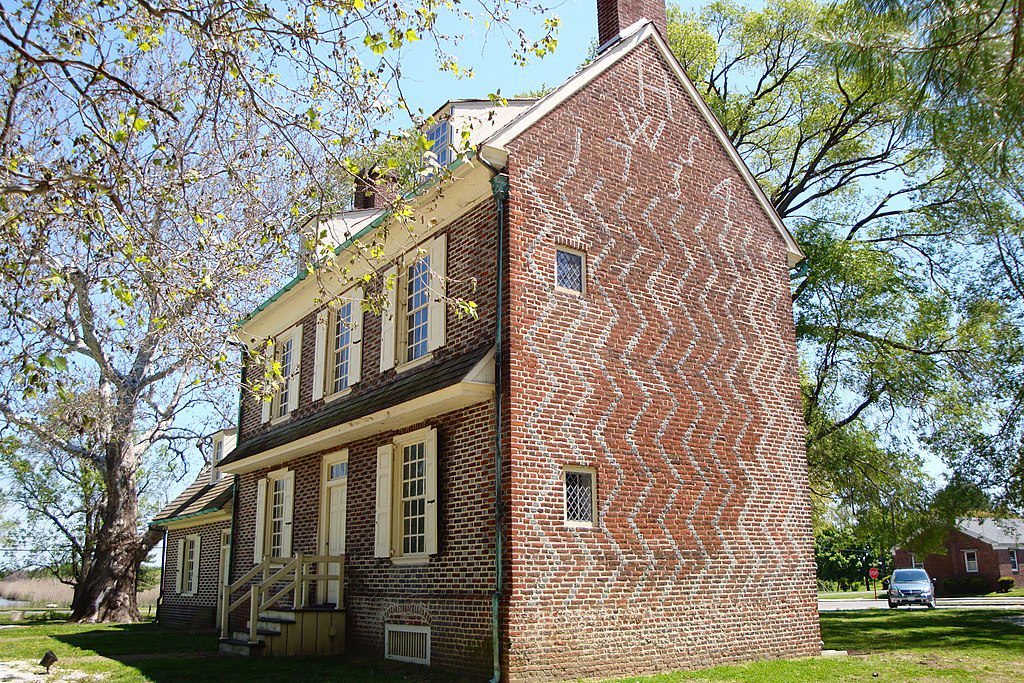 Hancocks Bridge, NJ
In 1778, Judge William Hancock hosted a small garrison of American militiamen in his Salem County home. They were ambushed in the early morning by soldiers loyal to England. By the end of the attack, nearly 30 men were dead — including Judge Hancock.
The story of the massacre at Hancock House has survived the passage of time to become equal parts myth and fact. Salem County residents claim to see and hear the ghosts of colonial soldiers protecting the house, standing guard and walking the perimeter of the property.
Today, Hancock House is listed on the National Register of Historic Places. The patterned brick home has stood for nearly 300 years, and is monitored by a local nonprofit which seeks to honor the legacy and integrity of this historic site.
Is Hancock House in NJ Really Haunted? WPG Talk Radio named Hancock House the "most haunted house in New Jersey". The Asbury Park Press wrote a story on apparitions and screams being reported on the property. Like Caldwell Parsonage House, this site of murdered Revolutionary War soldiers is steeped in rumors, legends, and supernatural sightings.
The Hermitage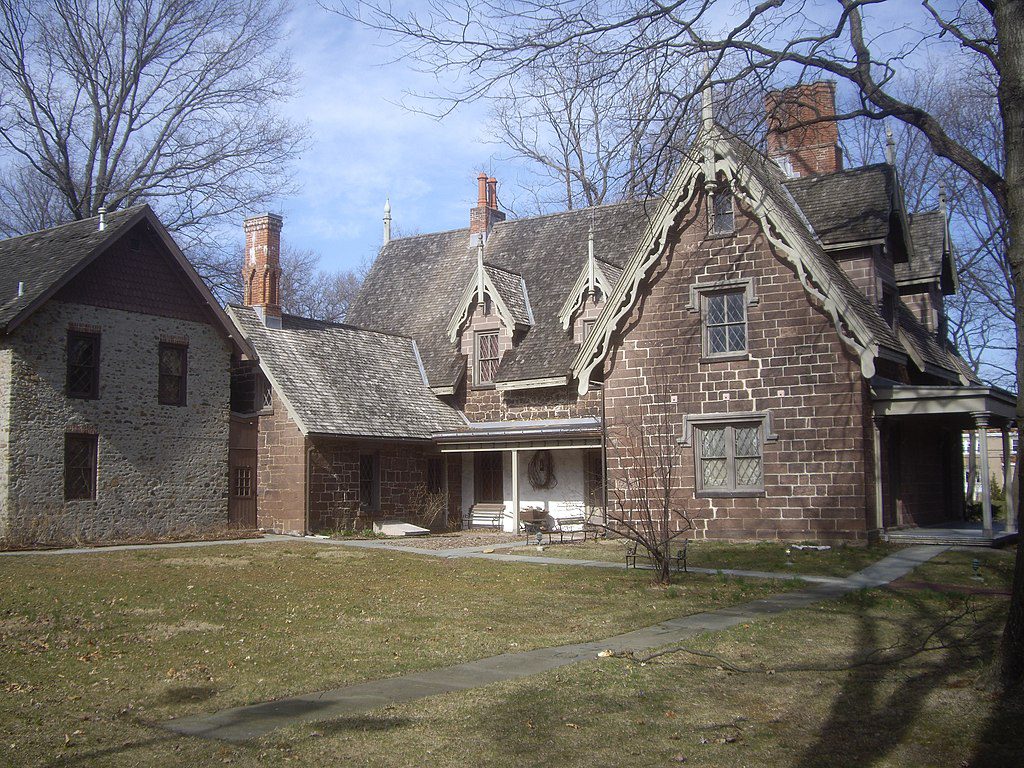 Ho-Ho-Kus, NJ
Few northern NJ buildings have the historic value of the Hermitage in Ho-Ho-Kus. George Washington visited the Hermitage with his troops during the Revolutionary War. Other visitors to the estate included Alexander Hamilton, James Monroe and William Paterson.
The Hermitage enjoyed a Gothic restoration in the 1800s, but fell into disrepair in the mid-1900s. In 1970, town officials thought about demolishing The Hermitage — and that's when things got spooky.
Is the Hermitage in Ho-Ho-Kus Really Haunted? According to reports, the ghost of an African American woman holding a baby emerged from a barn on the property. The sound of piano music began echoing through the house, and local mediums believe the ghost of the property's last resident (Mary Elizabeth Rosencrantz) still lives there.
Imlay Mansion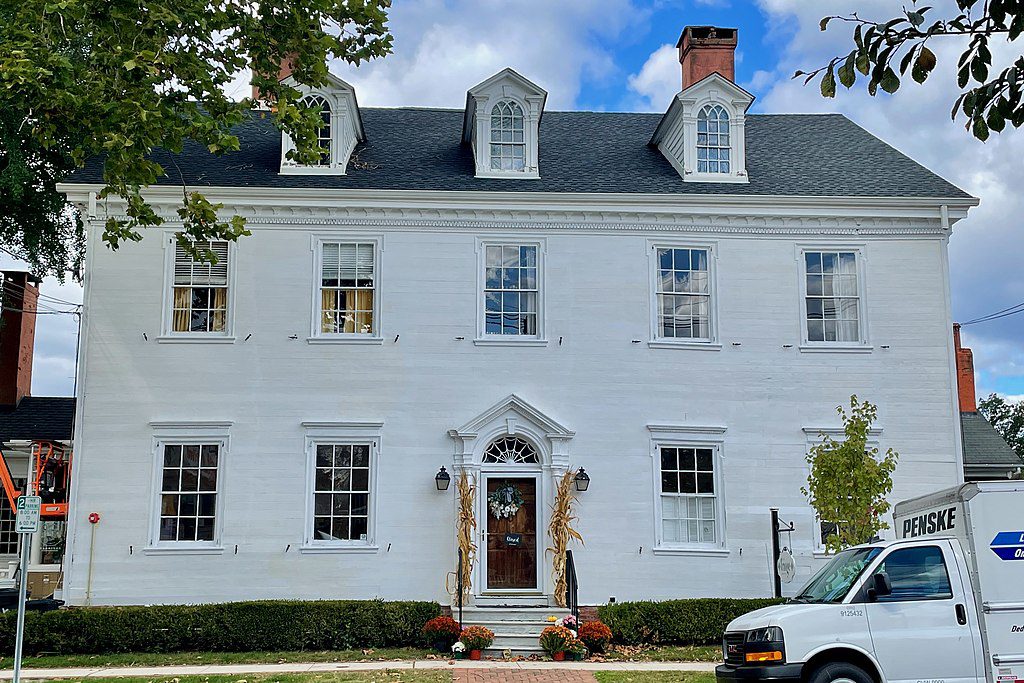 Allentown, NJ
Imlay Mansion was constructed in 1795 by former Congressman James Henderson Imlay. Its most notable historical value was as a safe house for runaway slaves before and during the Civil War period.
The home also served as a hospital for roughly 25 years during the 20th century. That information was lost to time — and it created quite a disturbing discovery for Stanley Klos, who purchased and restored the mansion in the 1980s.
Is Imlay Mansion Really Haunted? Even if Imlay Mansion isn't haunted, it has still created a great deal of spooky moments. A TV crew reported objects flying off shelves at the estate during a commercial shoot. And Klos' discovery of an abandoned operating room in the mansion would give most people the chills.
Proprietary House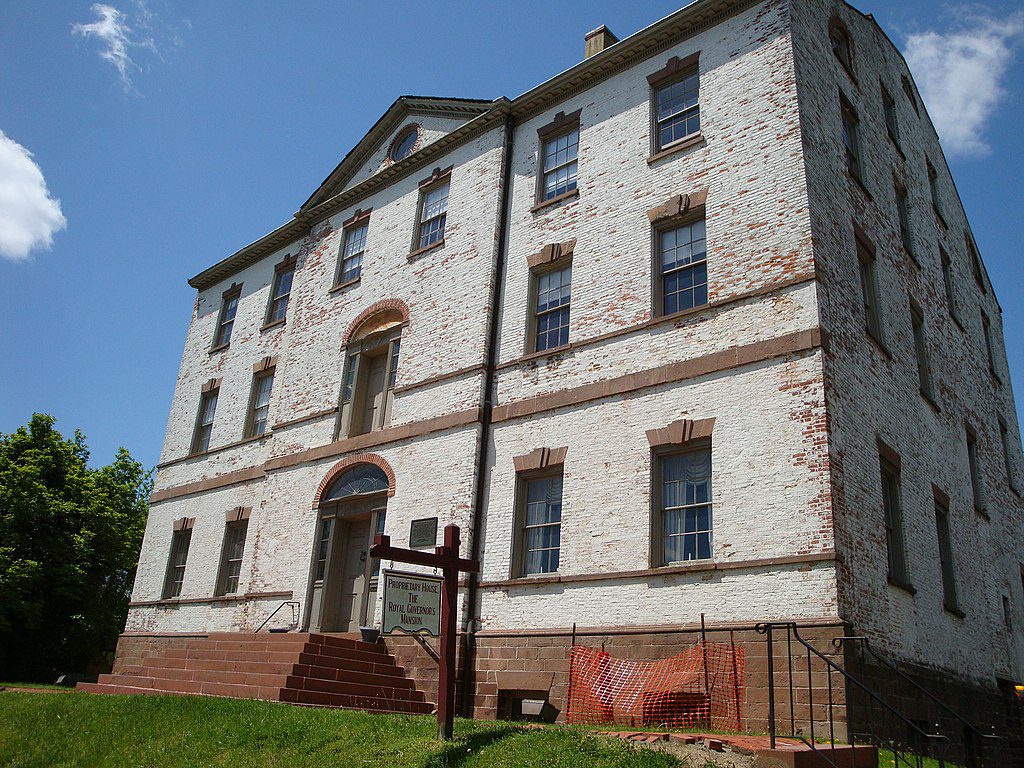 Perth Amboy, NJ
The Proprietary House's most notable resident was William Franklin the son of Benjamin Franklin. William didn't quite share his father's "revolutionary" beliefs — he was arrested as a British loyalist in 1776 and fled to England.
Eventually, the property was destroyed by fire and reconstructed as the Brighton House hotel. But the ghosts of the Revolutionary War era seem to continue haunting the halls of the building — the Proprietary House grounds are home to a wide variety of ghost sightings.
Is Proprietary House Really Haunted? The amount of different ghost sighting descriptions at Proprietary House is intriguing. Some guests claim to see Revolutionary War soldiers and hear heavy footsteps of colonial-era boots. Others report seeing and hearing a young boy playing in the yard, and a bathroom door that locks and unlocks on its own.
Ringwood Manor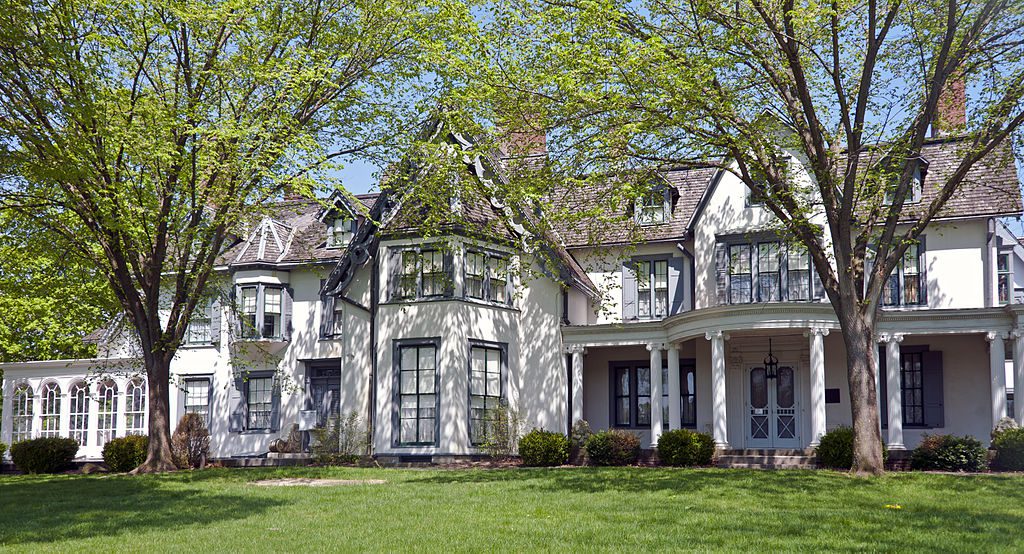 Ringwood, NJ
Ghost stories aside, Ringwood Manor is one of the most fascinating pieces of architecture in New Jersey. It began as the 18th century home of iron magnate Peter Hasenclever, and underwent several drastic renovations and transformations to become a sprawling mansion with over 50 rooms.
Today, Ringwood Manor operates as an active museum. It seems, however, that the Manor's original owner doesn't care for the renovations made to his former home.
Is Ringwood Manor Really Haunted? Visitors to Ringwood Manor report cold, unsettled feelings in the living and common areas of the home. There have been sightings of an old man wandering the perimeter of the mansion — perhaps Peter Hasenclever surveying what became of his former home.
Seabrook-Wilson House ("The Spy House")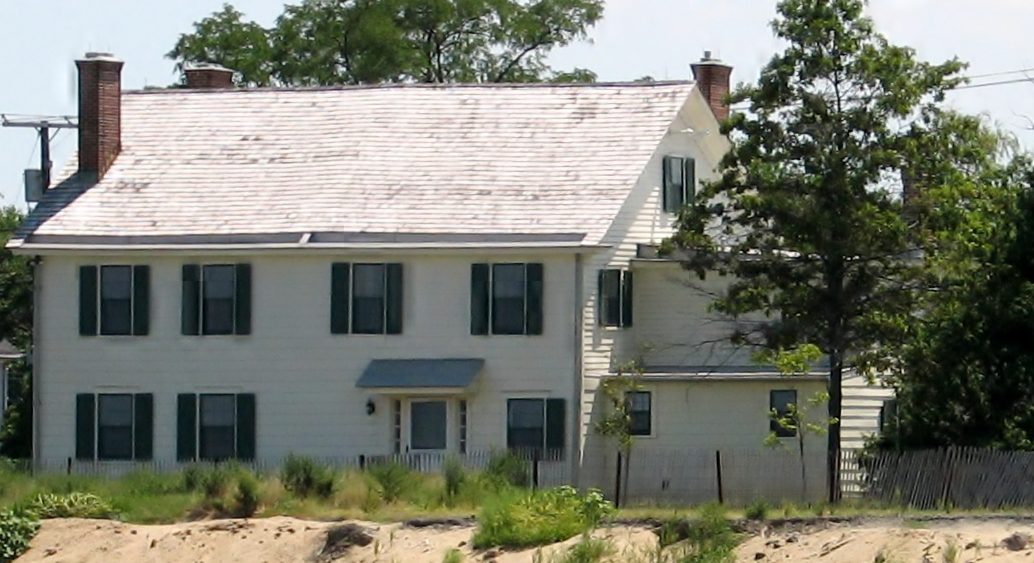 Port Monmouth, NJ
Whether the Seabrook-Wilson House was really a tavern frequented by colonial spies is up for debate. Some claim "The Spy House" was a real Revolutionary War location — a tavern frequented by British soldiers and American spies who helped win independence.
Others say the tale was created by a former caretaker to drum up interest, and there was no spying or military activity taking place on the property.
Whatever you believe, there's no debate about the Seabrook-Wilson Homestead's historical significance and curious good fortune. It was first constructed in 1663 and has served as a home, an inn, a farmhouse, a boarding house and museum. It was one of the few historic sites in the Bayshore area to survive Hurricane Sandy in 2012.
Is the Seabrook-Wilson House Really Haunted? If Weird NJ calls the Seabrook-Wilson House "the most haunted house in America", it's possible. What began as a "tall tale" spun by the building's caretaker to generate interest has taken on a life of its own. Some believe that the ghost stories themselves have attracted the interest of real spirits to take up residence in the "Spy House".
Shippen Manor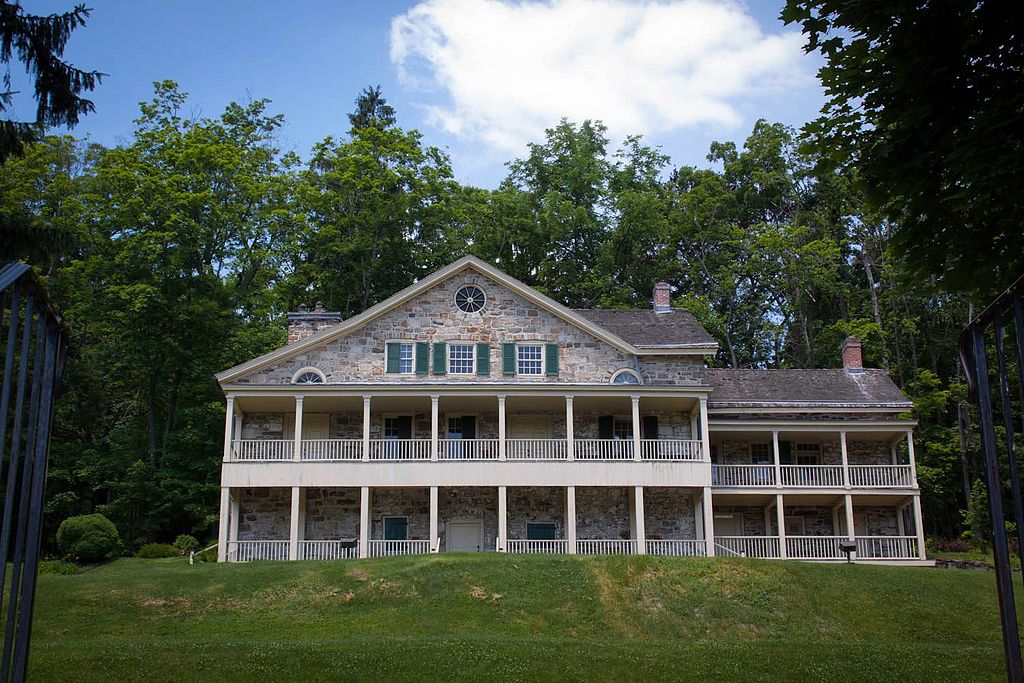 Oxford, NJ
Shippen Manor is a beautiful Georgian estate built in the late 18th century. Were it not for the Manor and its owners, the Shippen brothers, the town of Oxford itself likely wouldn't exist. The Shippen family owned and operated an iron furnace (the Oxford Furnace) around which present-day Oxford was first formed.
The Shippen family's ties to America are complicated. The grandniece of the original Shippen Manor owners was a spy for the British and the wife of Benedict Arnold. Eventually, the home passed to another notable early American family — the Scrantons (after whom Scranton, PA is named).
While it's a wonderful example of Georgian period architecture, Shippen Manor has fallen into some disrepair — and multiple ghost sightings have been reported. Guests claim to have seen a woman in a blue dress, a young boy, and a colonial soldier on the property.
Is Shippen Manor Really Haunted? The cast of "Ghost Hunters" on Syfy thought so! They visited Shippen Manor in 2010. The Manor's curator reported sounds of doors opening and closing, as well as Civil War artifacts appearing in the house unexpectedly.
Stephen Crane House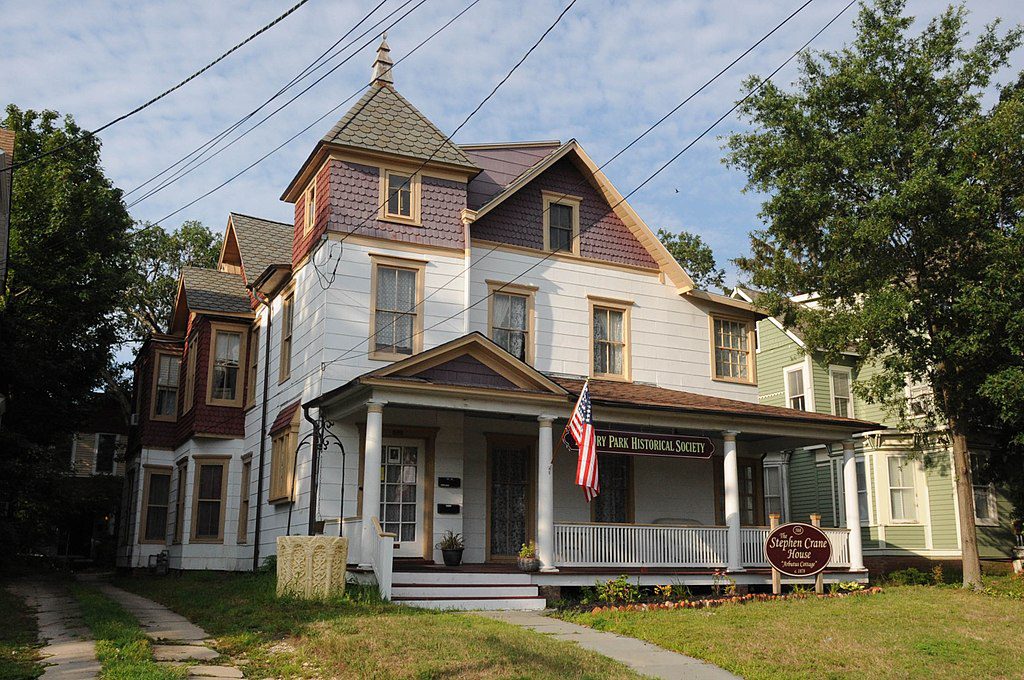 Asbury Park, NJ
You likely know Stephen Crane as the author of The Red Badge of Courage and other novels and poems. But did you know Crane was born in Newark and lived in Asbury Park as a child? He also died incredibly young of tuberculosis — at the age of 28.
Crane's prolific and turbulent life are fascinating. He was an acclaimed war journalist and author, and also the subject of multiple public scandals. His writing career began as a teenager in Asbury Park — Stephen wrote his first short story and poems at what is now the Stephen Crane House.
100 years later, the Crane House fell into disrepair and was largely occupied by squatters. It also developed a local reputation for being haunted. Thankfully, the property was purchased and saved from demolition in the early 1990s. Today, it hosts lectures, plays, film screenings, and meetings of the Asbury Park Historical Society.
Is the Stephen Crane House Really Haunted? In the 1980s, a resident of the Stephen Crane House alleged to be haunted by spirits. She suffered from bouts of mental illness and covered all available wall space within the home with angry rants, random writings and the phone numbers of politicians. You can see a portion of her ranting remains on one of the house's walls to this day.
Strauss Mansion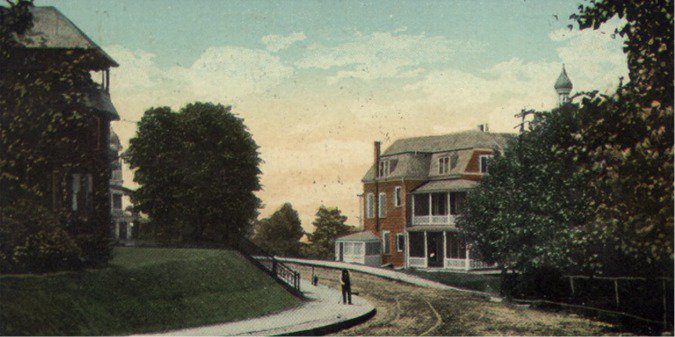 Atlantic Highlands, NJ
Built in 1893, Strauss Mansion was the beautiful summer home of Adolf Strauss. This 21-room estate built on a hill overlooking Sandy Hook Bay was considered one of the area's most gorgeous homes, thanks to its Queen Anne design and stunning bayside views.
By the 1970s, Strauss Mansion was quite a long way from its original glory. It served as a seedy boarding house, and was the location of a low-budget horror film. The Mansion was condemned in 1981 and nearly destroyed.
Thankfully, the Mansion was preserved by the Atlantic Highlands Historical Society. They restored Strauss Mansion beautifully, and it now serves as a museum.
Is Strauss Mansion Really Haunted? Of all the locations we researched for this article, only one was covered by News 12 New Jersey for being haunted — Strauss Mansion. There appears to be one particular spirit that roams the grounds. A ghost named Bob has appeared during seances and been spotted floating around the property.
When to Visit Real Haunted Houses in New Jersey
There's no better time than Halloween to visit one of New Jersey's haunted historic estates. But reports of paranormal activity are logged year-round, so don't hesitate to visit during other seasons as well!
Besides hunting for ghosts, visiting NJ historic sites is a great way to honor our state's past. Most of the locations on this list operate as working museums, historic venues or educational venues during the day.
Whether you want a paranormal experience or a personal view of Garden State history, pick one of the 12 "truly haunted" New Jersey houses and plan a visit. There's only one question — do you dare to visit them at night?