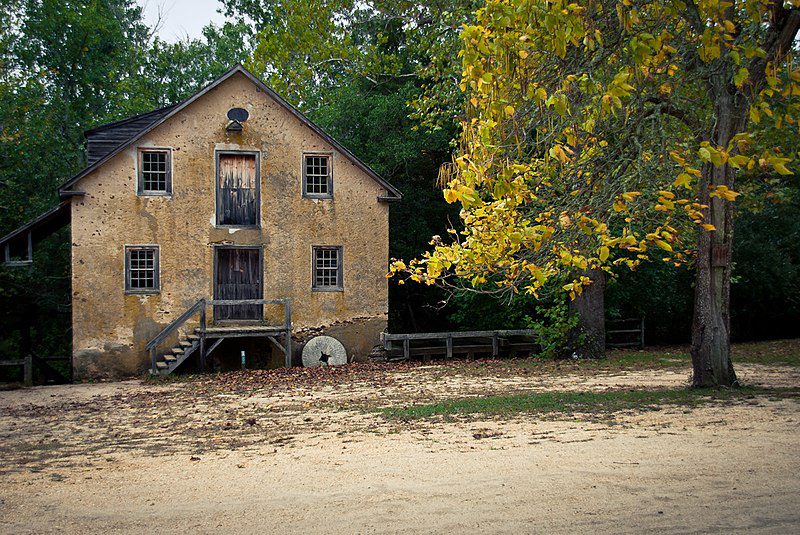 Ghost towns in NJ are a reminder of the state's rich history and offer a glimpse into the past.
A ghost town is an abandoned village or town that still contains buildings and infrastructure. Often, these places are deserted but not destroyed — you can clearly see full buildings, roadways and other clear marks of a once-thriving community.
The sense that a rich, vibrant community suddenly vanished is eerie to many people, and it's how the term 'ghost town' became popular.
The Garden State is home to several famous (and infamous) ghost towns and abandoned villages. But how did these once thriving communities fall apart? What makes an historic NJ location become a ghost town?
How Did New Jersey Get its Ghost Towns?
Many ghost towns in North America were abandoned when a natural resource became depleted, or was no longer necessary. These events were often the result of a major war or a technological advancement.
This is certainly the case when it comes to New Jersey's most notable abandoned villages. Chances are good that a NJ ghost town was once a flourishing mining town, or home to a once-prominent paper mill. As the mining and paper industries declined in the state, so did the towns around the mines and mills. Workers moved on to other jobs, and the houses and shops they once occupied were left behind.
The Revolutionary War and Civil War played a major part in the history of ghost towns in NJ as well. Settlements sprung up to provide supplies for the U.S. military, only to be cast aside when their resources were no longer needed. Waterloo Village in Sussex County is one such example of a Civil War canal stop that became a ghost town after the war ended.
It's easy to look at ghost towns as being unnecessary, especially in modern-day New Jersey. Modern buildings, innovative businesses and housing developments are everywhere. And from Cape May to Princeton to Morristown, the Garden State is rich with historical buildings.
So why should we care about preserving ghost towns? What makes them important to NJ heritage?
Why Are Ghost Towns Important?
Ghost towns may appear to be run-down quirky places without much to offer. A look past the rubble and debris reveals a wealth of history and education to be studied. It's the reason the National Park Service has protected so many of America's notable abandoned historic sites.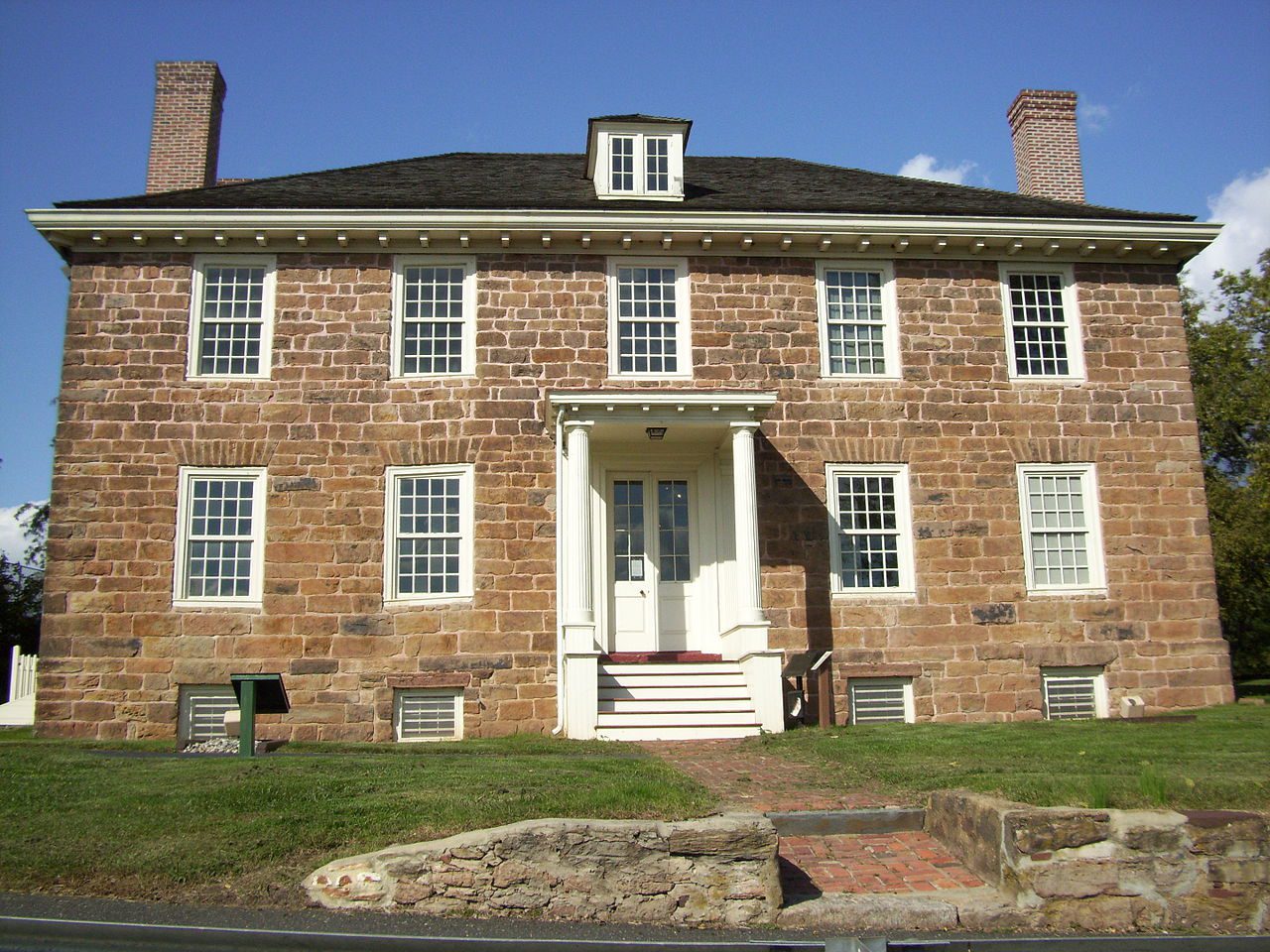 Garden State ghost towns answer many questions about our past. How did early colonists live? What role did New Jerseyans play in the United States winning independence? What happened during the iron or mining boom (and subsequent bust)?
There are 3 core reasons why it's important to visit — and preserve — New Jersey ghost towns.
Ghost towns are rich in history and artifacts. Rubble and strewn debris are the hallmarks of a ghost town. But within that debris lies hidden treasure and links to our shared state history. Researchers and archaeologists have used ghost town relics to piece together local history. Abandoned mining towns are particularly rich in historical artifacts.
Ghost towns connect us to our state's past glory. New Jersey state heritage is rich. Princeton University was founded in 1746. George Washington camped in Morris County and crossed the Delaware River. Alexander Hamilton dueled Aaron Burr. Thomas Edison changed technology forever in Menlo Park. There is even more history hiding within ghost towns here waiting to be discovered.
Ghost towns teach us how to protect current small towns. Today's leading community banks and small business groups believe ghost towns can show us how to protect our current small communities. A ghost town teaches valuable lessons about how to navigate economic and social change without abandoning the towns we love. A place like Batsto Village can teach us how to keep our modern-day Main Street alive.
There are many great reasons to visit New Jersey's notable ghost towns. But which of them should you visit? Here's a list of abandoned historic places in NJ that are worth a day trip.
7 Ghost Towns in NJ You Should Visit
Batsto Village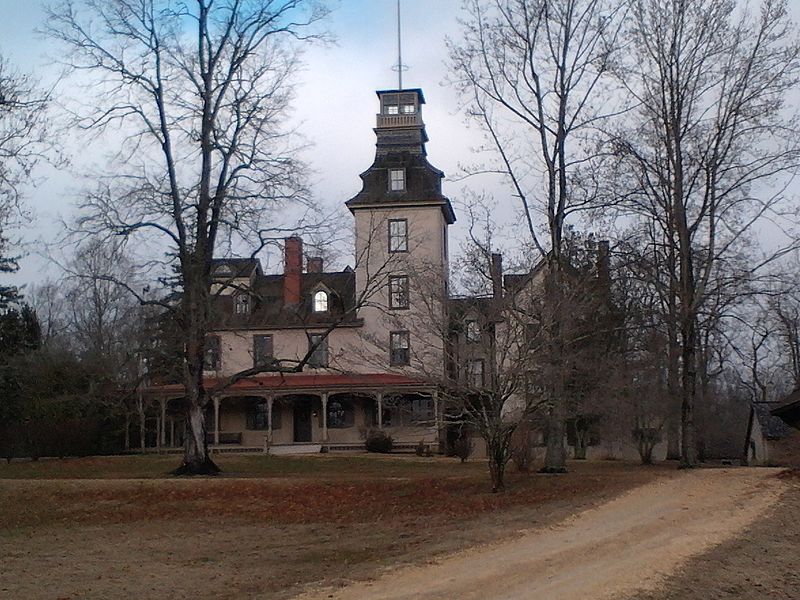 County and Current Town: Burlington County, Hammonton
Batsto Village is a striking site full of historic significance and cultural milestones. Unlike Ong's Hat, it's a Pine Barrens ghost town known for beauty rather than intrigue.
Batsto was founded in 1766 as an ironworks community. It served the Continental Army during the Revolutionary War and became renowned for its craftsmanship. Future generations added glassmaking and milling to Batsto Village's repertoire.
Some of the area's most notable businessmen and craftsmen lived in Batsto Village. When the village declined after the Industrial Revolution, the State of New Jersey purchased most of the community's properties. The last official resident of Batsto Village vacated in 1989, but the historic site remains active.
Batsto Mansion is a stunning structure worth the trip to this ghost town alone. Generations of ironworkers lived in the Mansion, which features 32 rooms — 14 of which can still be toured by the public today. The Mansion was renovated in the late 1800s by Joseph Wharton, who incorporated Italian architectural style into the existing design.
Feltville
County and Current Town: Union County, Berkeley Heights
Feltville is so synonymous with NJ ghost towns, it's often simply called "The Deserted Village".
David Felt purchased 760 acres of land across from an existing sawmill in 1845. Within 5 years, Feltville boasted 175 residents and a printing factory. The town thrived for a decade — then Felt abruptly retired in 1860, and the town fell apart.
The area was converted to a summer resort in 1882, and Glenside Park enjoyed success for roughly 35 years. As New Jerseyans chose the Jersey Shore over inland vacations, the Feltville area once again fell into disrepair.
In 1921, the area was incorporated into the Watchung Reservation. Although Felt Mansion and many buildings no longer stand, the Feltville Historic District is open from dawn to dusk for walking tours.
(For what it's worth, Feltville is one of the few NJ ghost towns widely rumored to contain multiple ghosts. Proceed with caution!)
Ong's Hat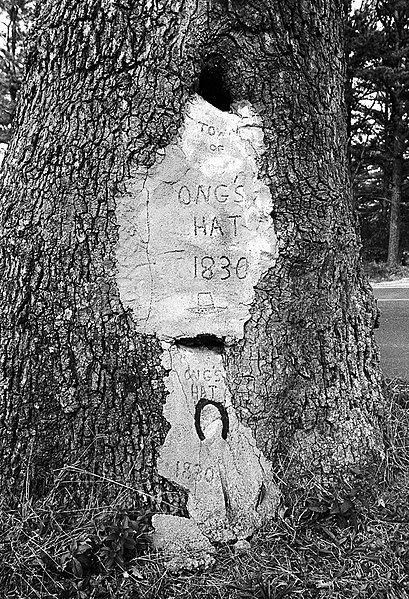 County and Current Town: Burlington County, Pemberton Township
Speaking of ghost stories…
Ong's Hat is one of New Jersey's most notorious locations. It's the basis of a popular early "secret history" Internet conspiracy theory. Weird NJ promotes the theory it is a gateway to another dimension. Still others believe Ong's Hat is a popular haunting ground of the Jersey Devil.
The legend of the Jersey Devil shouldn't scare you from visiting this fascinating ghost town in the New Jersey Pine Barrens.
The Ong family moved to Burlington County in the late 1600s. They found the area conducive for farming and harvesting cedars, and a town sprung up around them. The town remained in relative anonymity until a series of deaths and murders brought with them public intrigue — and future Pine Barrens legends.
The town was deserted by the 1920s, but some remnants of the former hamlet remain. Visit Ong's Hat, and decide what is fact and fiction for yourself.
Waterloo Village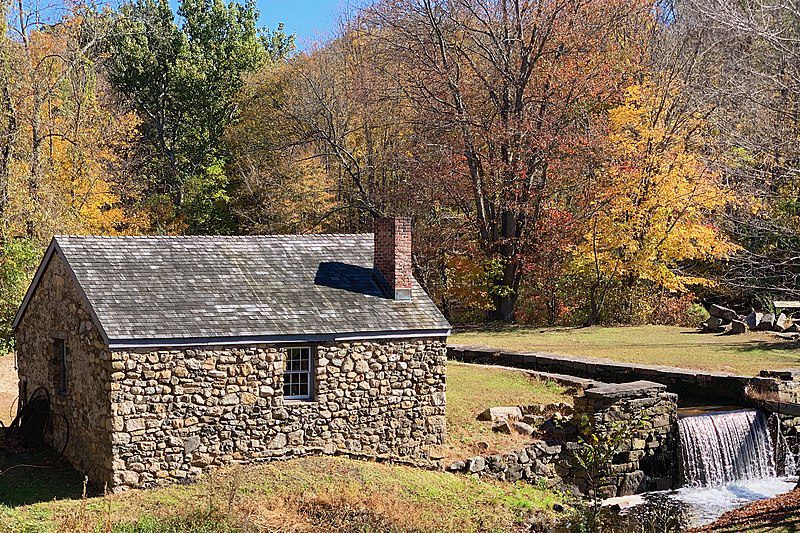 County and Current Town: Sussex County, Byram Township
Waterloo Village is a testament to what happens when a ghost town is restored and nurtured. In its heyday, Waterloo was a popular midway point on the Morris Canal. It was originally occupied by the Lenape Native American tribe before the arrival of European fur traders in the 1600s.
Despite the regression of copper mining along the Morris Canal, efforts were made by state and national government to preserve Waterloo Village as a bridge to New Jersey's past.
Today, Waterloo Village is an historic site maintained beautifully as part of Allamuchy Mountain State Park. It operates as an open air museum with a working mill, active church, blacksmith and several historic houses. It also honors the location's 400-year-old Lenape heritage in several exhibits.
Waterloo Village serves as an outstanding field trip destination. Its well-preserved status makes the grounds safe and rich with history. The Winakung at Waterloo provides educational programming for schools and tour groups with a focus on Native American culture.
Walpack Center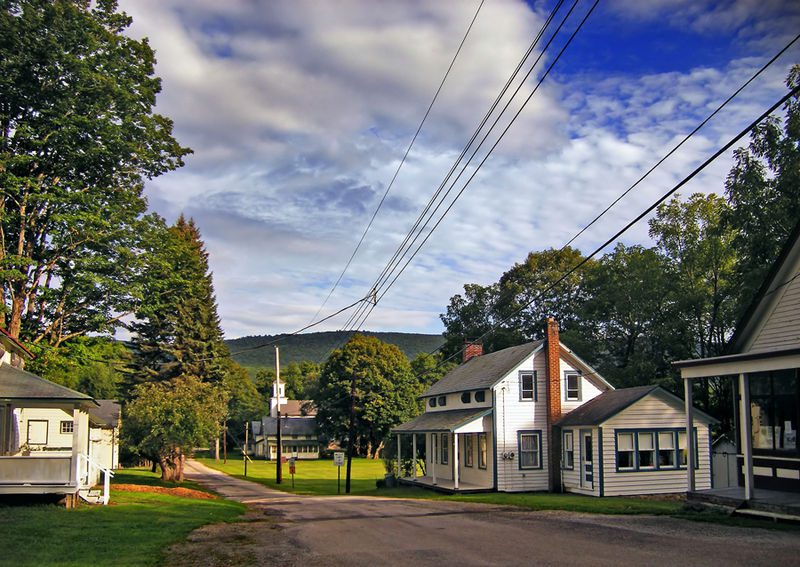 County and Current Town: Sussex County, Walpack Township
Unlike Waterloo Village, the story of Walpack Center is a tale of government decisions gone wrong.
The Walpack town center dates back to the mid-1700s. It was a quiet farming community that provided services for local farmers within its valley. It contained part of Old Mine Road, a popular transport route for Dutch copper miners in its day.
In 1965, the United States government abruptly made Walpack Center part of the Delaware Water Gap National Recreation Area. The area was earmarked for a new dam at Tocks Island, and nearly 8,000 residents were evicted. Despite spending nearly $100 million to displace residents, their homes and businesses, the proposed dam was never completed.
The result is perhaps New Jersey's strangest ghost town — one that didn't die out as a result of technology or exhausted resources.
Walpack Center is still home to well-preserved landmarks. The historic post office, church, and 6 original houses still stand. The Van Campen Inn is a beautiful Revolutionary War farmhouse where re-enactors host tours every October.
Allaire Village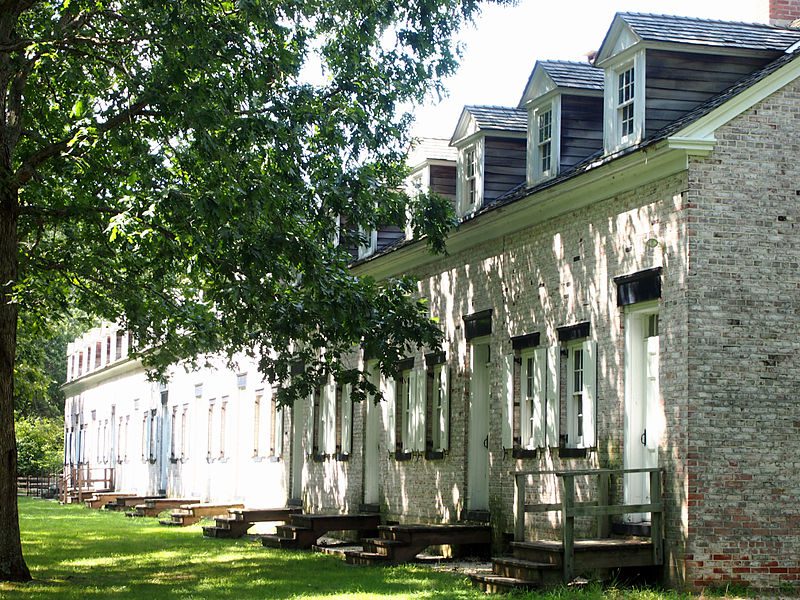 County and Current Town: Monmouth County, Wall Township
Allaire Village was once a bustling ironworks and factory town. The village dates back to the 1750s, and was purchased by James P. Allaire in 1822. He constructed the Howell Iron Works and a community followed, which reached 400 people by the 1830s.
America experienced an economic depression in 1837, and the Howell Iron Works were heavily affected. The business closed permanently in 1848, and most of Allaire Village's residents soon left the area.
Today, Allaire Village is a look back at New Jersey's industrial era. 13 original buildings stand, along with a living history museum. The Historic Village at Allaire features volunteer blacksmiths, tinsmiths and carpenters dedicated to educating the public through walking tours.
Raritan Landing
County and Current Town: Middlesex County, Piscataway Township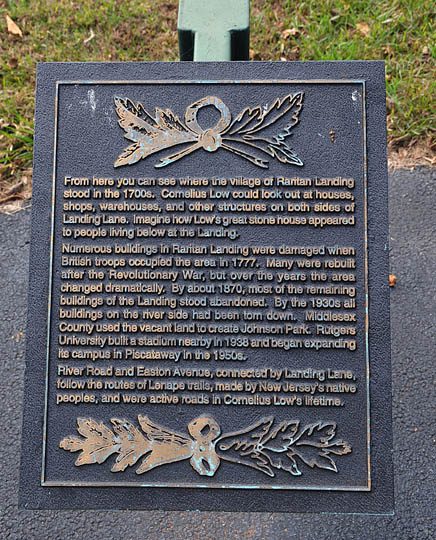 Raritan Landing gained traction as an inland port community — the furthest upstream ocean ships could travel on the Raritan River towards New Brunswick. The port location remained highly viable until around 1870, when it was abandoned.
For nearly 100 years, the remnants of Raritan Landing were buried in plain sight, underneath much of Rutgers University, modern-day New Brunswick and Piscataway.
A series of excavations that began in 1970 sparked renewed interest in the ghost town. Pieces of Raritan Landing were uncovered as land was cleared for Rutgers Stadium and road projects.
The jewel of this ghost town is the Cornelius Low House. Located in Piscataway, the Low House is a stately Georgian manor built in 1741. It has undergone multiple restoration efforts and is now listed on the National Register of Historic Places. It currently serves as the Middlesex County Museum.
New Jersey Ghost Towns Are History Worth Preserving
Locations like Waterloo Village, Batsto Mansion and the Cornelius Low House are proof that ghost towns are worth preserving.
New Jersey boasts a rich history of copper and iron ore mining, technological advancements, Native American lineage, and Revolutionary and Civil War sites. There are still lessons to be learned and discoveries to be made in the Garden State's abandoned villages.
It is up to the state and National Park Service to maintain these ghost towns, and it's up to us to support these efforts. Make plans to visit a ghost town in NJ soon — you never know what you might discover.