The winners have been announced for New Jersey Future's annual Smart Growth Awards, and two Hudson County projects and one Essex County development are among the recipients.
Jersey City's award winner is the Gloria Robinson Court Homes, located across from Lincoln Park at 322 Duncan Avenue, which were developed by the Jersey City Housing Authority in conjunction with Ingerman and Pennrose Properties.
According to New Jersey Future, the development, which was designed by Camden County-based Kitchen & Associates, includes 274 units, a computer center, a playground, and a head start facility. Previously, the property was home to the A. Harry Moore public housing complex, also known as the 'Duncan Projects', which consisted of multiple 12-story apartment towers before being demolished in recent years.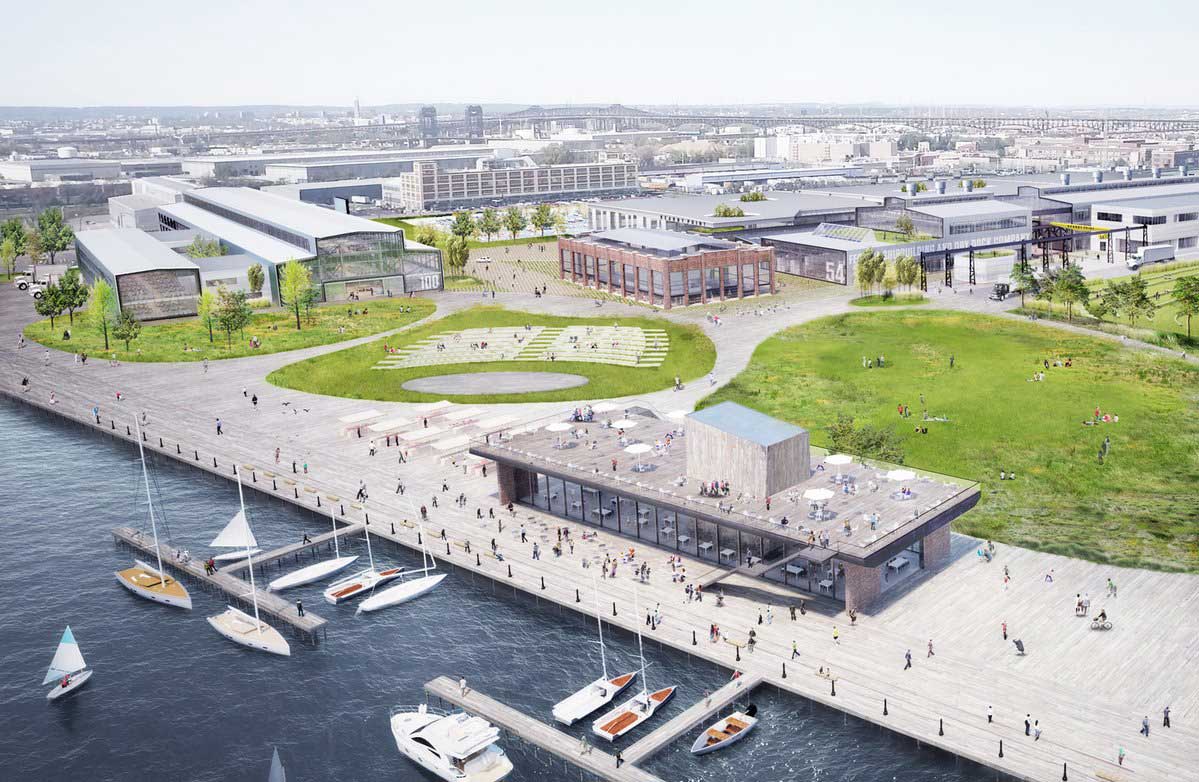 Just two miles to the west, a new office community within buildings previously part of South Kearny's shipbuilding industry is also receiving an award. When completed, Kearny Point, developed by Manhattan-based Hugo Neu with WXY Architecture + Urban Design and Studios Architecture, will not only include the existing office space, coworking spaces, and the Dry Docks Bistro, but also a landscaped walkable waterfront along the Hackensack River.
Essex County's sole winner is the Linc at Orange Station project, a mixed-use transit-oriented development that was completed in 2016 at site of the former Tony Galento Plaza parking area. Nestled between the Orange Train Station and Main Street, the project was developed by RPM Development Group, and consists of the Linc 32 rental building, which includes retail space and 113 units, and the Linc 52 condominium building, which features 24 units. Each building was designed by Inglese Architecture + Engineering, and is named for its address along Lincoln Avenue.
Other awardees include New Brunswick, Middlesex County's Dina's Dwellings for domestic violence survivors within the city's former First Reformed Church, Dover, Morris County's Guenther Mill Redevelopment Plan, which calls for converting a historic silk mill into a mixed-use community, Plainfield, Union County's School District Travel Plan, and the new Woodmont Metro at Metuchen Station development in Middlesex County. In addition, Dr. James W. Hughes, the Dean of the Edward J. Bloustein School of Planning and Public Policy at Rutgers University, received the Cary Edwards Leadership Award.
The Smart Growth Awards have been a New Jersey tradition for the Trenton-based organization since 2002, when developments like the Hoboken South Waterfront Project, East Orange's Bakery Village, and South Orange's Gaslight Commons were selected. In the years since, recipients have included Jersey City's 18 Park building, Lafayette Gardens, the revitalization of Newark's Military Park, and the headquarters building of the Urban League of Hudson County.
A reception to celebrate the 2017 winners will be held on Wednesday, June 7th at 5:30pm at the Hahne and Company Building in Downtown Newark, the rehabilitation of which won a Smart Growth Award last year. Click here to learn more or to purchase tickets.