The redevelopment of Kearny Point, a former shipyard, into a modern workplace, is well underway. The historic shipyard, often compared to Brooklyn's Navy Yard, Kearny Point is a former industrial site being transformed into a creative and entrepreneurial destination.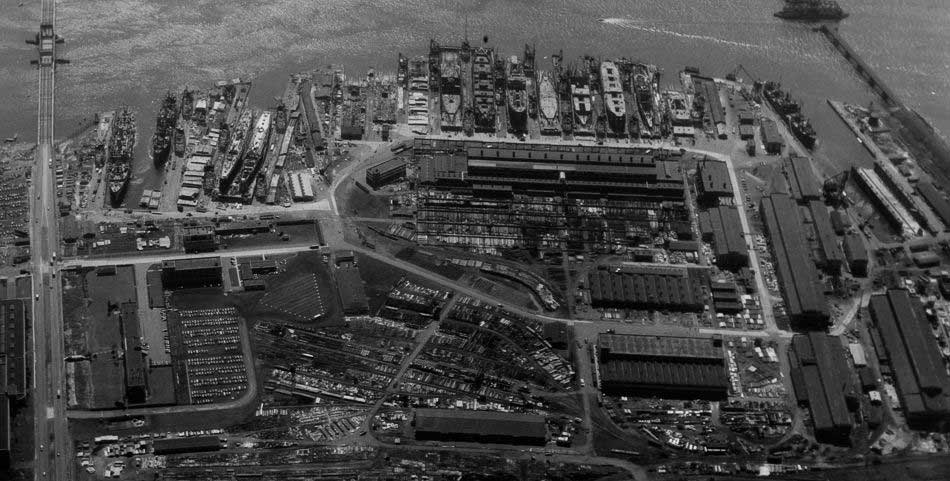 Formerly the Federal Shipmaking Building and Dry Dock Company, the site, located just at the mouth of the Hackensack and Passaic rivers, five miles from Manhattan and adjacent to Jersey City's West Side, functioned as a ship-building facility during WWI and WWII, employing nearly 30,000 people daily from 1917 to 1948. In the subsequent decades, the globally recognized private recycling company Hugo Neu took over the site for dismantling and scrapping operations.
But in 2012, after damage from Hurricane Sandy, Hugo Neu changed course, and looking to the future, renovated the site into a modern mixed-use commercial complex. Neu's goal was to embrace the site's history while providing for the future of business in the new economy.
Building 78, the first building completed in the project, is comprised of 200,000 square feet of loft-style flexible office space for small companies, and a stylish co-working space— Kearny Works. The pet-friendly units have already become home to makers and innovators, from craft-food artisans to tech entrepreneurs and filmmakers.
Four stories feature 40,000-square-foot floorplans with polished concrete floors, heavy floor load capacity, 13-foot ceilings, and individually controlled energy-efficient HVAC units. The co-working space includes 20 shared desks along with 50 individual suites and high-speed wifi. Various membership plans and free on-site parking are available, with leasing prices at a fraction of the cost of commercial space in Manhattan, Newark, Hoboken and Jersey City.
If it's any indication of the future for Kearny Point, the community of 70 or so diverse businesses who have already moved into Building 78, the anchor of the project, are paving the way for others to take advantage of the further transformation of the 130-acre industrial complex.
"We think that every company – regardless of size or scope – should have access to a flexible and technologically advanced workspace that puts them in a position to succeed," said Stephen Nislick, CFO at Hugo Neu.
And with industry comes more industry. Dry Docks Bistro, a new American cafe is now open and located on the ground floor of Building 78, serving cocktails, sandwiches, salads, and coffee from Kubrick Roasters. Plans for a rooftop bar/lounge on the 5,000 square-foot deck, with views of the port, NYC, Newark are also underway.
"We want people to look forward to coming to work each day and enjoy a cup of locally sourced coffee in the morning, grab a quality lunch, or relax with a drink with friends when the day's over," added Nislick.
With ecological restoration incentives for the waterfront at Kearny Point, plans for green park space on the banks of the river are also in the cards. When complete, the Kearny Point Project will have restored more than two million square feet of industrial space, making it one of the most economically significant projects in the region, and an economically smart one, too.
[gmap height="250px"]78 John Miller Way, Kearny, NJ 07032[/gmap]
78 John Miller Way, Kearny, NJ 07032