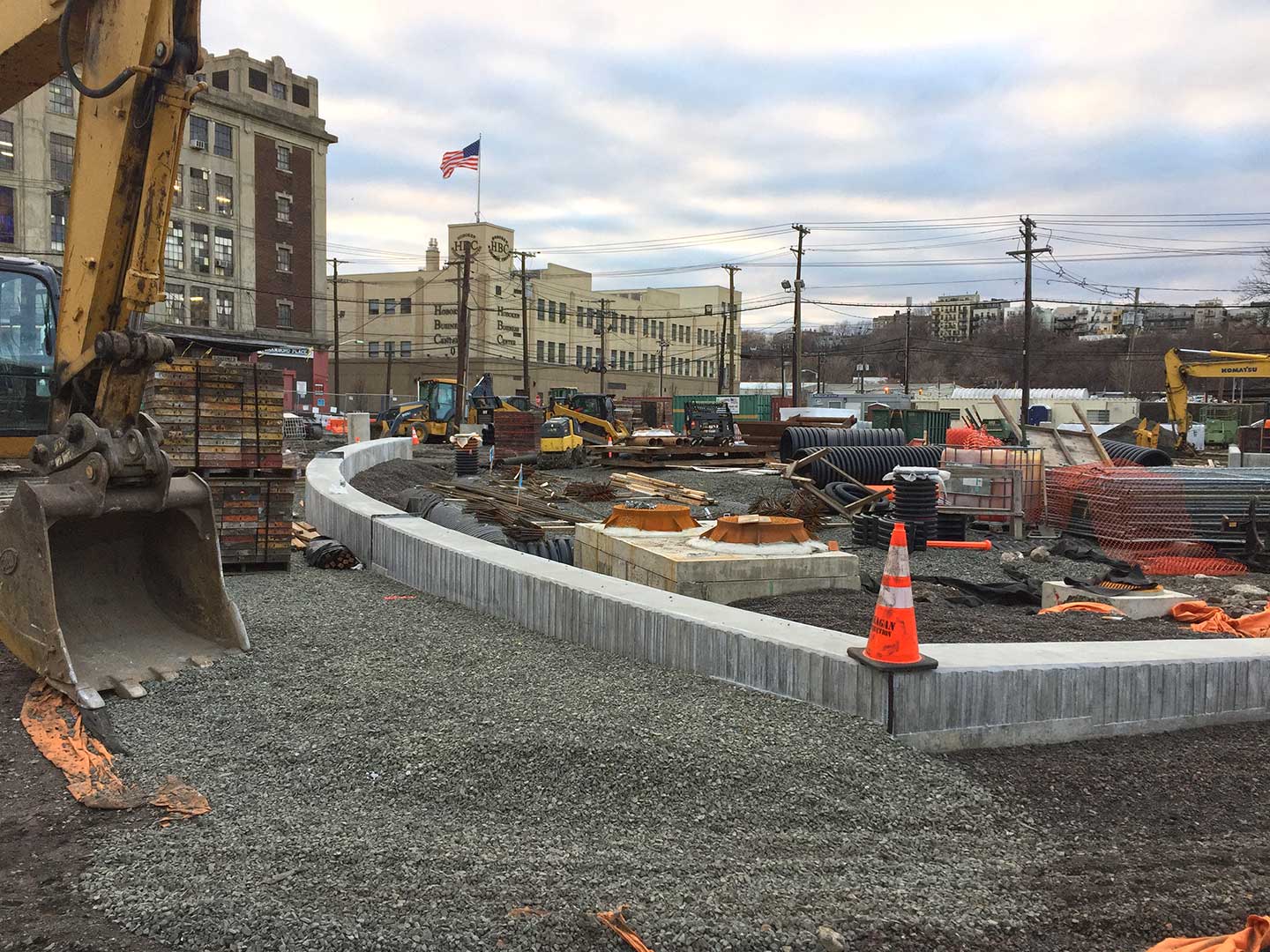 Later this year, Hoboken's Southwest Park will add an acre of lawns, trees, and playgrounds to one of the city's major gateways, and developers are looking to compliment the green space with some new housing and retail space for the neighborhood.
Work on the park, located at the intersection of Jackson Street and Paterson Avenue, began in earnest in June last year and officials have said it could be open as early as this summer. Developments and plans around the neighborhood have been ticking up, most obviously in the form of Galorenso Properties' 14 Paterson project directly across the street from the park.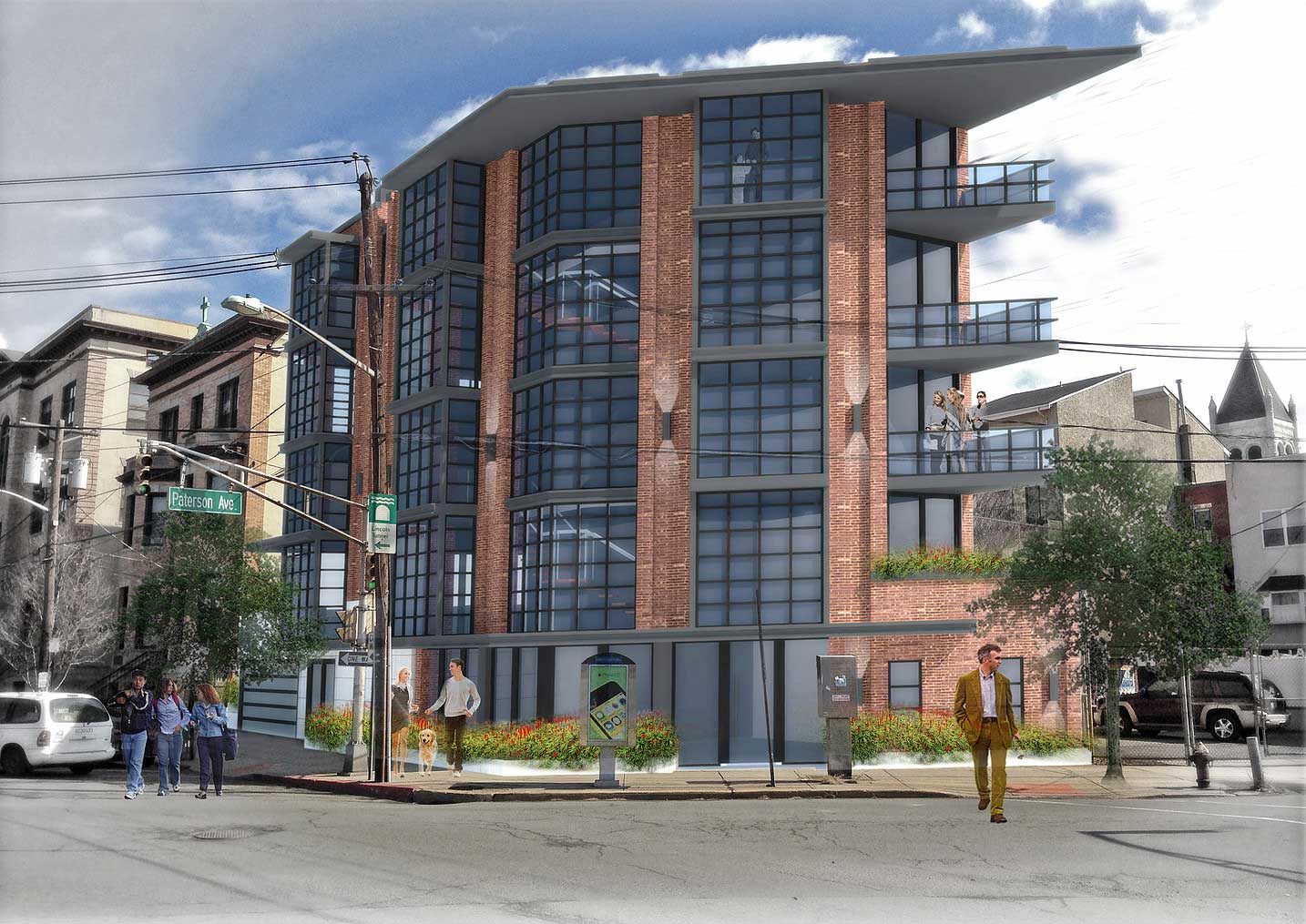 The development is finishing up now and will feature two oversized duplex units, both over 2,500-square feet, and a 780-square foot commercial space on the ground floor. With the additional foot traffic residents walking to the park is expected to create, several other projects in the neighborhood are also including ground floor retail, which should help to better activate the streetscape.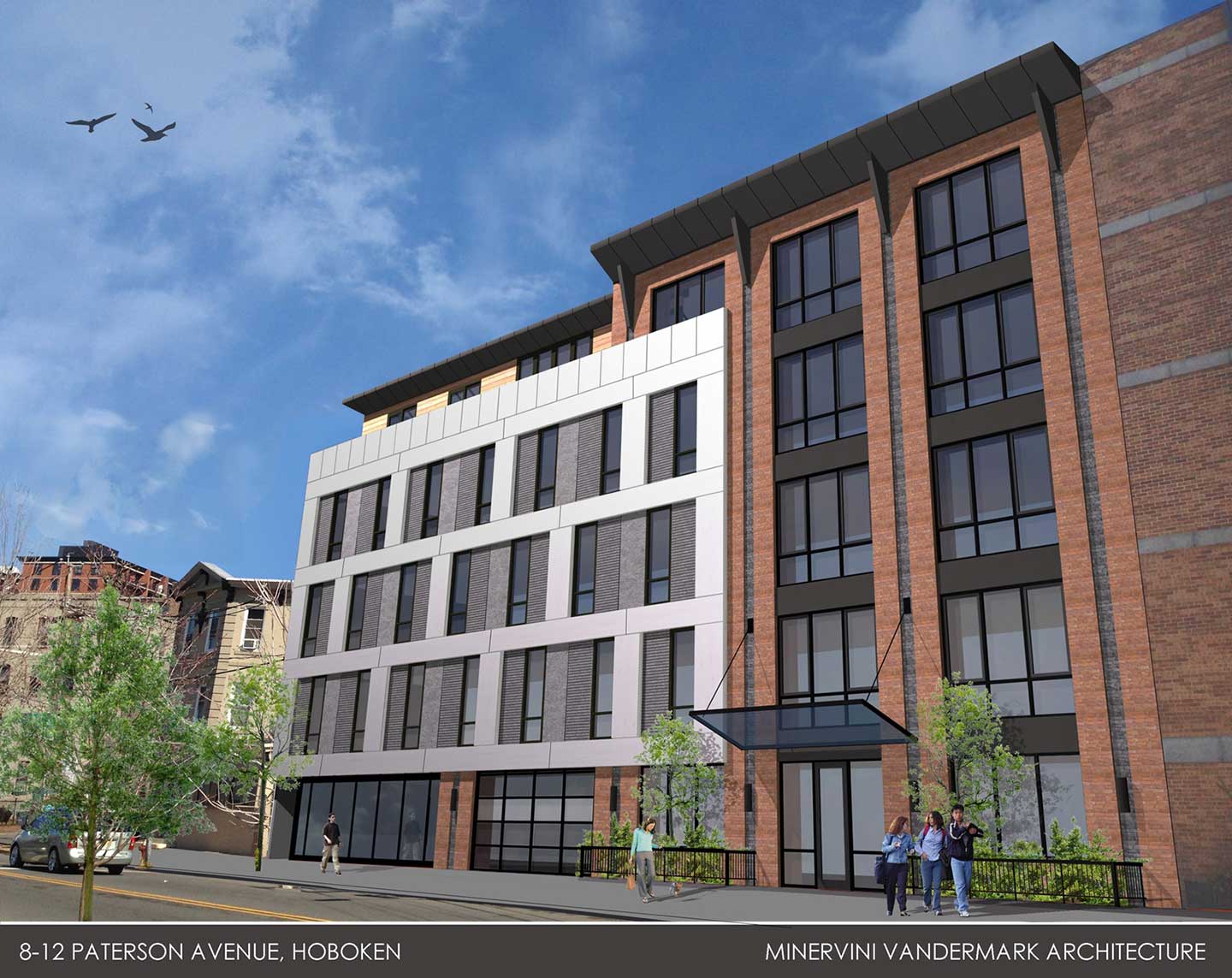 Just last month, the Planning Board signed off on changes to the property next door to 14 Paterson, which will replace J&D Pizza and a parking lot currently at the site. Designed by Minervini Vandermark, 8-10-12 Paterson Avenue will reach four stories, feature 12 condominium units, 10 parking spaces and 930-square feet of commercial space. The project has been in the works for some time and was first approved back in 2014.
Minervini Vandermark also drew up the plans for another property near the park that were approved last February. 100-108 Paterson Avenue, formerly home to an HVAC company, was razed late last year after being sold to a company called Southwest-1 Development LLC and will soon consist of an 8-unit residential building with 1,000-square feet of street level retail.
The lot, much like the Southwest Park itself, is irregularly shaped and has a severe angle at its corner, necessitating a unique design that incorporates roof decks and balconies. The development will be LEED Certified, feature five electric car charging stations and sport James Hardie Plank paneling on its exterior.
Just a few blocks from the park, The Taurasi Group is building 113 Monroe Street at the site of a former auto mechanic. Also designed by Minervini Vandermark, the sizable chunk of real estate will soon be a five-story building with eight duplex condominiums featuring either rear yards or roof decks. Two 1,000-square foot "retail condominiums" will also be built at each end of the almost-half block long property.
A few doors down, Urban Square Properties should break ground soon on 133 Monroe Street, which will be five stories tall and feature two duplex condominiums plus and landscaped rooftop deck. Approved by the Planning Board back in June, the retail component of this Minervini Vandermark-designed building will be significantly bigger, clocking in at 2,100-square feet.
Two environmentally-conscious developments are also being built in the neighborhood. Chillemi Construction has made good progress at their 109 Monroe Street project, which will feature seven residential units and a green roof. Designed by Long Valley-based Bodnar & Associates, the property will be LEED Certified and utilize a high percentage of recycled materials.
A stone's throw away, Chartier Redevelopment Group is constructing three new 3-bedroom, 2-bathroom condominiums at their former headquarters at 70 Monroe Street. Boss Construction is handling the build out of the project, which was designed using Passive House standards and will be LEED Gold Certified.
All of this is happening at a time when local officials are discussing a Southwest Redevelopment Plan for the neighborhood, which will be the subject of further community meetings later this year, when Hoboken's newest park should hopefully be open to the public.