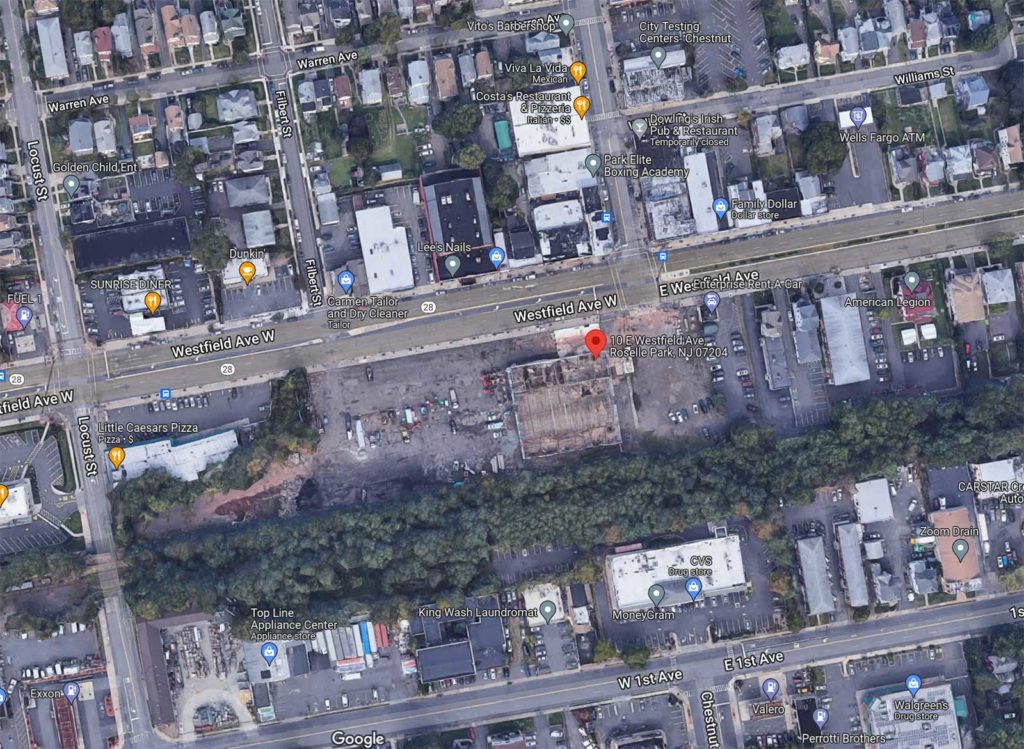 A long parcel spanning almost two city blocks in Roselle Park will soon be home to a new multi-family development close to both mass transit and a downtown district.
Linden-based Capodagli Property Company is hard at work building their latest project on about 1.7 acres of land at 10 Westfield Avenue West in Roselle Park. The stretch, formerly occupied by a Chevrolet car dealership, is just a few blocks from the Roselle Park train station and a short distance from Cranford's downtown area.
Capodagli completed the existing Meridia on Westfield in Roselle Park several years ago and specializes in constructing multi-family housing on what were once barren parcels. Their most recent endeavor, designed by Newark-based BlackBird Group Architects, will eventually consist of 325 apartments, 16,000-square feet of ground-floor retail space, and a 518-space parking garage.
Capodagli says their project, which has been referred to as Meridia at Park Square, is meant to appeal to young professional renters. It will be separated into two buildings; the first will consist of 235 residential units while the second will sport 180 apartments. 16 spaces will be set aside as affordable housing, and amenities offered at the complex will include courtyards, a fitness center, meeting rooms, and a lounge.
"We are enthusiastic and thankful to work with the town of Roselle Park on our second multifamily project within town," said founder George Capodagli. "They have been pivotal in helping us carry on our mission to bring affordable housing to the middle class with a Class A product."
New York-based lender ACORE Capital is providing the financing for the project, which is being built about 20 miles from New York City. Greystone Capital Advisors President Drew Fletcher represented Capodagli in the deal, which closed last year with assistance from vice presidents Miryam Kops and Bryan Grover.
"Over the past 40 years, Capodagli has grown into one of New Jersey's premier real estate development, investment and management companies," Fletcher said. "The firm's strong leadership and hands-on approach to design and construction allows it to consistently deliver a high-quality differentiated rental product for the middle market."
The first phase of Meridia at Park Square is scheduled to be completed sometime during 2023.