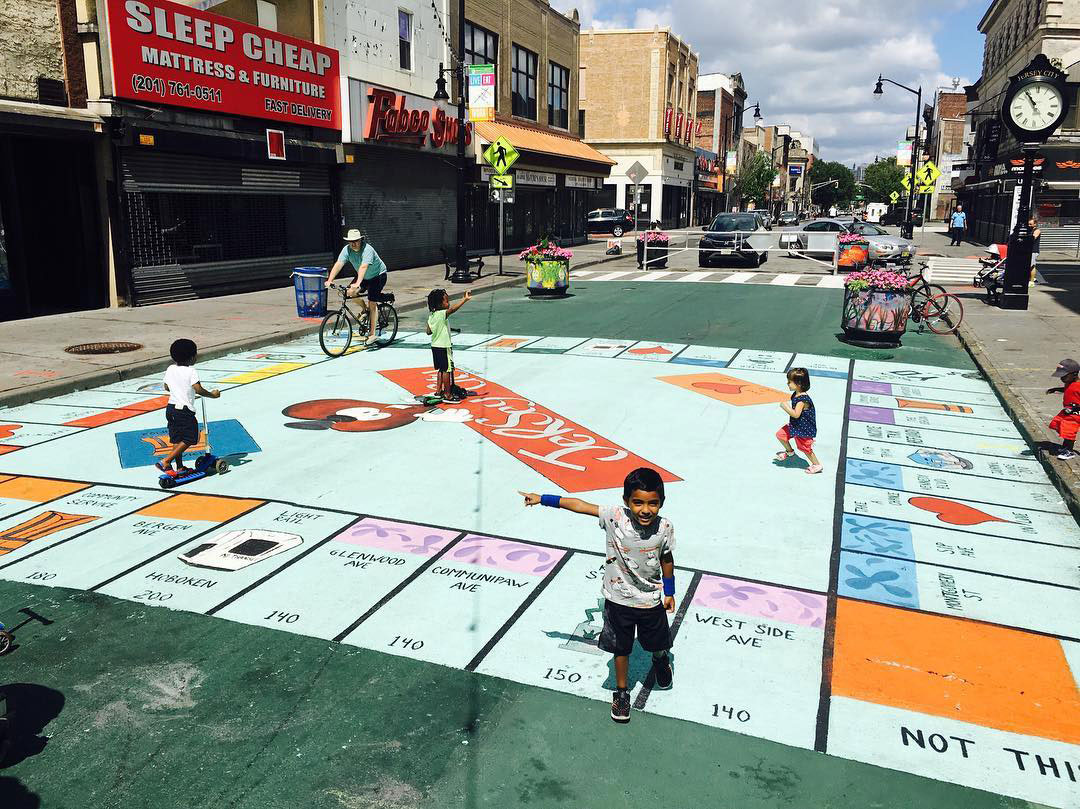 Over the past week, the story on how a Monopoly-themed mural at the tip of the Newark Avenue Pedestrian Plaza wound up officially painted over, has materialized into a public discussion. Commission, censorship, hypersensitivity, freedom of expression in art, and corporate sponsorship are now the charged pieces at the center of the game board.
The provocative mural by Gary Wynans, a.k.a. Mr. AbiLLity (born and raised in Jersey City Heights), depicted the city as a giant Monopoly board featuring local icons and fixtures along with undeniable symbols of gentrification and disparity.
The city, having commissioned the mural, approved a rendering with agreed tweaks, i.e., renaming "Gentrification Tax" to "Hipster Tax," and moving the "Martin Luther King Drive" square further from its spot next to the "Go To Jail" square.
Outrage was immediate over the "Go To Jail" square, though, which according to some, depicted a man of color behind bars. Assemblywoman Angela McKnight argued it enforced racial stereotypes and got it removed.
Wynans confirms that it was meant to be a self-portrait (he is of Puerto Rican and Italian descent and had himself been arrested prior on mischief charges for illegal graffiti). The other square under scrutiny, depicting a police officer as a pig, drew ire from the police community and was not included in the final design.
The clincher for Wynans though, was when prominent developer Paul Silverman, stopped by personally during painting to suggest Charles & Co. get a square due to Silverman's sponsorship of various Jersey City programs. And after one phone call, he had one: "Take a Chance On: Charles & Co."
Interviewed this week by PIX 11 Wynans was not censored in his response, stating that he was shocked that it was painted over after receiving no notice. "It showed City Hall does not care about the art or the artist." He added, "I think having a square that's sponsored by a condo company, is kind of foul."
The Jersey Journal published a poll as to whether the mural should have been painted over, with 73% citing no and 23% yes. The National Coalition Against Censorship has penned a letter of protest. Conversations on Reddit and JC List reveal though some felt the mural was odd to begin with, many are railing against the fact that censoring to the point of obliteration is an unacceptable city response.
"Pleasing everyone, is not what art is supposed to do," was the melody of the JC List thread (submitted by user baxtyre).
According to Mr. AbiLLity, the city originally planned to install playing pieces on the board, which seems to be documented on Mayor Fulop's Instagram.
Whether this moment goes down as a failed experiment or a purposeful stir of controversy surrounding what it is, exactly, that Jersey City is becoming, the idea was a gamble. When it comes to publicly commissioned art, everyone will want their square, private interests included.
"Anyone (artist) doing work with the city is at risk of being violated as I have," Mr. AbiLLity told me in an Instagram message. "To fix it there must be a committee of people who decide the process. Some should be artists themselves."
Today, the patch of green was empty of the children who would previously congregate and hop over the squares.
Mr. AbiLLity, whose Instagram description reads "Let's change the world," recently posted drone footage of the former mural with caption: "#throwbackthursday, S*** nearly made me teary eyed." In the video, the drone ascended up past the roofs of surrounding restaurants and shops, shooting up and up, taller than the latest high-rise.