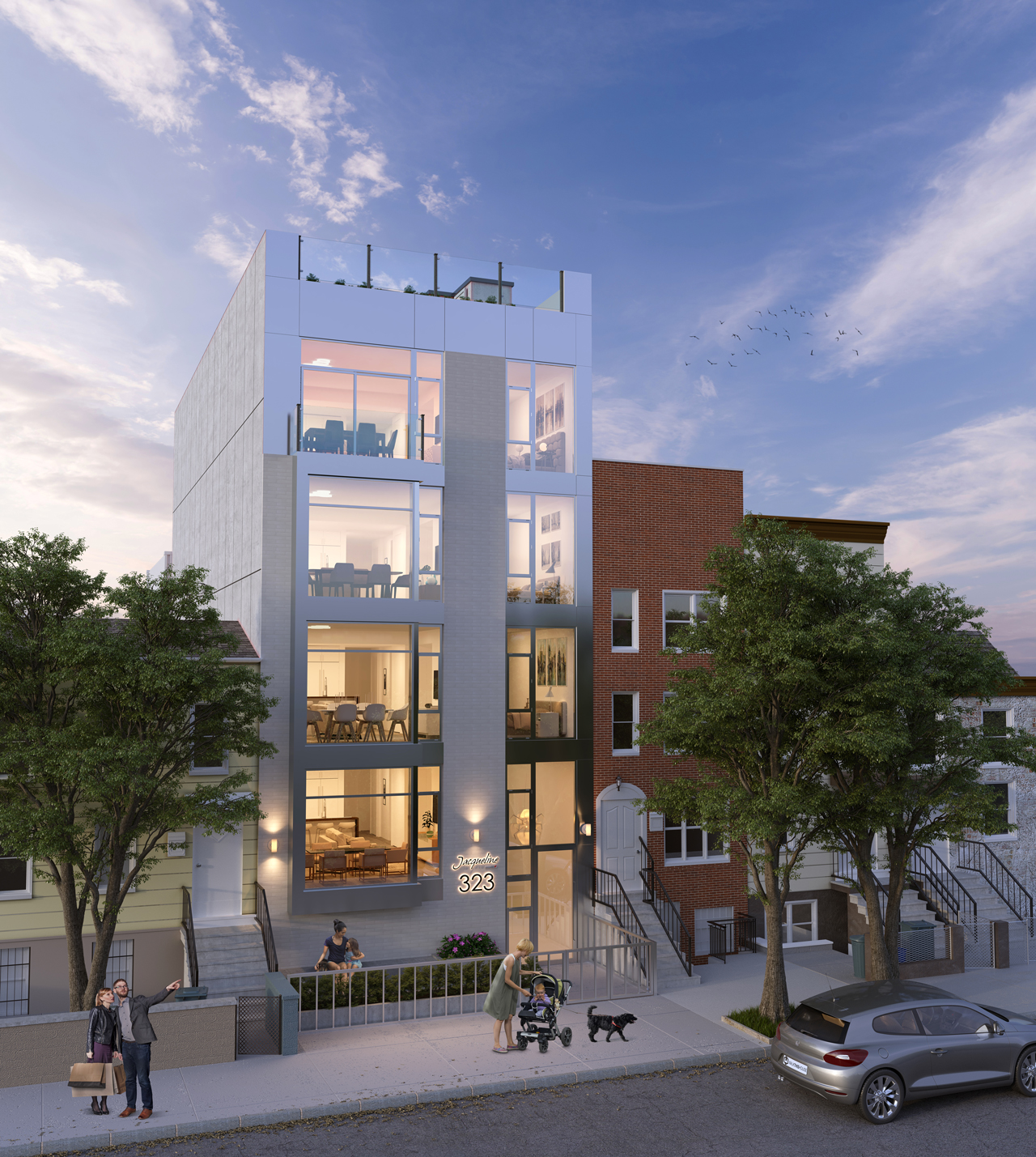 Tall, elegant, and certainly smart, Jacqueline is everything you've been looking for and more. She is easy on the eyes and even easier to fall in love with, standing out from the crowd Downtown. Rising on Fourth Street, just a block and a half from Newark Avenue, Jacqueline is not only Jersey City's newest boutique building but also a condominium designed down to the last detail, leaving nothing to be desired.
Nazli Fard, President of Fard Development, brings years of international real estate expertise to the project as well as the sheer attention to detail and singular design aesthetic required to bring such a differentiated product to the marketplace. "There was a big need for high quality, Park Avenue quality, in Jersey City," explains Ms. Fard. "The idea is to incorporate the tastes and high quality that buyers covet in Jersey City but often cannot find."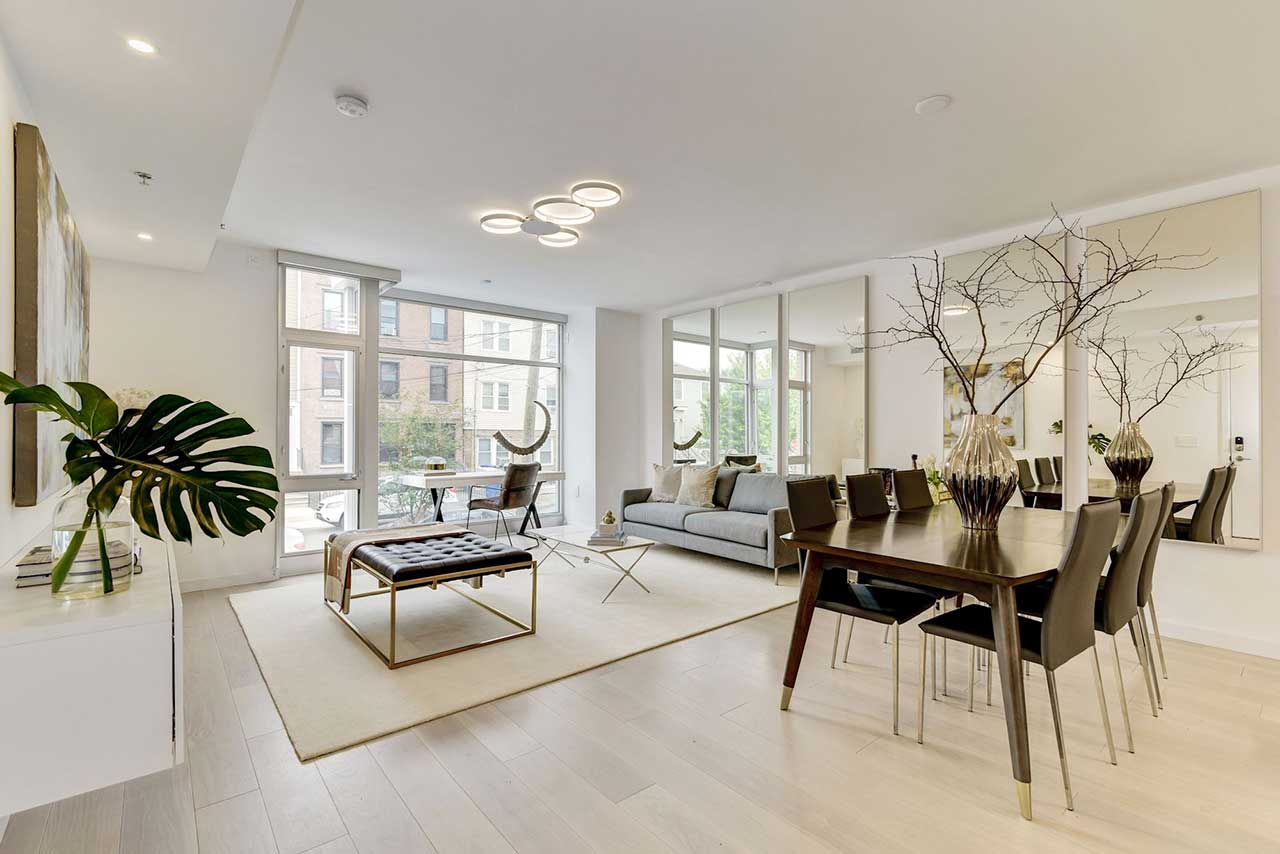 The neutral brick, sleek steel, gleaming glass, and clean cement siding are reminiscent of New York City's most iconic new construction which also shares Jacqueline's commitment to beauty, craft, and quality. From the stunning sidewalk approach, through a grand double-height lobby, and directly up in the elevator to cross the threshold without making a stop, an unparalleled level of luxurious detail resonates.
A contemporary chandelier and an architectural floating staircase welcome residents into the lobby which is treated as an extension of the living areas, offering convenient and secure keyless entry as well as a climate-controlled common space.
The building contains only four condominiums and each residence occupies a full floor. And an expert team, including architect Minervini Vandermark, structural engineer JT Engineering, even acoustical consultant Criterion Acoustics, and Fard Development left no design element, functional or otherwise, up to interpretation. Every detail was discussed.
There is a single elevator in the building, but with only four condominiums to service, each resident will be able to ride the elevator directly between their home and the lobby without making an unscheduled stop. The elevator opens directly into each residence, a true Park Avenue experience, but it is also easily programmable, offering tiers of security and the ability to manage access to the home.
The interiors are minimalist in a museum gallery kind of way, feeling thoughtful as well as transitional — ripe for a personal touch. Walls are chalky white with hingeless and handleless doors, floors are a thick light oak and provide superior soundproofing, and absolutely nothing obscures the light.
The floor plans are open, and if even more openness trumps an extra bedroom or two, none of the interior walls is load bearing. The building's weight rests on its exterior walls and elevator shaft, making floor plan possibilities limitless and highlighting the building's design intent: if it's not needed, it's not here. The large closets are even a blank canvas, offering bespoke build-outs to each resident.
Kitchens are extremely refined with Miele appliances inconspicuously integrated into the slick white cabinetry which is uninterrupted by hardware. Countertops bevel and fall, creating soft edges of optical illusions, and the glass backsplash is both easy to clean and quite sophisticated. A walnut breakfast bar provides contrasting texture but stays within the palette of natural materials: stone, glass, and wood.
A number of functional elements are so seamlessly executed, they might not stand out, but then one wonders why every quality condo doesn't feature the same details. Switches and air vents are beyond line-of-sight and low profile, outlets are either hidden or screwless for a really clean look, and even the window shades are motor-ready. Relatively speaking, the forward-thinking design coupled with the small number of residences results in a real marriage of luxurious quality and high value.
Every residence has two full bathrooms and the second is beautifully clad in large slabs of Spanish tile, some with texture, and a long deep bathtub for sumptuous recessed relaxing. Walking through the spacious master bedroom, a large intermediate space offers infinite walk-in closet configurations and a transition to the true showstopper: the master bathroom.
Built as a wet bath, striated slabs of stone cover the floor and walls, taking care to line up and continue the veins from one piece of porcelain to the next. A sexy standing shower feels very European separated by only a single pane of glass and an oversized recessed rain shower head is a luxe touch. All finishes and fixtures are wall hung and the floor tile is heated and app-controlled, so bare feet never tread on cold stone.
Jacqueline is comprised of one two-bedroom residence and three three-bedroom residences. All feature a private terrace at the rear, accessible by both the master and second bedroom, as well as private roof deck space complete with sweeping city views. Every residence also has an additional storage area on the ground floor and one parking space in the four-car high-tech hydraulic parking system easily accessed from the alley behind the building–a rare amenity Downtown.
"The building is definitely a she," says Ms. Fard. Inspired in design and name by Jackie Kennedy, Jacqueline at 323 Fourth Street is elevated, chic, strong, and uniquely beautiful. "You fall in love easily and then just can't let go," says Ms. Fard with a smile.
The two-bedroom residence is 1,200 square feet while the three-bedroom homes are just over 1,300 square feet, and all have over 100 square feet of private roof deck space. For more details and a 3D tour, visit Jacqueline's website. To schedule a showing, contact the sales office at 201-351-1474 or email Ms. Fard directly at [email protected].
—