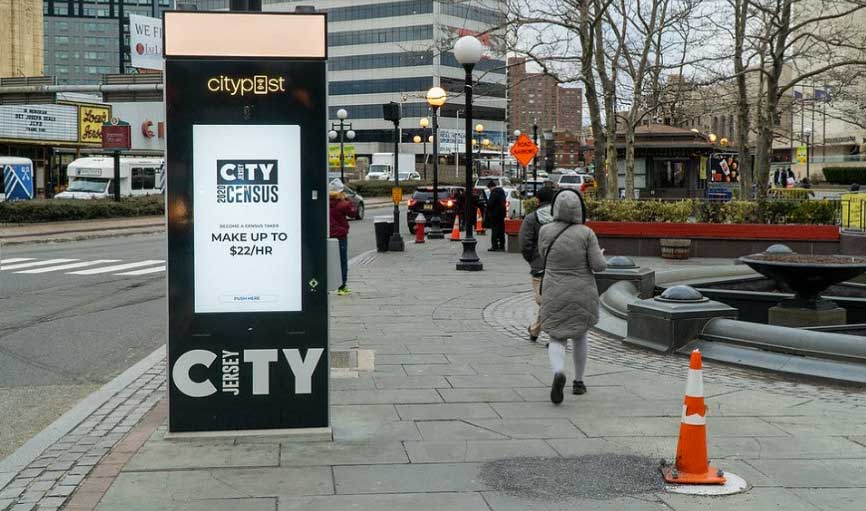 Hudson County officials are seeking to have new kiosks installed at busy locations as part of a plan that they say would promote the county as a "unique tourist destination," but the devices would not just be used to provide information about local events and public transit options.
The "networked public information kiosks of the highest quality" that are being sought by the Office of the County Executive's Cultural & Heritage Affairs/Tourism Development Division would also "include 360 camera surveillance and be able to provide real-time access to Police Departments, Transit Police, Campus Police, and other third party safety providers," according to a request for proposals (RFP) that was issued on Monday.
The selected vendor would need to install between 18 and 50 kiosks.
These weather-resistant and ADA-compliant devices would need to include free Wi-Fi hotspots and the "most recent Covid-19 technology for less direct touch screen contact with the Kioks [sic]," according to the document, which adds that "kiosk designs shall be of a modern aesthetic and shall reflect Hudson County's streetscapes and architecture."
In addition to emergency alerts and information about local places to visit, some advertisements could be displayed on the kiosks, but respondents to the request will need to include an anticipated advertising revenue breakdown and share how much of the earnings would be provided to the county government.
The RFP notes that along with having at least one device installed around Hudson County PATH stops and high-traffic locations, the selected vendor's proposal would need to have at least one kiosk per municipality in the county, except for Jersey City. The county's largest city previously saw the installation of CityPost information kiosks, while neighboring Newark in Essex County currently has similar LinkNWK devices.
Proposals from vendors are being accepted through December 29. The requested kiosks would need to be installed and maintained without any cost to the county government, according to the RFP.
Related: