You may have noticed that Markers Restaurant near Exchange Place closed, and if you've walked through Harborside recently, you've seen that the small shops, restaurants, and even the CVS have shuttered. The closings are part of a planned $75 million transformation of the complex into Harborside Terminal–"depart from the ordinary, arrive at the extraordinary."
Mack-Cali Realty Corporation, who owns Harborside, is making major capital investments along the waterfront in the retail, commercial, residential, and public spaces to create a "pedestrian-friendly urban landscape at the water's edge" and a real "live work play" kind of neighborhood.
"Be Here Now" is Mack-Cali's call to action, capitalizing on the energetic evolution of Jersey City. Renderings depict a day and night destination that looks like it will be Jersey City's very own version of NYC's Brookfield Place. Walls of glass and an ambitious atrium will host music and dance performances, art installations, events, and more. The complex will also complete the neighborhood with a high-end grocery store and coffee shop. Experiential retail and a Marketplace reminiscent of food halls in Europe, offering ethnic culinary specialties, are also planned.
Harborside is already home to six Class-A office buildings and Mack-Cali is incorporating first-class, fully-integrated business lounges into the construction, strengthening their appeal that this is the place to be for your business.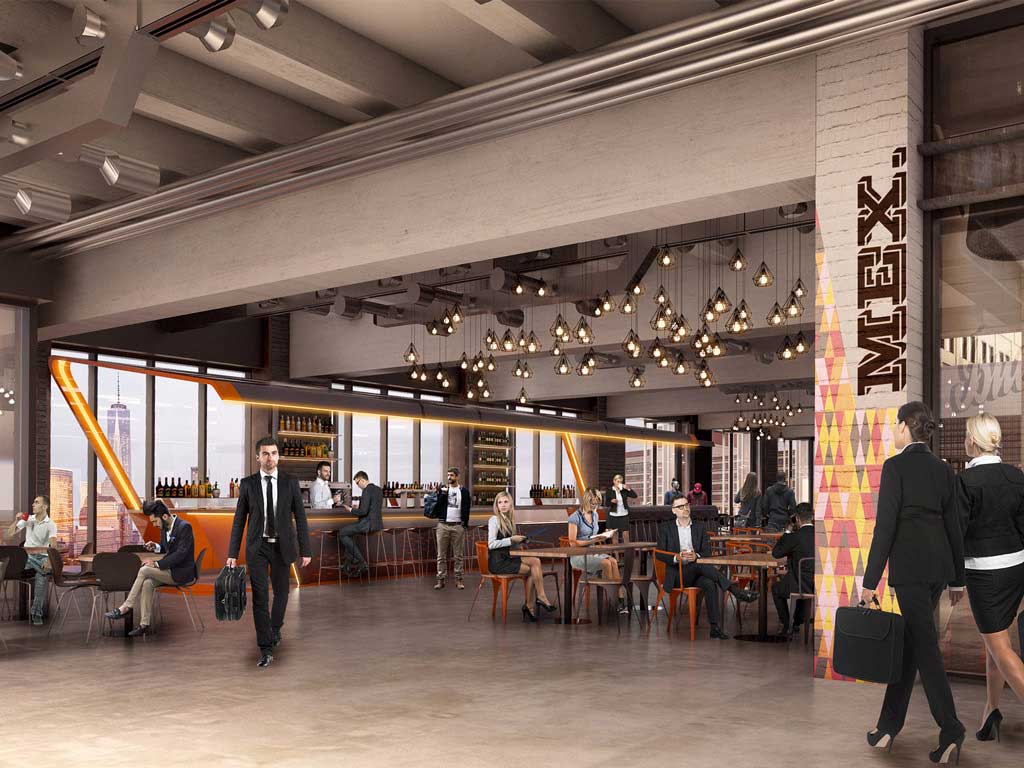 Mack-Cali Realty Corporation also partnered with Ironstate on the development of three new residential towers along the waterfront, called Jersey City Urby–the first tower is set to start leasing this month–and the increase in public spaces and foot traffic along the expanded Waterfront Esplanade will certainly invigorate the area. And the planned beer garden and craft cocktail bar will be awesome additions and great places to sip with City views.
Harborside Terminal will be like Jersey City, what Mack-Cali says has "fast become the now place." But until then, Pop-Ups @ Harborside will fill the empty retail spaces with temporary outposts of local restaurants like Tidal Poke, Lizzmonade, ModCup, and Whealth and Co.
A pop-up food hall recently launched in the former corporate cafeteria space. Vendors include Kimchi Grill, Boil Boil Ramen, Enfes, Delaney Barbecue, Sprig Market Cafe, and La Sonrisa, with more on the way.
And keep an eye on special events; recently, Harborside played host to the Craft Beer Fest, JC Wine Fest, and the just-announced JC Whiskey Fest is planned for Friday, March 24th. It's also home to the area's first indoor foodie nightlife event, Midnight Market, which will have its next installment on March 17th inside the Harborside Atrium.