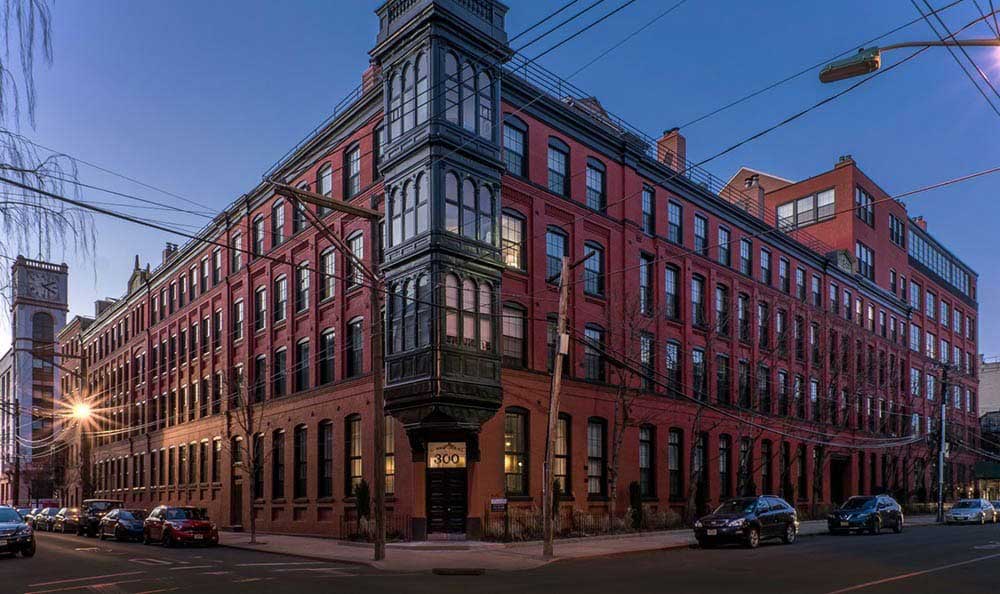 A complex that has spanned an entire block of Hoboken for over a century officially has been purchased by a New York investment firm.
Skylight Real Estate Partners, a privately held company, has announced a joint venture with PCCP LLC to acquire Grand Adams, a 99-unit loft-style apartment community in Hoboken. The companies bought the stately brick building for $56.75 million, with JLL Capital Markets arranging the equity for the recapitalization.
"This acquisition reflects our ability to identify strategically located assets in supply-constrained markets," said Bennat Berger, Founding Partner at Skylight Real Estate Partners. "We are consistently seeking opportunities to expand our multifamily portfolio, especially in areas such as New Jersey, which is seeing significant growth and migration patterns due to limited availability and cost in adjacent markets."
Located at 300 Grand Street, the complex was originally built in 1906 as the Keuffler & Essel factory. The building has evolved from a precision instrument factory into a rental apartment complex with modern finishes, expansive living spaces, exposed brick, vaulted ceilings, oversized windows, and wood-burning fireplaces.
"PCCP is excited to be expanding our NJ Gold Coast multifamily portfolio with the acquisition of Grand Adams, said Brian Haber, a Senior Vice President with PCCP. "The deal presented the opportunity to partner with an existing local sponsor relationship to acquire a differentiated loft-style apartment community and assume accretive fixed-rate debt in a rising rate environment."
Amenities at Grand Adams include on-site covered parking, a 24-hour laundry center, doorman service, multiple courtyards, a dog park, and an electronic package concierge. The property is located near several restaurants and shops around 3rd Street and a short walk from Church Square Park.