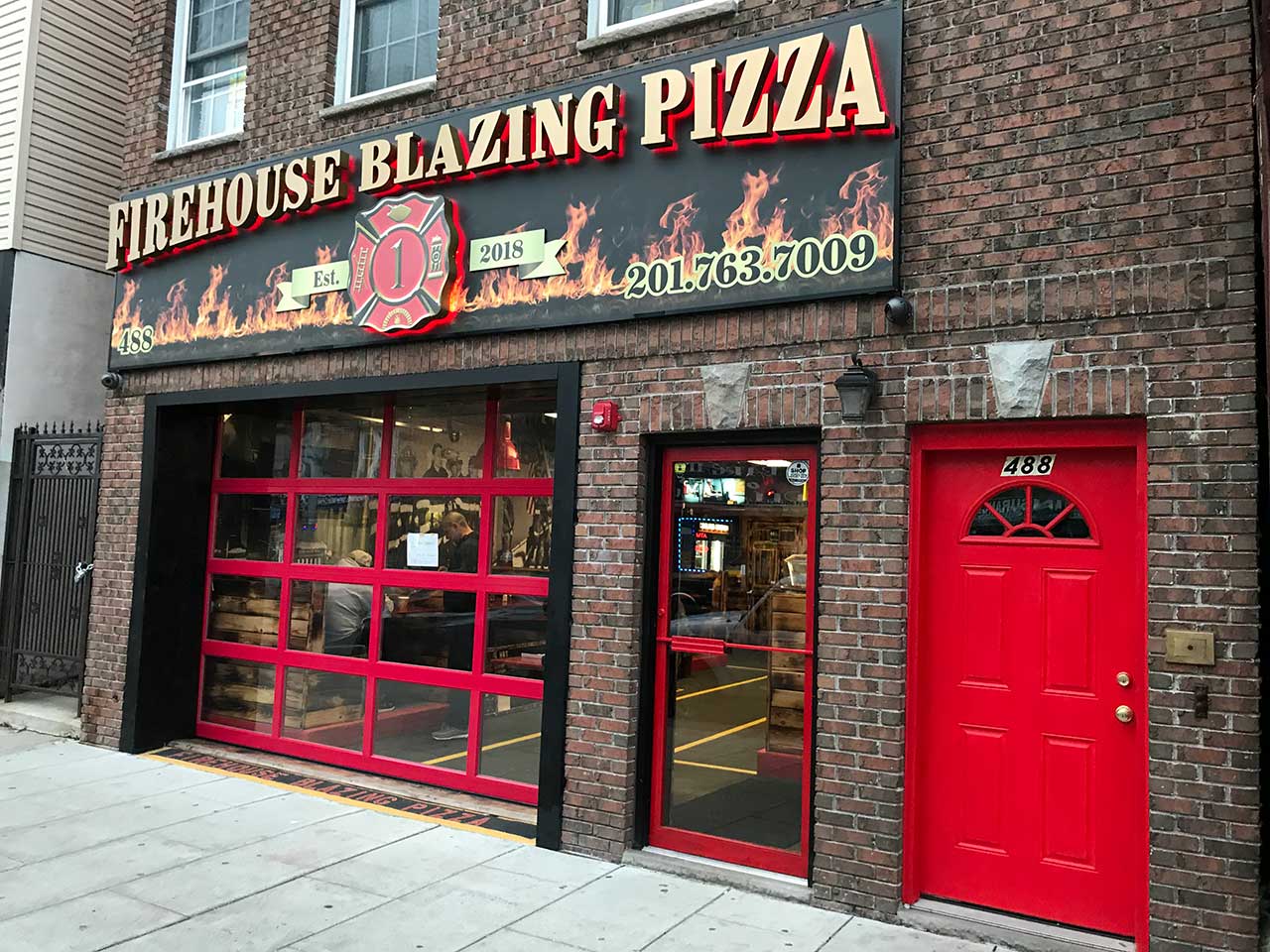 Jersey Digs reported in February that a new pizzeria would be coming soon this spring and, since their grand opening on April 28, Firehouse Blazing Pizza in The Heights has been turning the tables on the standard slice joint.
As the catchy name suggests, the design and build-out of the restaurant resemble a real firehouse, including a roll-up door which is the defining feature of the space. In nice weather, the door is rolled up, making all of Firehouse Blazing Pizza feel like it's outside and creating a really casual community setting seamlessly integrated with Central Avenue. When closed, the door provides a red-paned wall of windows for an open and inviting but cozy interior. But no matter the weather, this is a place to linger and appreciate.
Owner Felix Santiago is a retired fireman and on a mission to not only nurture the community with good food but also nurture the connection between people across the table. The first Latino Captain of the Hoboken Fire Department, Santiago wants his family-owned-and-operated restaurant to be a place that inspires people to put down their phones and enjoy real family time and conversation.
Both sides of the restaurant are lined with elevated booths of distressed wood and large red tables that have a retro diner look. Large-scale black and white photography of historic Jersey City and Hoboken firefighting scenes covers the north wall while the south brick wall is emblazoned with the Firehouse Blazing Pizza emblem, expertly painted by local artist Paws21 Art.
Besides the black flooring designated in bright yellow as a fire zone, fun details are throughout. Yellow fire hoses double as pendant lights over the service counter and big red overhead lights illuminate the booths numbered like fire engines. And fireman's picks and a helmet from JCFD's Ladder 6 and Ladder 8 are not simply decoration but a real conversation starter.
The menu includes everything from a slice to a full chicken parmesan entree covered in the restaurant's famous Chico tomato sauce. Open for lunch and dinner, there's a well-rounded selection of salads, wraps, and sandwiches plus burgers and pasta. And a handful of televisions and wings in six different flavors also make the restaurant a good spot to stop and watch a game. Pizza is conveniently served by the slice or by the (small or large) pie and the options are traditional as well as inventive.
Try the pepperoni for a classic delicious slice or the pesto pizza for something lighter. Gluten-free and vegan options are also available, but if your diet allows, try the 4 Alarm Blazing with onion, sausage, hot peppers, pepper flakes, and mozzarella. Garlic knots with a knockout sauce and traditional desserts like cannolis and cheesecake round out the menu.
Located at 488 Central Avenue, just south of Washington Park, Firehouse Blazing Pizza is only two weeks strong, but the friendly vibe inside and the quality of service over the counter make the pizzeria feel like a neighborhood institution already.