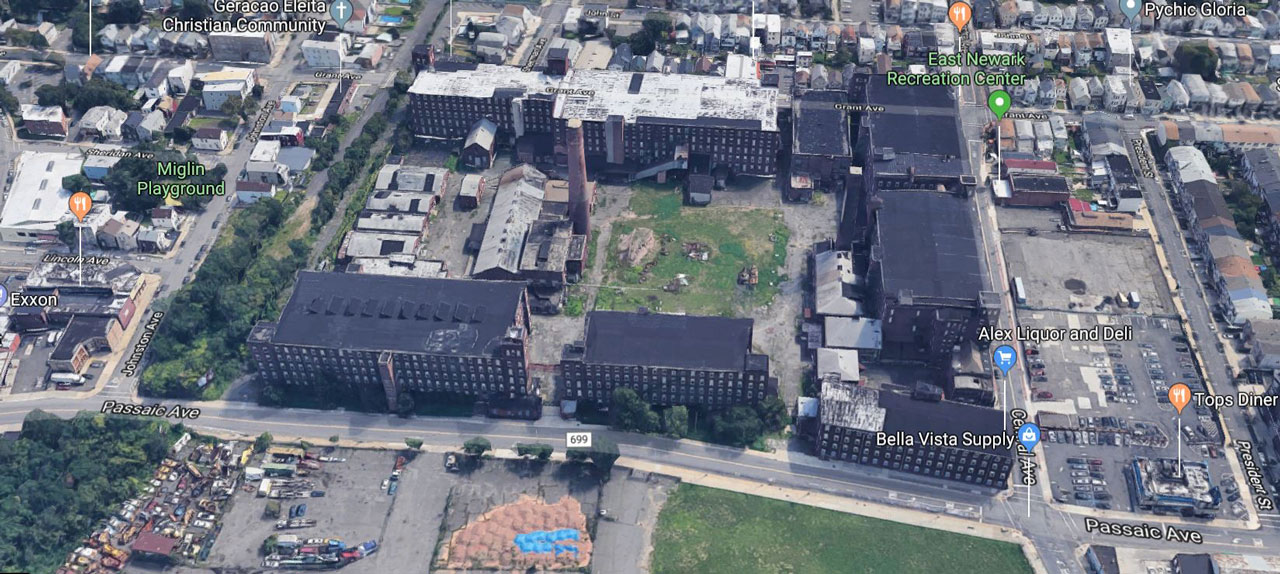 An adaptive reuse proposal that would bring major changes to eight adjacent East Newark edifices is expected to be the subject of a special board meeting in the western Hudson County borough tonight.
The East Newark Planning Board is slated to hear a project proposal by East Newark Town Center, LLC that, if approved and ultimately developed, would turn the sizable Clark Mill Complex into a community with multiple uses.
A legal notice issued on October 7 states that 616 residential units, 91,022 square feet of retail space, and 4,388 square feet of commercial space, along with 105,769 square feet of "vacant space for an undetermined future use," are all being proposed for the existing structures, while a new parking garage could bring over 1,350 parking spaces and a rooftop terrace.
The Clark Mill Complex at 900 Passaic Avenue once housed the country's largest thread manufacturing firm, according to The Jersey Journal, which reported last week that East Newark Town Center is an affiliate of Alma Realty. In 2017, The Observer wrote that Alma Realty paid over $10.6 million for the site more than a decade earlier and that the company envisioned 616 one-bedroom and two-bedroom rentals.
The property is situated in close proximity to residential neighborhoods and the Passaic River while the Newark Broad Street train station is just over a half-mile walk away via the Clay Street Bridge. Harrison's PATH station is roughly a mile from the premises.
East Newark Town Center is seeking Preliminary and Final Major Site Plan approval from the East Newark Planning Board. The firm's proposal is the only matter on the agenda for tonight's meeting, which is scheduled to begin at 6:00 p.m.
Note to readers: The dates that applications are scheduled to be heard by the East Newark Planning Board and other commissions are subject to change.
Related: