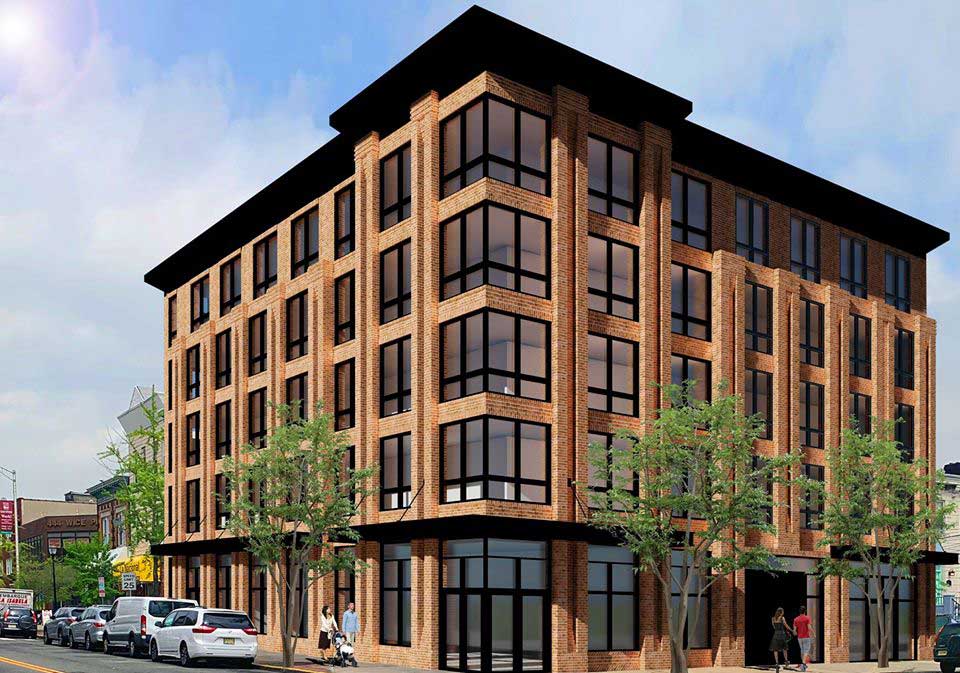 A developer's plan for a 7,287 square foot site along the main drag of The Heights in Jersey City has been given the all-clear to advance.
A Preliminary and Final Major Site Plan application regarding 428-434 Central Avenue was was scheduled to be heard by the Jersey City Planning Board on January 21. The proposed five-story development plans were approved, according to the Central Avenue Special Improvement District (CASID), which posted a rendering of the proposed building.
A legal notice from earlier this month shows that NNJ Properties, a company registered out of the same address in the Long Village village of Williston Park as Napoleon Development, is envisioning a project with 32 residential units and 2,437 square feet of retail space.
Located at the corner of South Street, the premises are made up of two parcels and were acquired by NNJ Properties for nearly $2 million back in 2016. There are two longstanding buildings at the site that have included local businesses such as Griot Cafe, Princess Nails, Central Flowers, and AC Plaza 2000, along with multiple apartments. Should the developer move forward with construction, the existing structures would have to be torn down.
CASID posted on social media that "businesses at this location…are already working on relocating within the district as they are finalizing plans for the long-anticipated move," mentioning Griot Cafe and AC Plaza 2000 by name.
In addition to Preliminary and Final Major Site Plan approval, NNJ Properties sought variances such as minimum required parking, according to the notice. Only seven parking spaces are being proposed for the premises, though the site is located near New Jersey Transit bus service to the Port Authority Bus Terminal, Jersey City, and Bayonne. The elevator to the 9th Street/Congress Street stop on the Hudson-Bergen Light Rail is also roughly a half-mile walk away.
Related: