One of the most historic areas of New Jersey is undergoing an overhaul that aims to enhance pedestrian safety while educating locals about the area's past.
Jersey City Mayor Steve Fulop joined City Council members and the Department of Infrastructure to announce the groundbreaking of the Bergen Square revitalization project. The community-led project hopes to transform the intersection, just south of Journal Square, into a new public space that highlights the role this section of Jersey City played in the development of our country.
"The Journal Square area is an important part of Jersey City's history and is undergoing an unprecedented renaissance to become one of the most vibrant and exciting places to live, work, and visit in the region," said Mayor Fulop. "This new Bergen Square revitalization project will be a key part of that progress and will help to ensure that Jersey City remains a thriving and vibrant community for years to come."
The Bergen Square Committee was formed in 2018 to strengthen the identity of the area. The fruits of their efforts have produced a plan that will convert several surface parking lots into a 5,400 square foot pedestrian plaza and green space.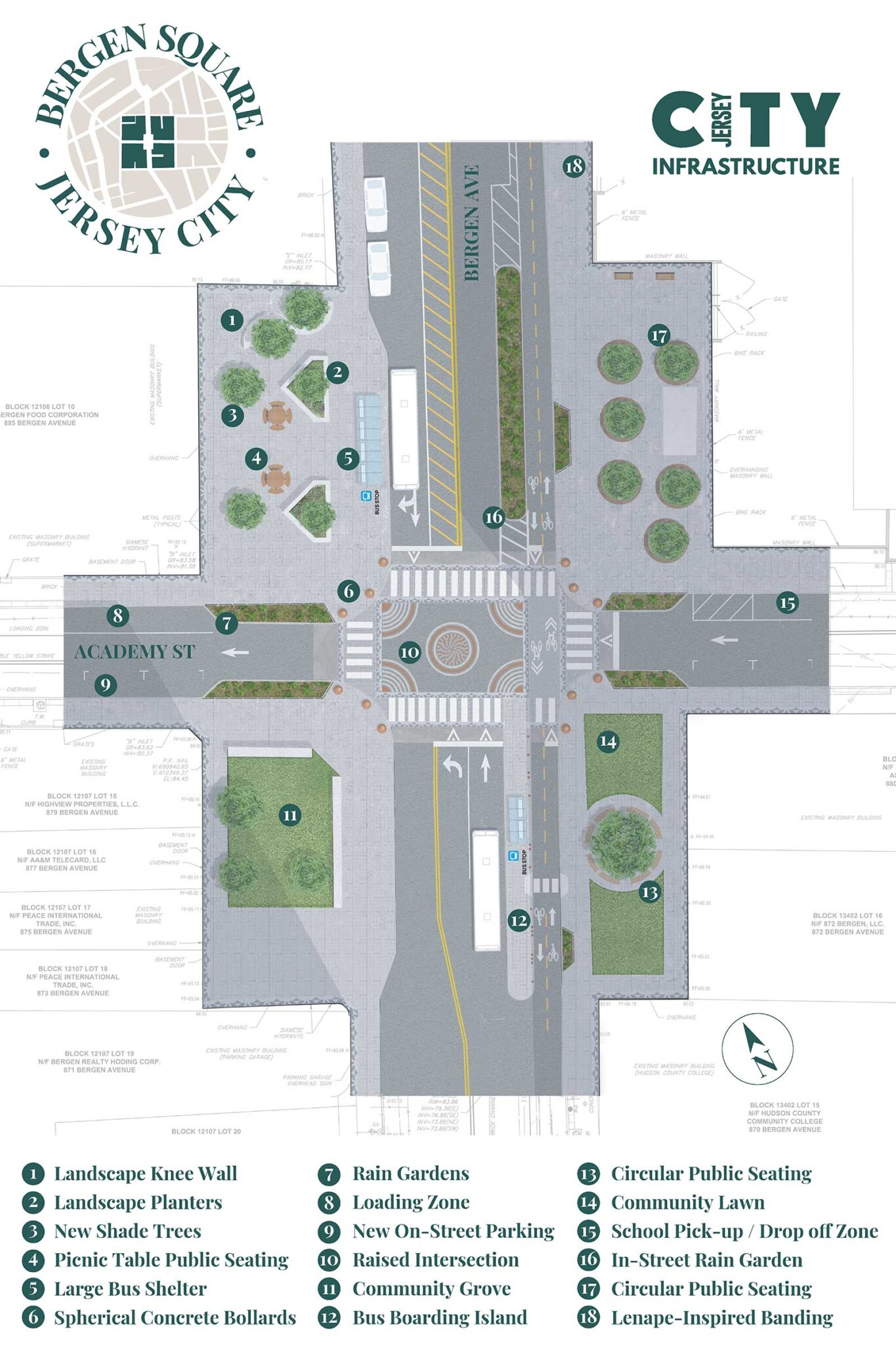 P.S. 11's school bus area will be relocated as part of the endeavor, which will plant new trees, add new public bus stops with new seating and transit shelters, and convert Academy Street to a one-way road to add 14 parking spaces.
The intersection at Bergen Avenue and Academy Street will be raised as part of the work and traditional Lenni Lenape banding design will be included around the perimeter of the square. Bergen Square was established in 1660 as the village of Bergen on land long utilized by Lenni Lenape Native American people.
Designs for the raised intersection aim to mimic a well that existed at the exact location to provide water to residents and livestock in the mid-1800s. Bergen Square later became the first urban square established in the colonies and is the oldest continuously inhabited European settlement in New Jersey.
The work on overhauling Bergen Square will additionally include building a protected cycle track. An estimated completion date for the work has not been announced.