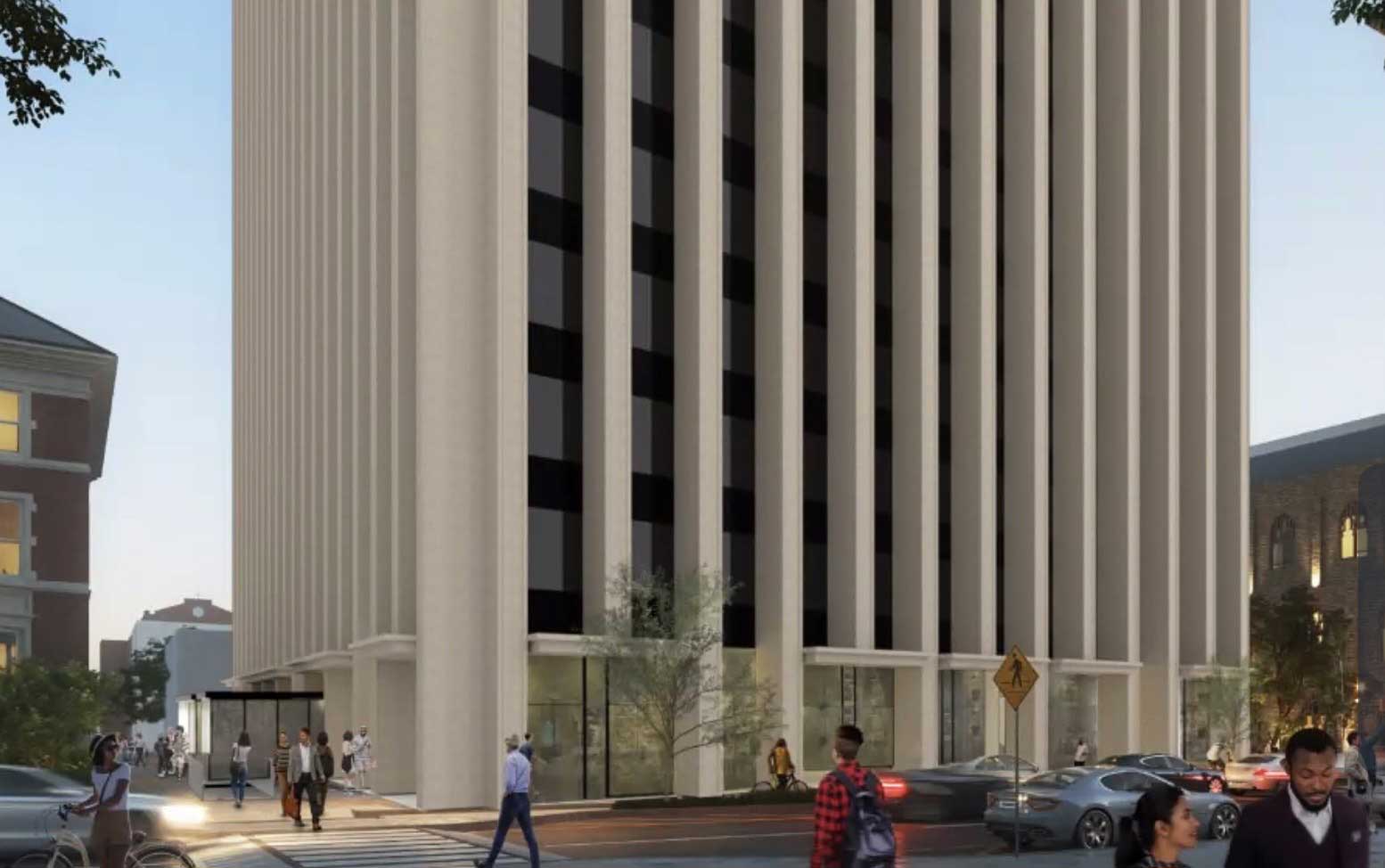 Audible plans to renovate the ground floor of a well-known modernist building at 33 Washington St in Newark designed by architect Welton Becket, in an effort to make its downtown campus more inviting.
"The intention is for us to bring in more retail and small businesses and amenities," Aisha Glover, vice president at Audible, said.
The project's architect, Nina Cooke John, who designed the Harriet Tubman Monument across the street, said the renovation addresses the structure's "inward-looking" facade and makes the ground floor more welcoming to pedestrians by removing some of the vertical columns to make a series of storefronts.
"The key comments that we received in our meetings is that this building at 33 Washington is one of the few modern buildings in downtown," Cooke John said. "It really should endeavor to maintain its modernist characteristics."
As a contributing building in the James Street Commons Historic District, the plan required approval from the Landmarks and Historic Preservation Commission, which it received last week. Commissioner Richard Grossklaus said that Cooke John's redesign was in the spirit of Becket's architectural style. "It does have the appearance of some of the other buildings that were built by the same architect in different locations around the country," Grossklaus said.
Becket is the architect behind hundreds of notable mid-century buildings. His largest impact was arguably in Los Angeles, where he lived from 1933 until his death in 1969. The Capitol Records building on Vine Street became a symbol of the city itself. "It captured its place, times, and function perfectly: the boldness to be inventive and purposefully different, the symbol of the music industry swelled by the youth culture, and revolutionizing global commerce and culture," wrote Alan Hess in the book 75 Years of Capitol Records.
Becket's building near Tubman Square is likewise a symbol of a particular chapter of Newark's history. The building — constructed in 1970, only three years after the riots — was commissioned by Mutual Benefit Life as an investment property and originally meant as a headquarters for Blue Cross Blue Shield, according to Richard Partyka, chair of the Landmarks and Historic Preservation Commission. "When they built this, they were building it in speculation, which is what was so important about it," said Partyka, noting the insurance company was "the first large company to decide to spend money investing in Newark" in the aftermath of that upheaval.