This listing is brought to you by Lukasz Kukwa of Lukasz Kukwa Real Estate brokered by eXp Realty. Want a listing featured? Email us, [email protected]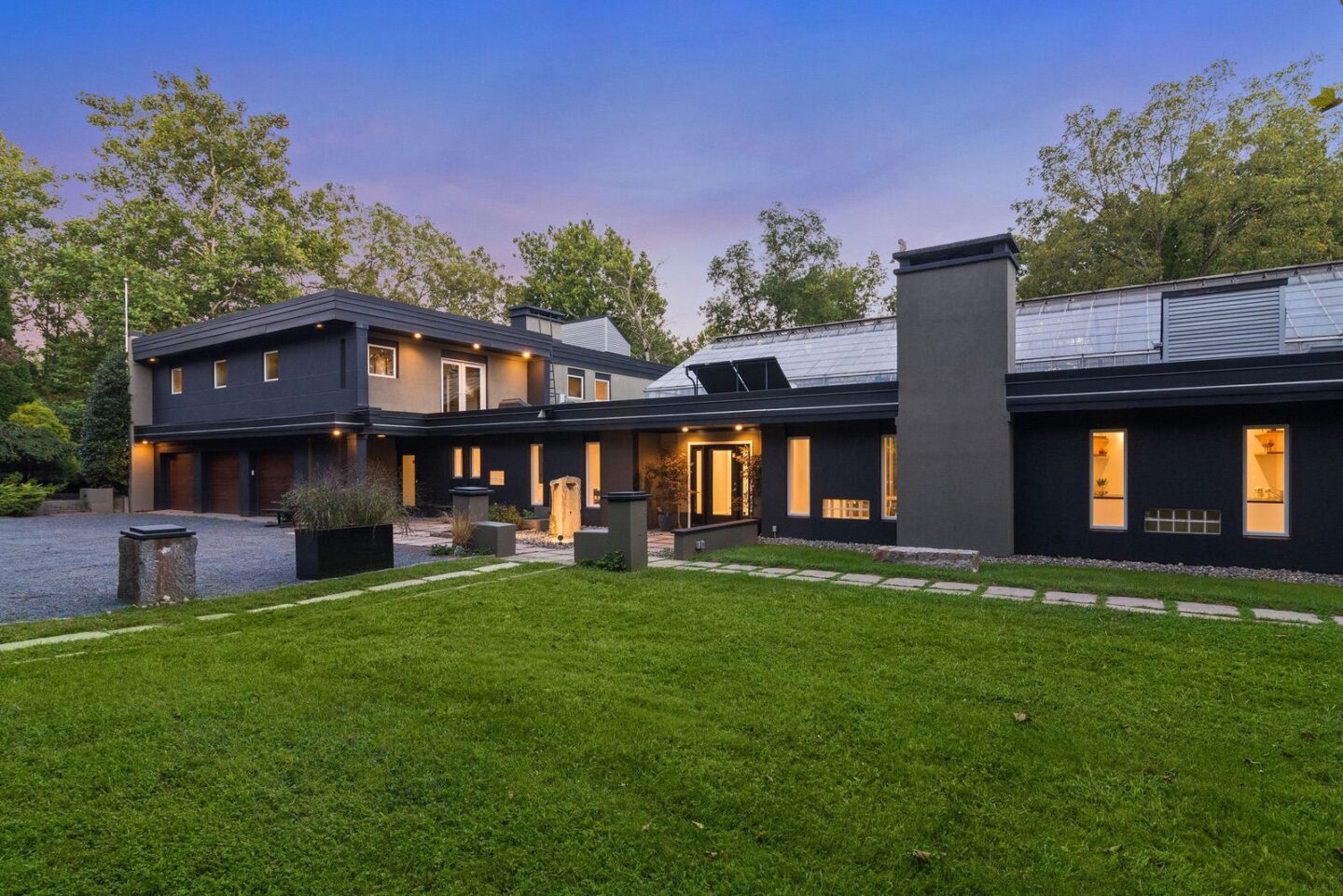 Your search for a remarkable residence near Princeton and surrounded by sprawling lush grounds is complete. Discover this unique, architectural masterpiece that effortlessly blends mid-century modern sophistication with contemporary style to create the spectacular property known as 'Atrium on the Brook'.
Nestled along Bedens Brook, adjacent to the Millstone River Road Corridor and Montgomery Green Acres, this distinctive 7,227 square-foot mid-century modern home is situated on a tranquil 2.35 acre lot. Built in 1964, this residence was designed by renowned architect William Thompson whose work reflected his appreciation for harmony between individuals and their surroundings.
For those familiar with Thompson's work, this is a rare opportunity to own a piece of architectural history due to the home's enduring design. The house was initially constructed to accommodate a local family's art collection, before being sold to a Swiss pianist then purchased as a primary residence in 2000.
This magnificent home was meticulously restored and extended by Anton Nelessen and Associates, Inc, Princeton's award-winning visioning, planning, and design firm, in 2000 before being the company's headquarters for many years.
The two-year restoration and extension project was undertaken in consultation with Thompson on the original plans, with the home being gut-renovated and tastefully extended by 1,500 square-feet.
The captivating, enclosed atrium is a truly magical place and what makes this property extraordinary. Embrace the serenity among the lush plants, or engage the dynamic colored lighting and party the night away.
The atrium encourages indoor-outdoor living by providing access to the home's main floor, as well as connecting with nature through the numerous floor-to-ceiling glass sliding doors and windows.
A large pool and hot tub within provide an additional source of relaxation for residents. This atrium is a work of art, making it the perfect place to unwind, entertain guests, or host memorable events.
The property's outdoor magic doesn't finish with the atrium. Residents are invited to engage with their surroundings through the seamless transition from house to atrium to outside. An outdoor amphitheater and sprawling grassy areas highlight the property's serenity and are ideal for staging events.
Sculptures are scattered throughout the grounds, constructed over the years by past and present owners along with artistic stone and metal sculptures by Jonathon Shor. These irreplaceable outdoor features ensure the property is perfect for evening strolls along the brook or celebrating with family and friends, offering residents an enviable lifestyle that many can only dream about.
Originally a single-story residence before being extended, this carefully curated suburban oasis contains four bedrooms, four bathrooms, and multiple living spaces. Boasting 9'+ ceilings and a mixture of plank and tiled flooring elevates the elegance throughout the main section of the home, with light filtering in through the numerous windows and skylights.
The flowing layout of the main living-dining area is completed by a modern, chef's kitchen with gleaming countertops, high-end Bosch appliances, and plentiful space. An additional dining area and living areas also provide direct access to the atrium.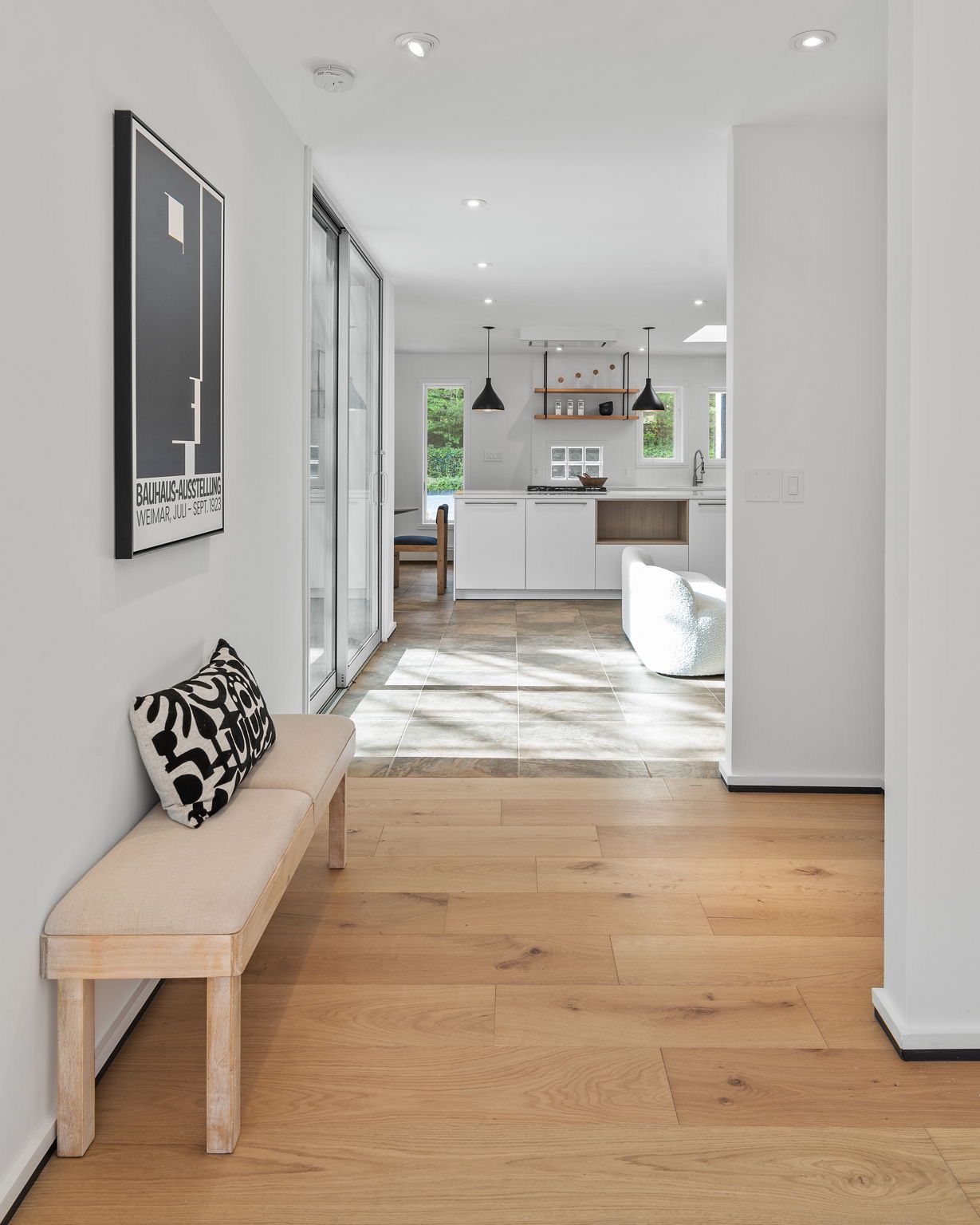 Spacious, well-lit bedrooms provide private refuges, with some bedrooms offering direct outdoor access. Residents can effortlessly revitalize in the updated bathrooms, which feature stylish floating vanities, inviting oversized glass showers, and chic floor-to-ceiling tiling.
The house encompasses a second, self-contained section that is fully equipped with a modern kitchen, full bathroom, bedroom, living area, an oversized office, and direct access to balconies and sections of the roof. The clever layout of the home provides residents the opportunity to utilize this second, self-contained area for work-related activities or as guest quarters.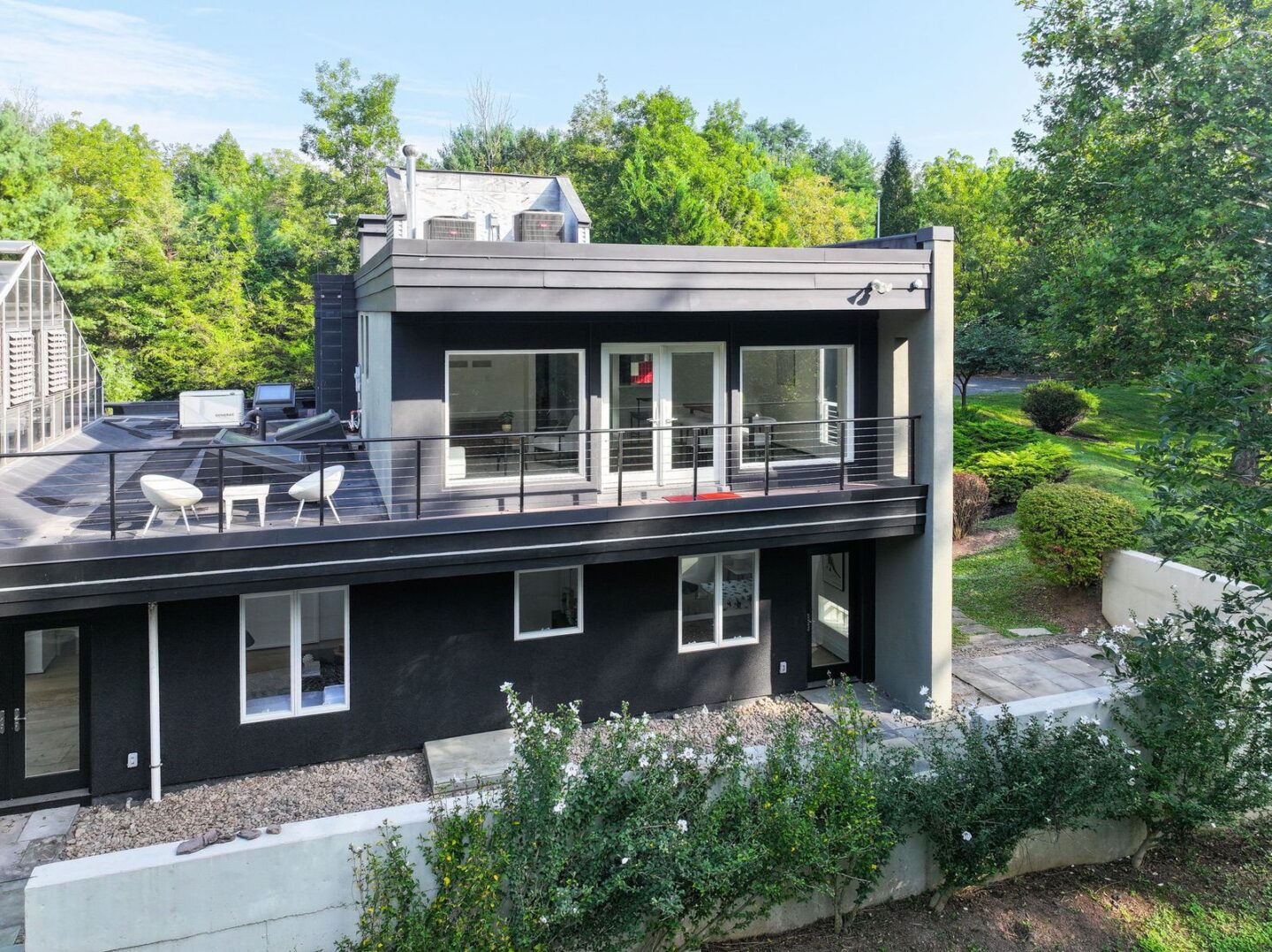 Contemporary comforts and conveniences throughout the house ensure residents have everything they could possibly need. From a large laundry, plentiful storage, and updated heating/cooling inside, to the three garage spaces and oversized driveway that offer ample parking, residents will appreciate how the modern upgrades complement the original design, making this extraordinary home a true masterpiece.
Situated in the idyllic Belle Mead near major highways ensures residents benefit from an effortless commute to a variety of places, including NYC, Princeton's downtown, local golf courses, and the world-renowned Princeton University. Local amenities, including schools, offer the perfect location for residents seeking a tree-change to a serene, slower-paced suburban lifestyle.
With a magical atrium and sprawling grounds, 49 Millstone River Road is asking $1,695,000.
For more information or to arrange a viewing of this spectacular property, please contact Lukasz Kukwa of Lukasz Kukwa Real Estate brokered by eXp Realty at [email protected] or 908.680.0902.
Listing: 49 Millstone River Road, Belle Meade, New Jersey
Asking: $1,695,000
Brokerage: Lukasz Kukwa of Lukasz Kukwa Real Estate brokered by eXp Realty