The fall season is here! It's time to put on comfortable sneakers, get the kids in the car, and head to the farm for some apple picking in New Jersey.
This year's apple crop was particularly good for New Jersey farmers. There are over a dozen apple varieties available at pick-your-own NJ farms and orchards, from standards like Red Delicious and Gala to local favorites like Honeycrisp and Ginger Gold.
In this article, we'll answer your biggest questions about New Jersey apple picking. Where are the best pick-your-own locations in North Jersey, Central Jersey and South Jersey? How much does apple picking cost this year? And what else can your family do at your favorite NJ apple farm?
We picked 14 of the best places to go apple picking in New Jersey. But first, let's answer your 5 biggest questions about apple picking season in the Garden State.
5 Facts About NJ Apple Picking Season
If you're going apple picking in New Jersey, these are the top 5 questions you want answered.
When is New Jersey apple picking season?
NJ apple picking season runs from late August until the week before Halloween in most locations. If you want the ripest selection, the best time to pick apples in New Jersey is from Labor Day weekend to October 15th.
Visit your local NJ apple orchard or pick-your-own farm before October 15th, before most of the trees are picked clean.
What is the best month to go apple picking in NJ?
The best month to pick apples in New Jersey is September. The trees are at their fullest, and you will find the widest variety of apple types.
The last two weeks of September are great for apple picking. The crowds are smaller than on Labor Day weekend — especially if you go mid-week while kids are in school.
How much is apple picking in New Jersey?
There are 2 primary costs associated with picking apples — how many you pick, as well as a potential entry fee. Different farms charge by the bag, half-peck, peck or bushel.
Expect to pay $10-15 for general admission on weekends, with lower rates available on weekdays. If the farm offers far more than just apple picking (hayrides, pumpkin picking, petting zoo, etc.), this rate may increase to $20-25.
The average price to pick your own apples in New Jersey is roughly $2.00-$2.50 per pound. The more apples you pick, the lower the price.
The cost of picking apples in NJ varies by orchard, so check each location's website before visiting.
What other fruits can I pick during New Jersey apple picking season?
Fall is a prime harvest season for NJ Farms. Apples and pumpkins are the top two fall crops at pick-your-own farms and orchards.
Fall-bearing raspberries are also in season at some NJ farms. There is also a small window for grapes, so check if your local vineyard offers any for sale. Cranberry picking season starts the first week of October.
What else can I do at a NJ apple picking farm or apple orchard?
Many NJ farms and orchards offer fun activities for families. Go pumpkin picking, take a hayride, or find your way through a corn maze or sunflower maze. Some farms even offer petting zoos!
Make sure you visit the farm stand or farmer's market at many of these apple picking locations. You'll find fresh apple cider, fall blooms like mums and sunflowers, and farm-made items like jams, marmalades and salsas.
Where to Go Apple Picking in New Jersey
Apple Picking in North Jersey
Alstede Farms
Morris County residents love the Alstede Farm experience. This 600 acre farm is permanently preserved and beautifully maintained. Apple picking season is the real highlight, and the apples are just the start of the fun.
Alstede Farms apple season starts in early August and extends through early November. They produce over 50 kinds of apples — in peak season, you can find Honeycrisp, Cortland, Macoun, Liberty and Jonagold in ample supply.
The farm offers tractor rides to each apple picking location, as well as their sunflower maze. Kids can feed the goats and climb a hay bale tower, while adults visit the farm stand for fresh ice cream, apple cider and homemade jams and salsas.
1 Alstede Farms Ln, Chester, NJ | https://www.alstedefarms.com/
Demarest Farms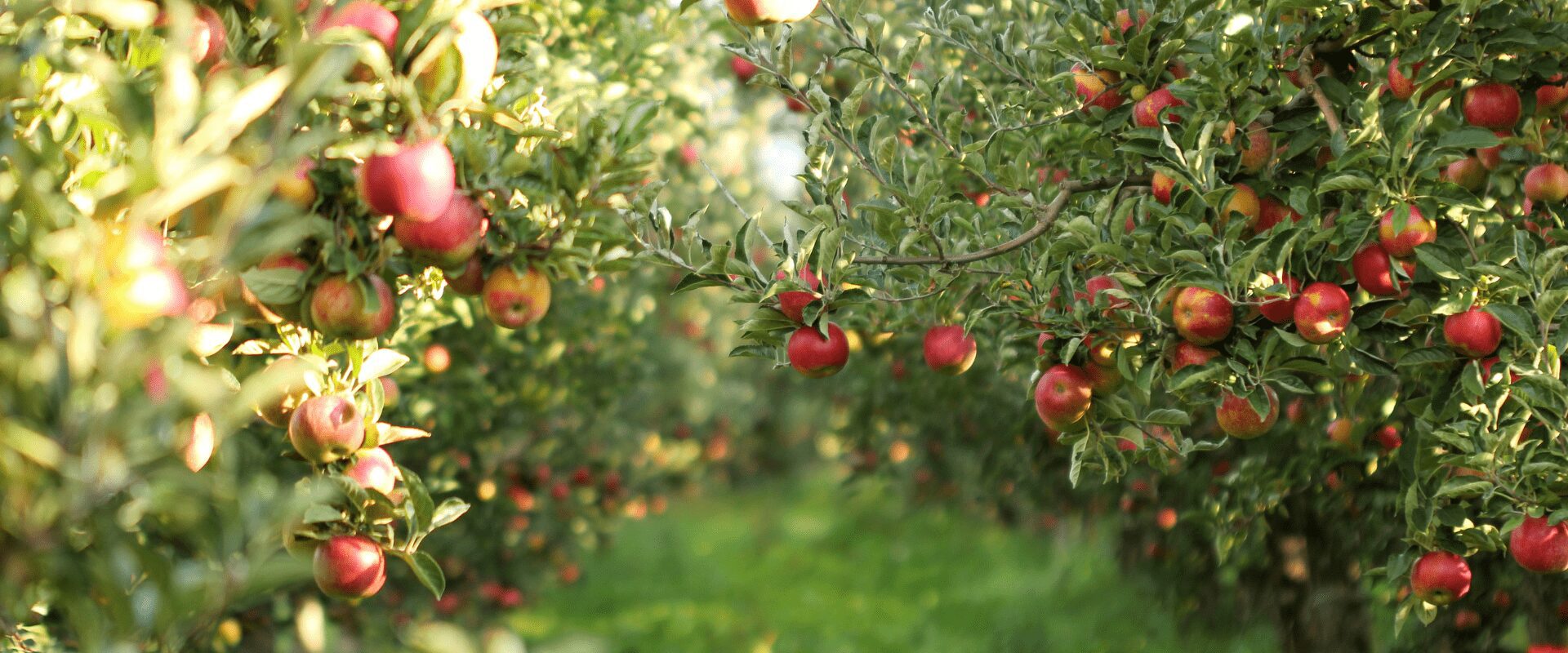 Demarest Farm visitors have patronized the "Jewel of Bergen County" since it opened in 1886. The farmer's market is a real highlight — try their fresh baked apple cider donuts and pies.
Demarest Farms has a limited pick-your-own (PYO) schedule, so check their website for details. Buy an apple picking bag for $15 and head to the orchard. Your bag holds roughly 10-12 pounds of apples.
NOTE: You must make a reservation through the farm's website. Your entry fee includes access to free parking, the apple orchard, petting zoo and children's playground area.
244 Werimus Rd, Hillsdale, NJ | https://demarestfarms.com/
Mackey's Orchard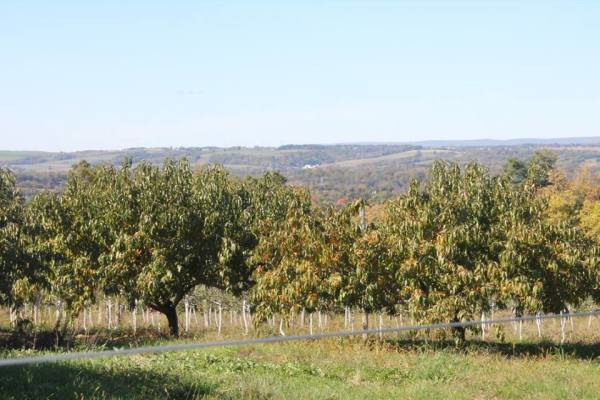 Mackey's Orchard is an eight-generation family farm in Warren County. Locals flock to Mackey's for their bakery and ice cream stand. They provide seasonal apple bakery items as well — the mile high apple pie and apple coffee cake are great.
The best value for PYO apple picking is their $25 peck bag, which holds roughly 10 pounds. Guests reach the orchard on a $3 hayride, and kids under 5 ride free. In the orchard, you can collect up to 100 different types of apples during the fall.
As you leave the orchard, visit the farmstand for seasonal decorations and flowers. Visitors can purchase mums, corn stalks, gourds, straw bales and pumpkins to decorate their homes.
284 County Road 519, Belvidere, NJ | http://mackeysorchard.com/
Sun High Orchard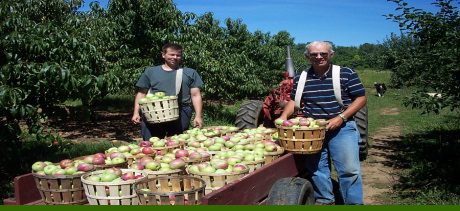 Sun High Orchards offers apple picking six days a week (closed Mondays) in Morris County. They offer great value for families — admission is just $2 on weekdays and $4 on weekends, and bags are free. All visitors under 18 must be accompanied by an adult.
The best fall treat at Sun High Orchards is the apple cider slushie. The farmstand also sells fresh produce, soups, ice cream and pastries. Locals like the self-serve stacks of firewood available for pickup. Simply leave payment in the mailbox for your firewood bundles.
Schools and groups can also schedule reservations for a fall farm tour, which departs 3 times a day. Each tour lasts 1 hour and includes educational stations, animal visits, and a cup of apple cider.
19 Canfield Ave, Randolph, NJ | https://www.sunhigh.com/
Wightman Farms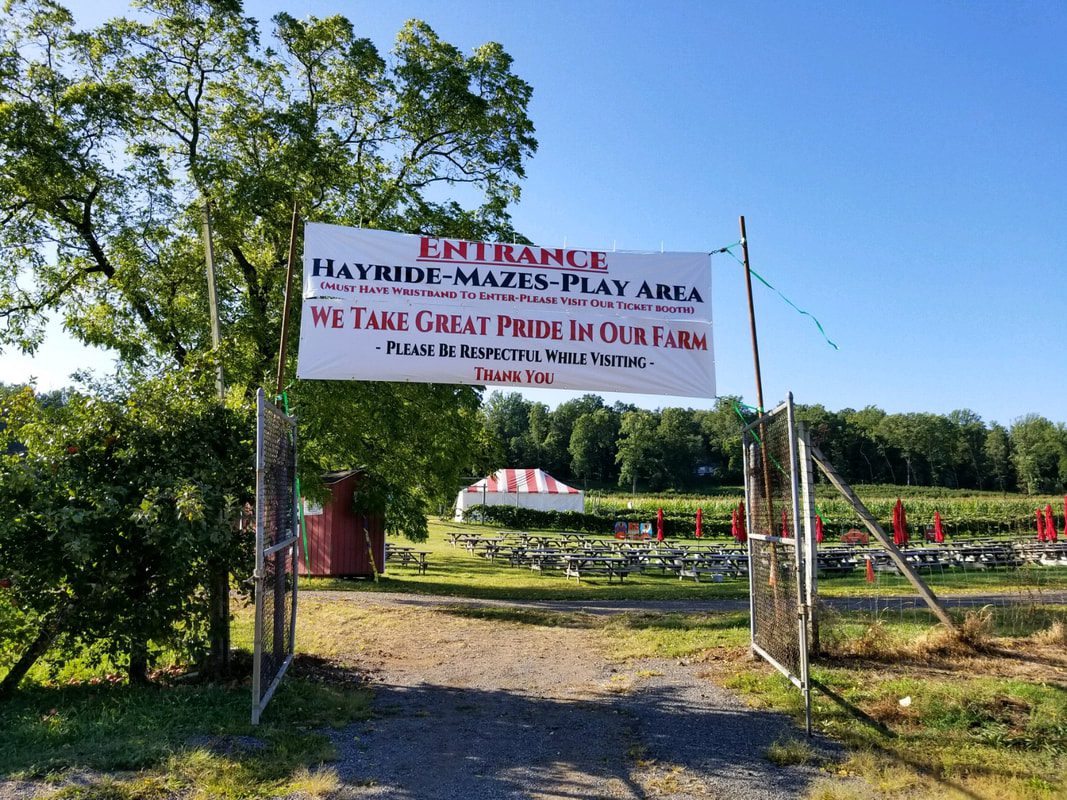 Wightman Farms is a certified Jersey Fresh farm that offers fall activities on weekends from 9 a.m. to 5 p.m. The Wightman farmer's market is open 7 days a week from 8 a.m. to 6 p.m.
Pick your own tickets are bundled into Wightman's Fall Festival package. The $25 entry fee includes scenic hayrides, 7 different mazes, and entry into the orchard. Apples picked are sold on a weigh-and-pay system at $3.29 per pound.
Fall Festival attendees also have access to the farm's picnic grounds, where you can play cornhole and visit the farm schoolhouse. Guests who take hayrides are given one free pumpkin per paid ticket.
1111 Mt Kemble Ave, Morristown, NJ | https://wightmanfarms.com/
Apple Picking in Central Jersey
Battleview Orchards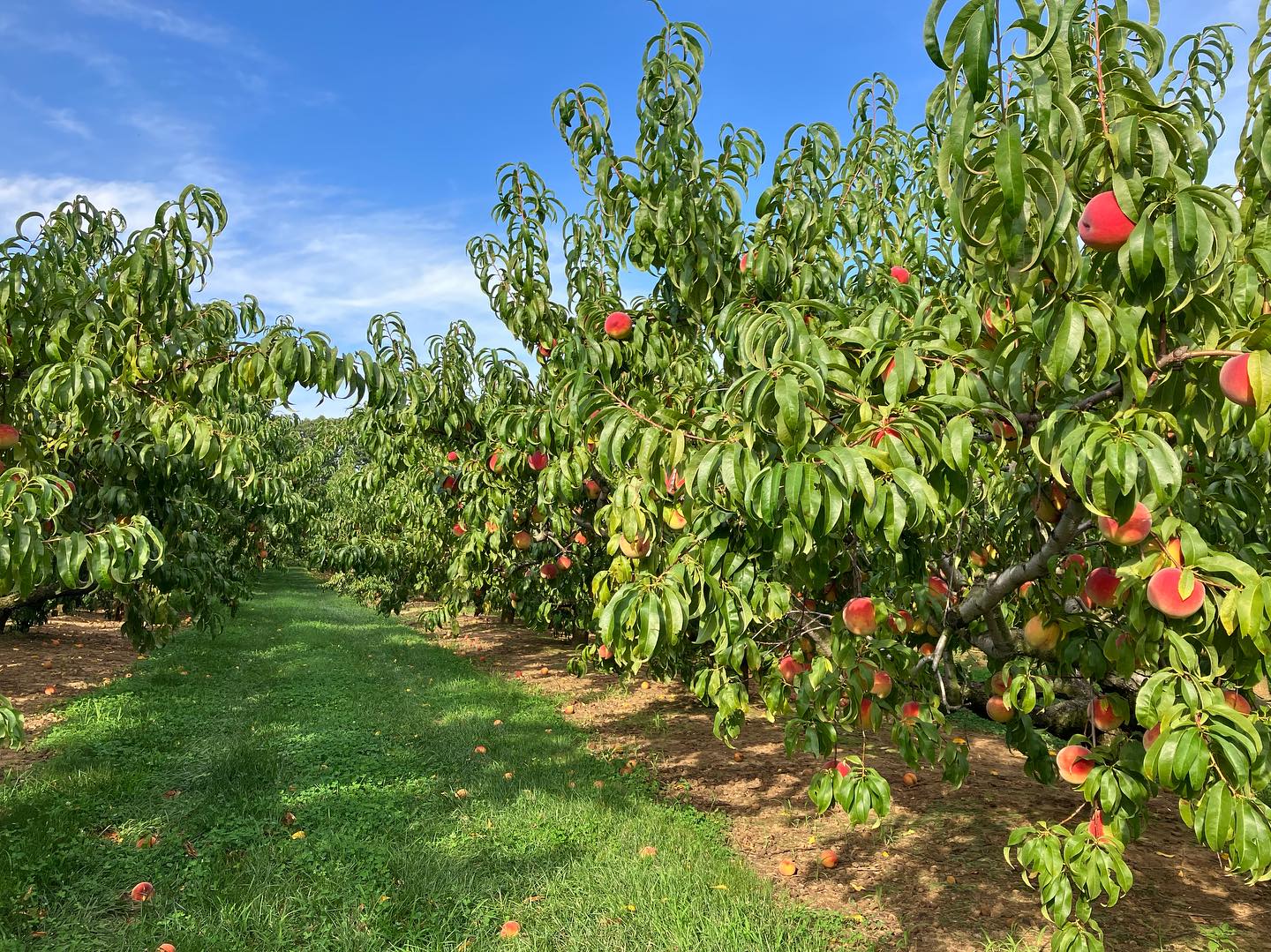 The Battleview Orchard legacy dates back 115 years as the oldest pick-your-own farm in New Jersey. They offer 15 varieties of apples, but PYO schedules for each will vary. Check their Facebook page for updated dates and information.
Hayrides are available on weekends and are a fun addition to your apple picking adventure. Stop by the Country Store 7 days a week for fresh baked goods, fruit, and apple cider pressed fresh at the Orchard.
If you do not book in advance, Battleview Orchards only accepts cash in person. There is a 10% senior discount for apple picking on Mondays and Thursdays.
91 Wemrock Rd, Freehold, NJ | https://www.battlevieworchards.com/
GIamarese Farm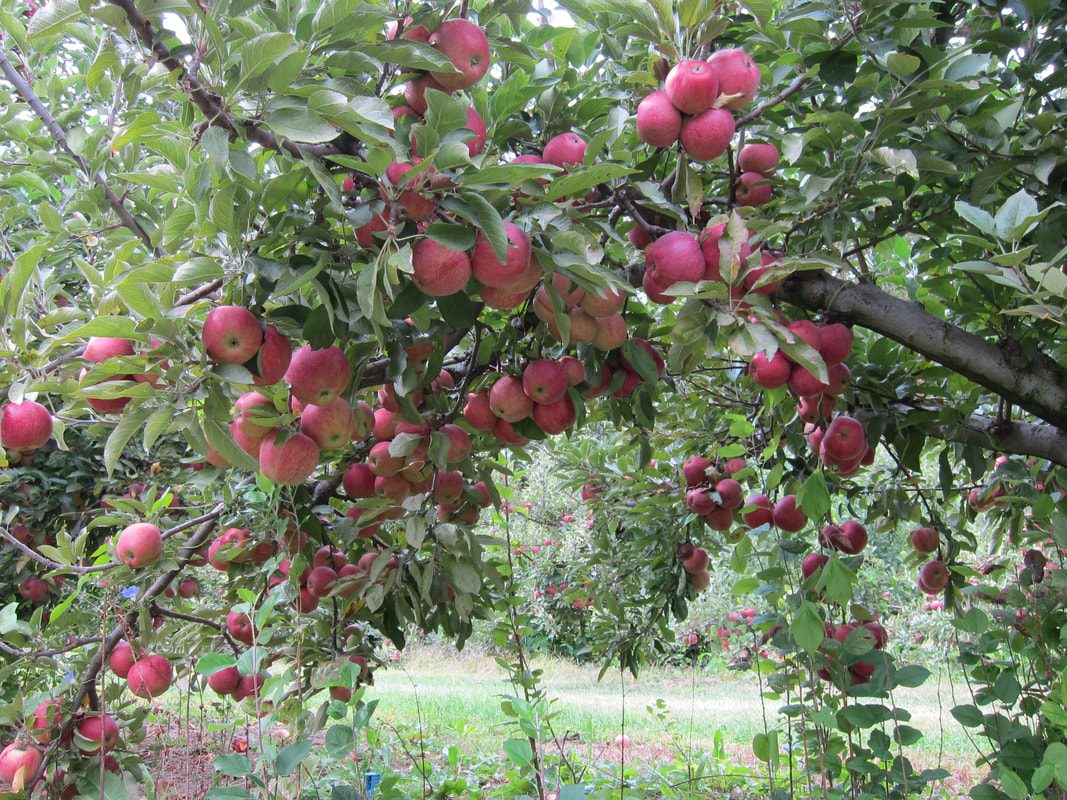 Giamarese Farm harvest activities take place on weekends from mid-September through the end of October. Admission is $5 per person, and there are plenty of activities to keep your family busy at the farm.
Hayrides are $10 per person and include a full farm tour and access to an 8 acre corn maze. The hayride takes 90 minutes and is certainly worth the price. The farm also features a cash-only petting zoo and pony rides.
You can pick apples Tuesday through Friday for a $3 admission. Apple picking is pay-per-bag — the larger the bag, the less per pound you pay. You can also pick your own tomatoes and pumpkins.
155 Fresh Ponds Rd, East Brunswick, NJ | http://www.giamaresefarm.com/
Phillips Farm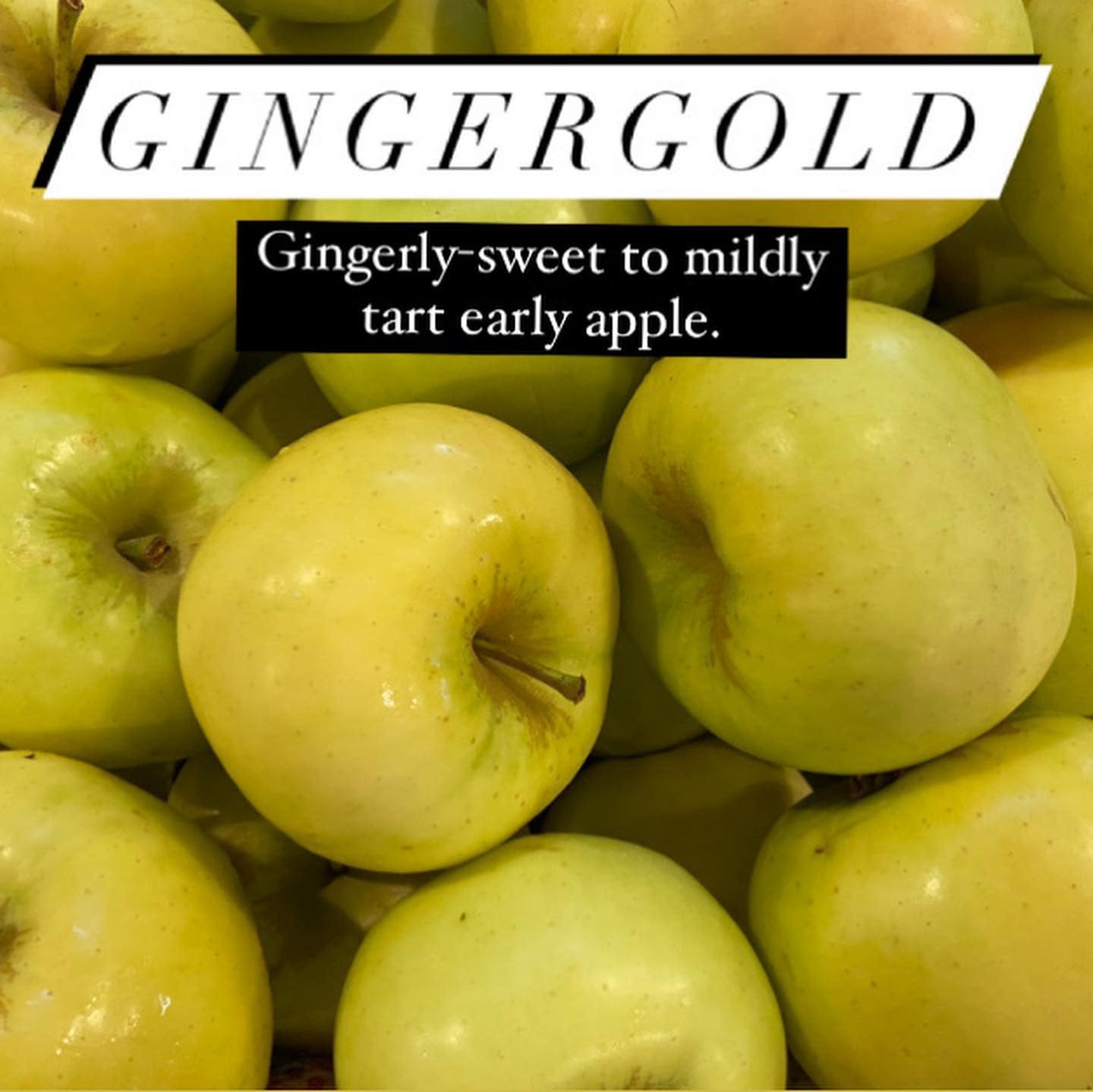 If you want a farm in a beautiful location, check out Phillips Farm along the Delaware River in Hunterdon County. You might be familiar with Phillips by name, as they take part in over a dozen farmer's markets in NJ and New York.
Apple picking is open to the public every day but Tuesday. There is no entry fee and no reservations are required. Baskets are sold for $2.75 each, and there is a $5 picking minimum per person.
Phillips Farm has a handy pre-recorded message with pick-your-own updates. Call (908) 995-0022 for updated apple picking information. They also leave frequent updates on their Facebook page.
564 Milford-Warren Glen Rd (Rt 519), Milford NJ | https://www.phillipsfarms.com/
Ripple Hill Farm
Ripple Hill is a small family farm in Basking Ridge, NJ. If you want a cozier apple picking experience away from larger crowds, it's a great option for your family.
You can pick apples on Sundays from noon to 4 p.m. at Ripple Hill Farm. Orchard entry is $5 per person, and children under 10 enter free of charge. All fruit is weighed when you leave the orchard, and you pay by weight.
This is a cash-only farm.
181 Mountain Rd, Basking Ridge, NJ | https://www.ripplehillfarm.com/
Terhune Orchards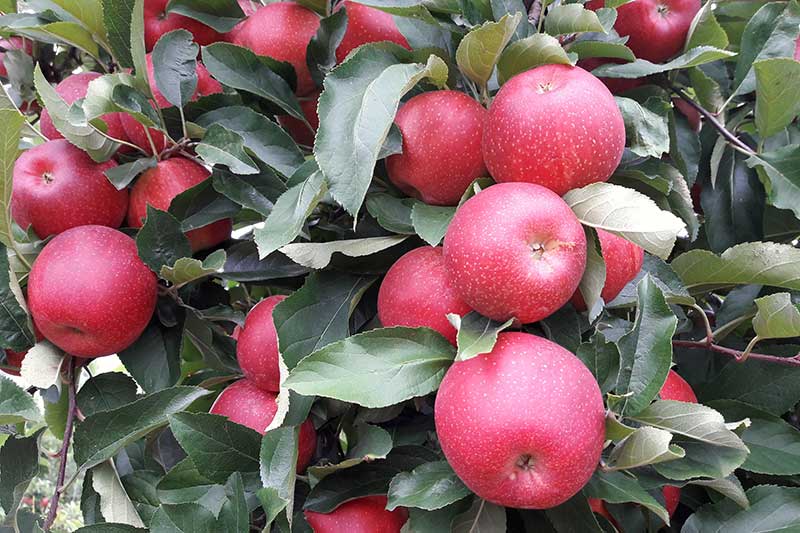 Terhune Orchards offers pick-your-own schedules for individual apple varieties. The most popular choice here is Stayman Winesap apples, which are ready to pick throughout October.
Visitors should note the pick-your-own orchard is a different address than the main Terhune entrance (330 Cold Soil Road). The orchard is open 7 days a week during picking season, from 9 a.m. to 5 p.m. The orchard is cashless — pay by credit or debit card, Venmo or Apple Pay.
Terhune Orchards and Winery in Princeton offers a unique chance to go apple picking and buy great wine in the same location. Wine tastings are available Fridays from noon to 8 p.m. and weekends from noon to 6 p.m.
330 Cold Soil Road, Princeton, NJ | https://www.terhuneorchards.com/
Apple Picking in South Jersey
Duffield's Farm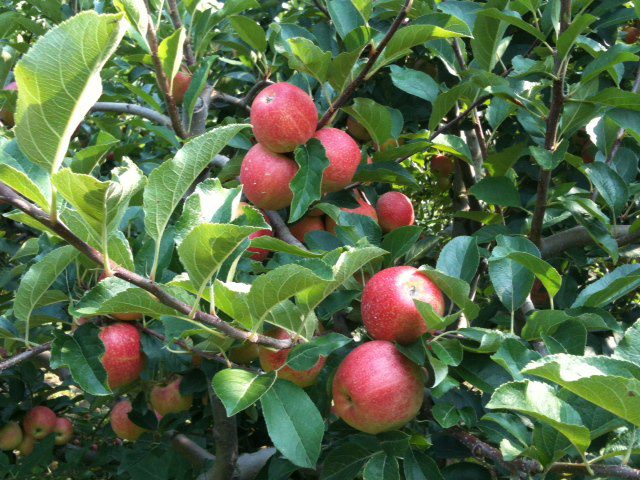 Duffield's Farm offers apple picking weekdays from noon to 5:30 p.m., and Saturdays from 10 a.m. to 5:30 p.m. They are closed Sundays.
The Duffield's Farm website offers clear pricing for all fall activities. The $28.99 price point for a small apple bag and pumpkin is a fun combo option. Small apple bags start at $20.99 and include a hayride.
You can rent a private hay wagon for up to 25 friends and family members. This $400 pre-paid option includes a wagon ride, pumpkin, and private pavilion access for 1 hour after your ride.
280 Chapel Heights Rd #9355, Sewell, NJ | https://www.duffieldsfarm.com/
Hill Creek Farms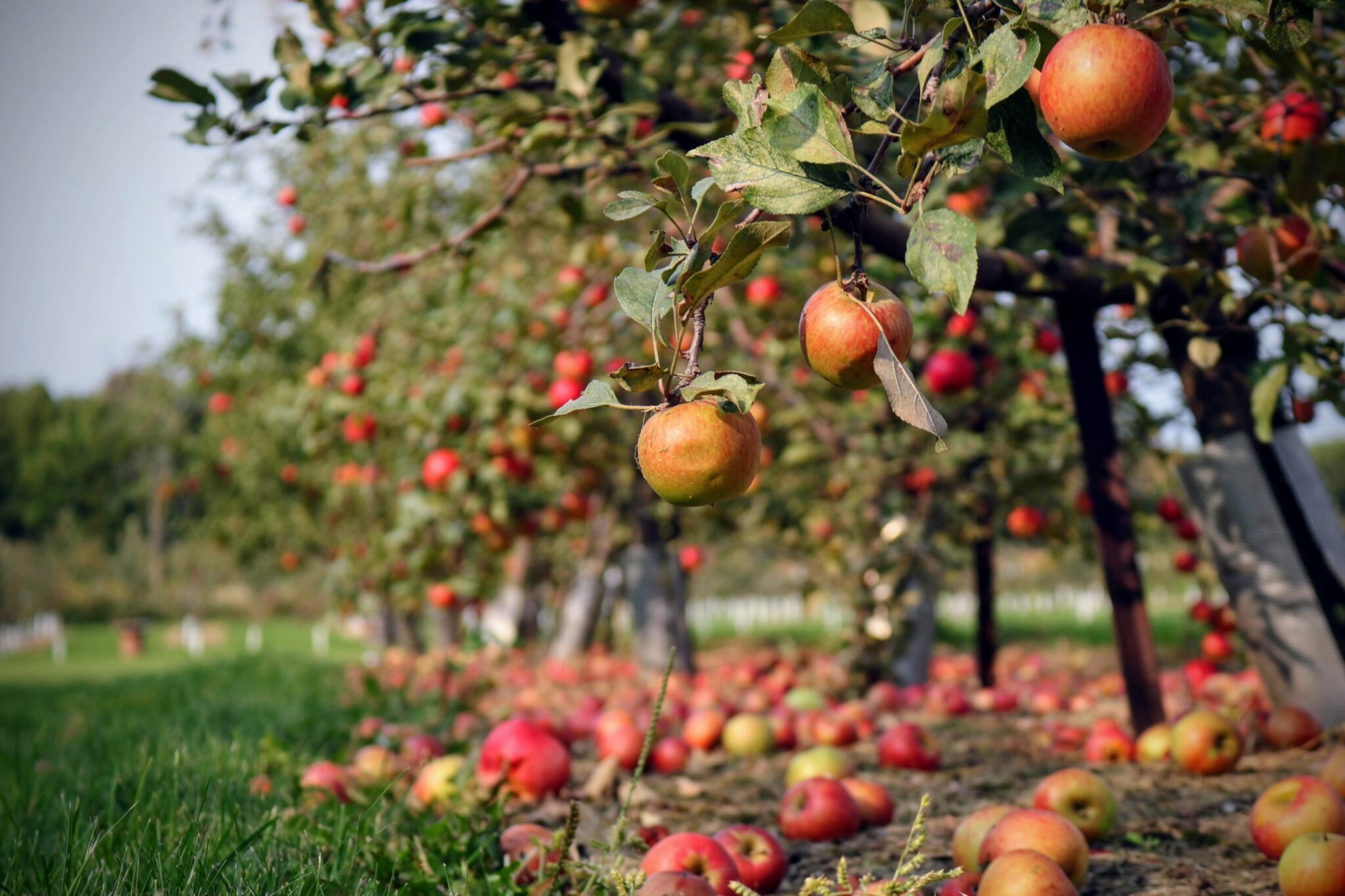 At Hill Creek Farm, apple picking is a full experience. Your family starts its U-Pick adventure with a fun educational film and "picking certification" process. You then gain access to 3 orchards and over 17,000 apple trees.
You'll save $5 per vehicle if you pre-purchase tickets ($12.50 per car vs. $17.50). It's also $5 cheaper per pick-your-own bag if you book in advance. Guests can also pick Asian pears, pumpkins, sunflowers and vegetables during their experience.
There are a ton of activities for the kids at Hill Creek Farms. While they enjoy the Moon Bounce and Barrel Train rides, enjoy a cup of gourmet coffee at the farm's Loft space.
1631 NJ-45, Mullica Hill, NJ | https://hillcreekfarms.com/
Johnsons Corner Farm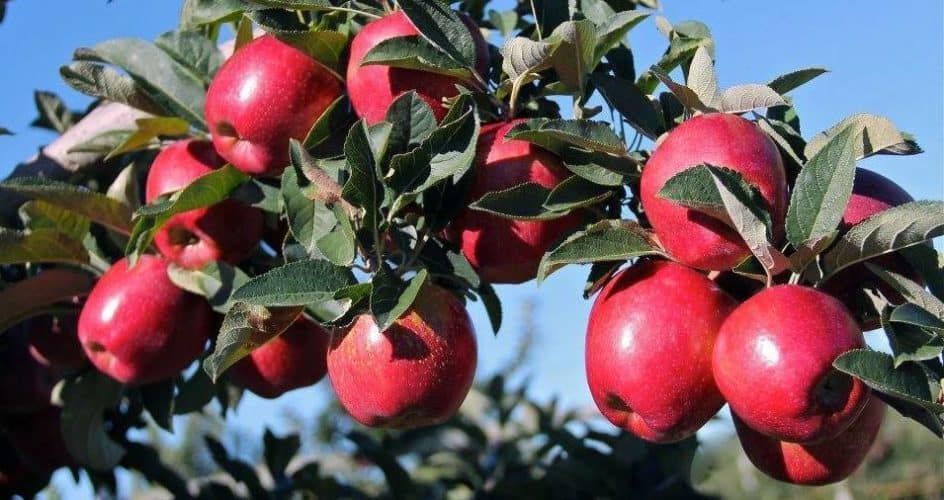 Visit Johnson's Corner Farm every weekend through October for their Harvest Festivals. Besides apple and pumpkin picking, you'll enjoy hayrides, live music, festival food, a weekend corn maze, and a discovery animal farm for the kids.
Apple picking hayrides take place through mid-October. Johnson's Corner grows 10 varieties of apples for picking. You can also pick pumpkins during your trip.
If you visit later in the fall season, there are plenty of vegetables to pick in October-November. Choose from sweet potatoes, cauliflower and broccoli.
133 Church Rd, Medford, NJ | https://www.johnsonsfarm.com/
Stiles Farm and Nursery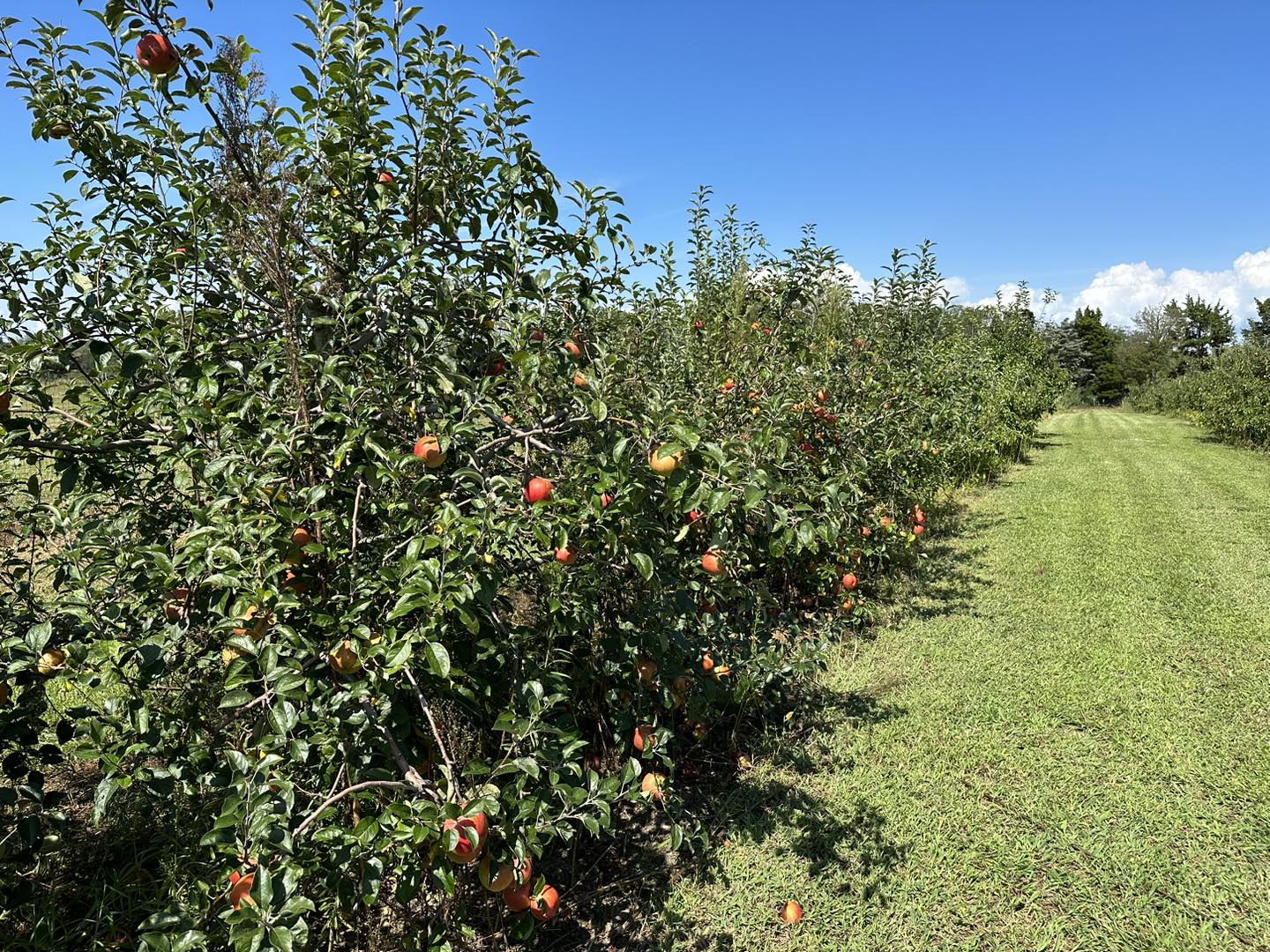 Stiles Farm is a popular destination for blueberry picking, but their U-Pick apple season is equally enjoyable. Visitors who come for apple picking can also select pumpkins, pears, Asian pears, and farm-made honey.
Check the Stiles Farm and Nursery Facebook page daily for updated pick-your-own times and scheduling. This active farm operates around the weather and harvesting needs, so picking times may change regularly.
172 S Delsea Dr, Cape May Court House, NJ | https://www.facebook.com/stilesupickblueberries/
Apple Picking in New Jersey is Pure Fall Family Fun
There's nothing like picking apples at a small town farm with family and friends. New Jersey farm and orchard owners know how to pack a ton of fun into your visit — from apples to pumpkins, hayrides to activities, there's something for everyone to enjoy.
Apple picking in New Jersey is a great way to get the family out in nature on a beautiful fall day. Explore rows of trees, then drive home with a bushel of apples to make your own apple pie, muffins and other delicious treats. It's an annual tradition you'll look forward to every year.