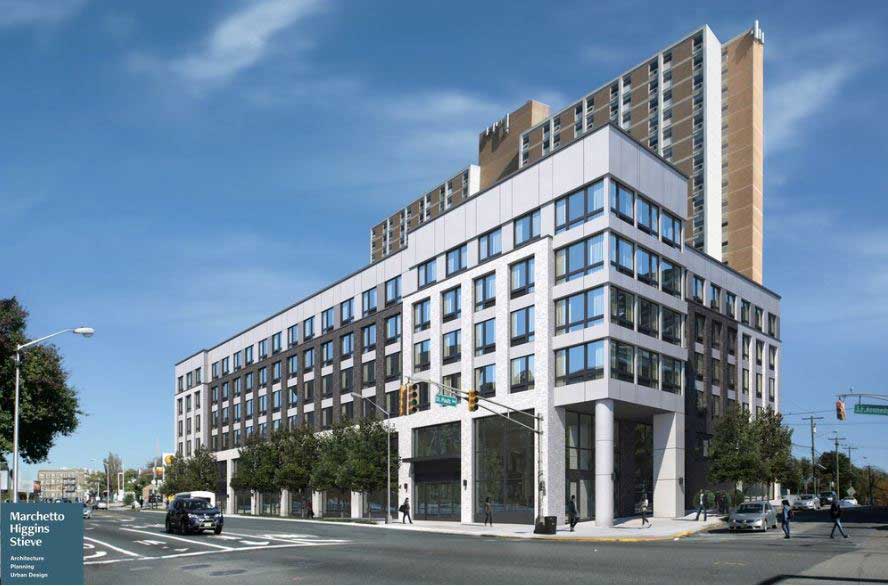 A newly created parcel next to a high-rise housing complex for senior citizens in Jersey City could become the site of a mixed-use development.
The property at 3060 John F. Kennedy Boulevard was recently divided into two tracts, with one tract including the existing 16-story Grandview Terrace apartment building and the other lot consisting of land that is currently undeveloped. Property records show that this new lot, 244 St. Paul's Avenue, was sold in July 2019 for $4.5 million to a company called 3060 JFK, LLC. The Jersey City Zoning Board of Adjustment is scheduled to hear an application this Thursday, February 20, at 6:30 p.m. by 3060 JFK, LLC that calls for constructing a six-story building on the vacant property.
The proposed complex would include 99 residential units and ground-floor commercial space, according to a legal notice. The exterior of the development would include 50 vehicle parking spaces while 57 spaces for bikes would also be provided. Preliminary and Final Major Site Plan approval along with variances related to use, lot area, yard setback, and permitting a stilted building are being sought by 3060 JFK, LLC, which is registered out of an apartment at 294 Barrow Street.
A rendering from Marchetto Higgins Stieve that was posted by Grade Development illustrates plans for a project adjacent to Grandview Terrace. Fields Development and Park Stone Management are listed as joint venture partners for the development.
This application has some similarities to the recent plans for 591 Montgomery Street, where the owner of the Jones Hall senior housing complex is looking to construct an 18-story building on an undeveloped portion of the premises.
Note to readers: The dates that applications are scheduled to be heard by the Jersey City Zoning Board of Adjustment are subject to change.
Related: