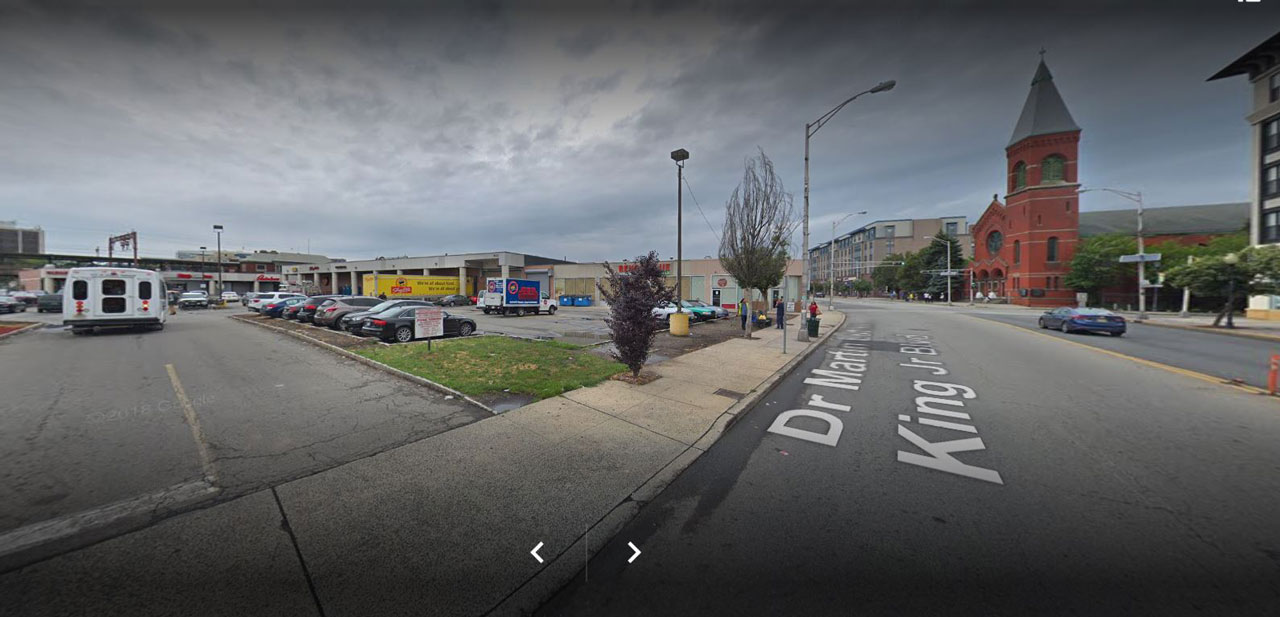 A new development proposal in East Orange could bring an enormous new residential and commercial complex near one of the Essex County city's two train stations.
The plan, which has not been reported on until now, calls for tearing down the Brick Church Plaza Shopping Center in order to construct a mixed-use project called the Crossings at Brick Church Station. Should the development be approved and ultimately constructed, it would consist of two buildings with a total of over 800 residential units and nearly 200,000 square feet of commercial space, according to a legal notice.
The first structure, simply known as Building A, is expected to be five stories tall and consist of 400 units. The other structure, Building B, would be nine stories tall and include 420 units.
Located along Main Street/Dr. Martin Luther King, Jr. Boulevard between South Harrison and Halsted Streets, the existing Brick Church Plaza includes a ShopRite location that serves as East Orange's primary supermarket. Other tenants include Rainbow, Johnson's Barbers, Ashley Stewart, America's Best Wings, and Dunkin' Donuts.
The Urban Essex Coalition for Smart Growth has recommended redeveloping the site in recent years, writing in part that "Brick Church Plaza is one of the most important redevelopment opportunities within the [Urban Essex] corridor for its potential to serve as a catalyst for redevelopment in downtown East Orange" and that "the City of East Orange is exploring the feasibility of redevelopment at this site."
The transit-oriented development replacing Brick Church Plaza would include 197,500 square feet of commercial space that would be split between Building A and Building B. Although it is not yet clear if any of the existing tenants would be given space in the new complex, the notice mentioned that the developer "anticipates that a grocery store will be among the uses at the site" along with possible "retail sales and services, restaurants, cafes, offices, banks, entertainment venues, and daycare facilities."
A ShopRite spokesperson has not yet returned Jersey Digs' questions regarding the future of the supermarket in the plaza. It is also not yet clear how much parking or "affordable housing" would be included in the new development.
An application seeking Preliminary and Final Site Plan approval for the Crossings at Brick Church Station was filed by a company called Brick Church Opportunity Zone Fund I, LLC. The proposal is scheduled to be heard by the East Orange Planning Board during its meeting on Wednesday, August 21, at 7:00 p.m.
The property was acquired in 2017 for $35.75 million by a firm that is registered out of the same address as Triangle Equities in Whitestone, Queens. Another LLC based out of the Whitestone address paid $8.8 million last year for the Forman Mills building across the street from Brick Church Plaza.
Renderings posted online by Ronald J. Zeytoonian Architect PC appear to illustrate a previous version of the Crossings at Brick Church Station project and mention Triangle Equities as the client with S9 Architecture listed as the "project team."
Plans that circulated a few years ago to construct another new complex in this part of East Orange, a high-rise that would have been called The Station at Brick Church, did not advance. Other recent development projects in the city have largely been concentrated on South Harrison Street, though there have been proposals involving properties in several other neighborhoods.
Note to readers: The dates that applications are scheduled to be heard by the East Orange Planning Board and other commissions are subject to change.
Related: