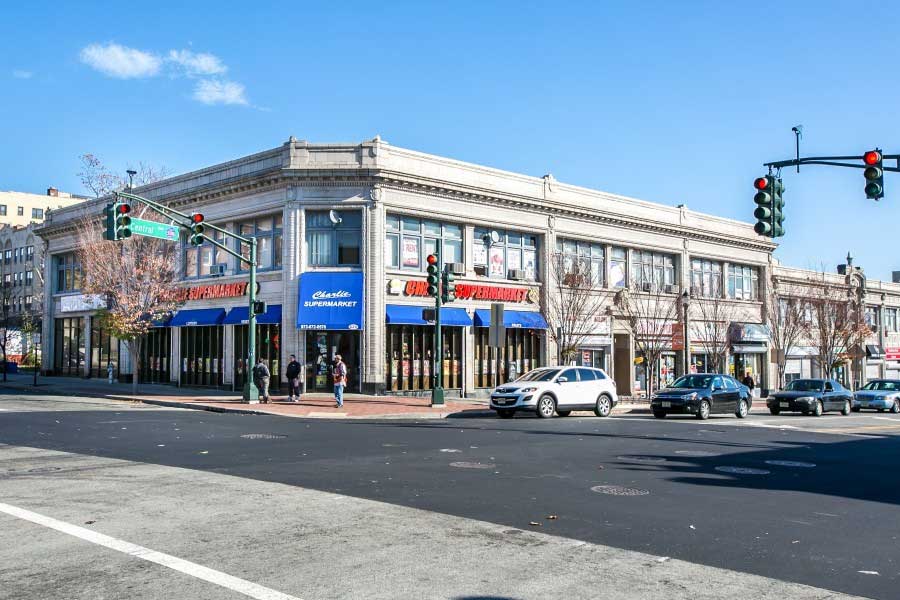 As Jersey Digs has been following over the last few years, the South Harrison Street corridor in East Orange has recently seen plenty of development projects, from the brand new seven-story Lotus 315 complex to the 103-unit building that is currently under construction at the corner of Berwyn Street.
This corridor, which stretches from Monte Irvin Orange Park north to the Brick Church train station, is largely residential in nature, with few businesses located directly on the block. However, one brief but notable exception to this is when South Harrison Street intersects with Central Avenue, one of the Essex County city's two main business districts. Stores can be found at three of the four corners at this intersection, including at the northeast corner, where the Charlie Supermarket has been in operation for the last few years. Now, the property that contains the supermarket, 582-620 Central Avenue, could also contain more than two dozen apartments.
A legal notice shows that the second floor of 582-620 Central Avenue could be converted into 29 residential units. The second floor used to contain office space, with a LoopNet listing mentioning that there were 35 office units.
"No changes are proposed to the existing first floor commercial uses," the notice states, though "modifications are proposed to the site access, circulation and parking area."
The property owner, 582 Central, LLC, is seeking Preliminary and Final Site Plan approval with variances such as parking from the East Orange Planning Board in order to move forward with the project. A hearing has been scheduled for this Wednesday, May 1, at 7:00 p.m., according to the notice.
NJ Parcels data shows that 582 Central, LLC is registered out of the Elizabeth offices of Paramount Assets. In recent years, the property, which actually consists of three adjacent buildings, has already undergone major changes. Last year, a large Blink Fitness location opened on the eastern side of the property, taking over space that previously contained roughly a dozen storefronts. In addition, the signage for several of the other businesses on the property was also changed. These structures used to be owned by the Baldwin Construction Company, according to records from the National Park Service, and are believed to have been built shortly after 1929, when the three original development applications were all simultaneously filed.
Note to readers: The dates that applications are scheduled to be heard by the East Orange Planning Board and other commissions are subject to change.