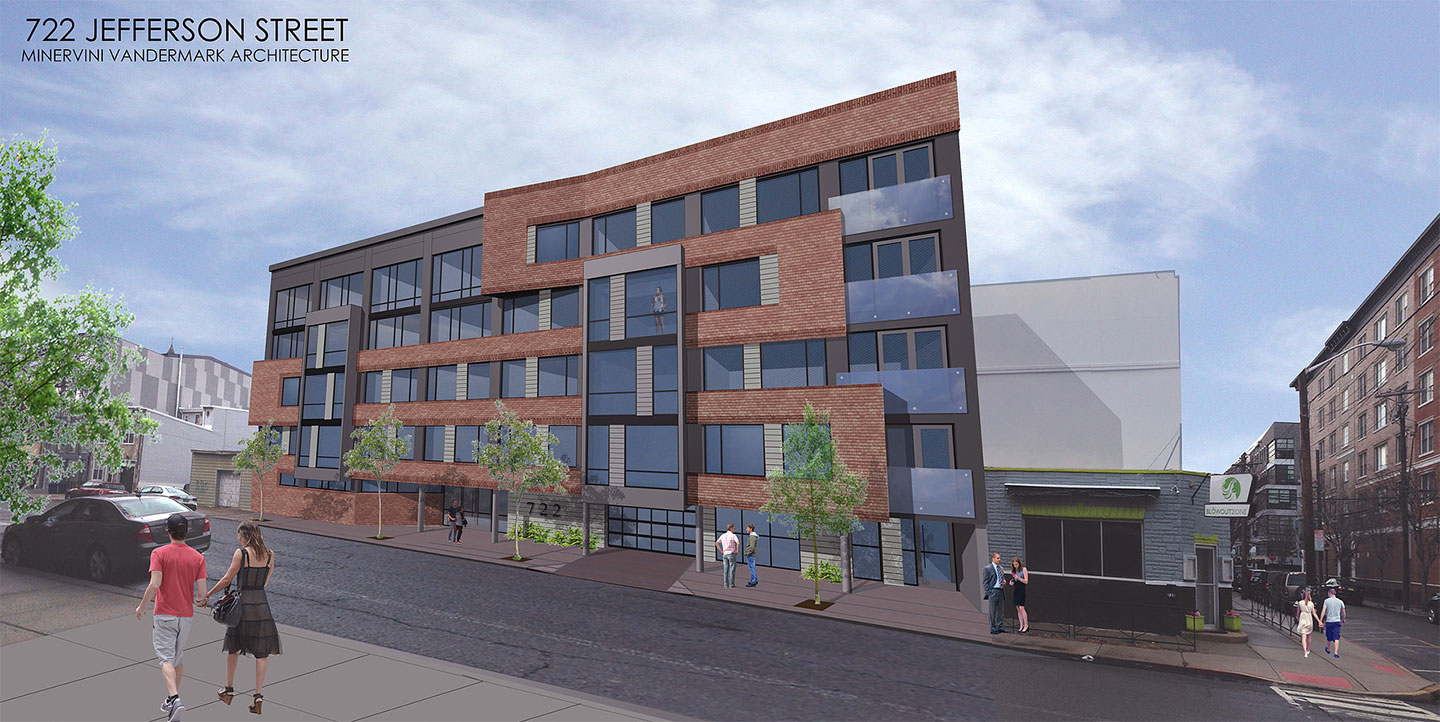 A half-block of underutilized structures near one of Hoboken's most prominent landmarks will soon be home to family-friendly condominiums for homebuyers and should also free-up some street parking spaces for nearby residents.
The development, by a group simply called 722 Jefferson Street LLC, will transform several underused lots at the same address into a condominium project. The group behind the plan already razed five adjacent properties at the site earlier this year, demolishing a series of garage structures and parking lots in preparation for the new project.
The five lots have now been combined to form a property that is 125 feet wide and spans about half of a block. And in May earlier this year, Hoboken's Planning Board approved a new 15-unit development for the site, which will feature four residential floors above deeded, off-street parking.
The project, designed by local architecture firm Minervini Vandermark, will have a lobby at the center of the building and a parking entrance just to the north, which will hold 15 cars. The development will have a decidedly modern look and seeks to utilize brick, composite wood, and glass on different parts of its exterior.
Conforming to the trend of larger separate spaces in Hoboken's newer developments, 722 Jefferson will feature only three and four-bedroom units. The top floor's three penthouse condos will have private stairs that lead to individual rooftop decks, but about 50% of the structure will also have green roof space. The development will additionally feature several other "green" elements, including electric car charging stations on site.
All of this surely sounds great to future residents, but the surrounding community stands to gain from the project as well. Because several of the properties in question were used for parking purposes, the new development will reduce the number of driveways from the current three to just one, which will increase the number of on-street parking spots available to everybody else.
The development is in a pretty attractive location just off the intersection of 8th and Jefferson Streets. In addition to being very close to the 9th Street Light Rail station, it's also down the block from St. Anne's Church, where the Italian Festival was held last week.
It's in an area that will be getting some new amenities soon. Just three blocks away, a new, 1-acre park at 7th and Monroe Streets is currently under construction and will feature green space, a plaza and a public gym courtesy of a redevelopment agreement between Bijou Properties and the city. Officials estimate that the park should be open in about 18-24 months, perhaps just in time to welcome 722 Jefferson's new residents.
[gmap height="250px"]722 Jefferson St, Hoboken, NJ 07030[/gmap]
722 Jefferson St, Hoboken, NJ 07030