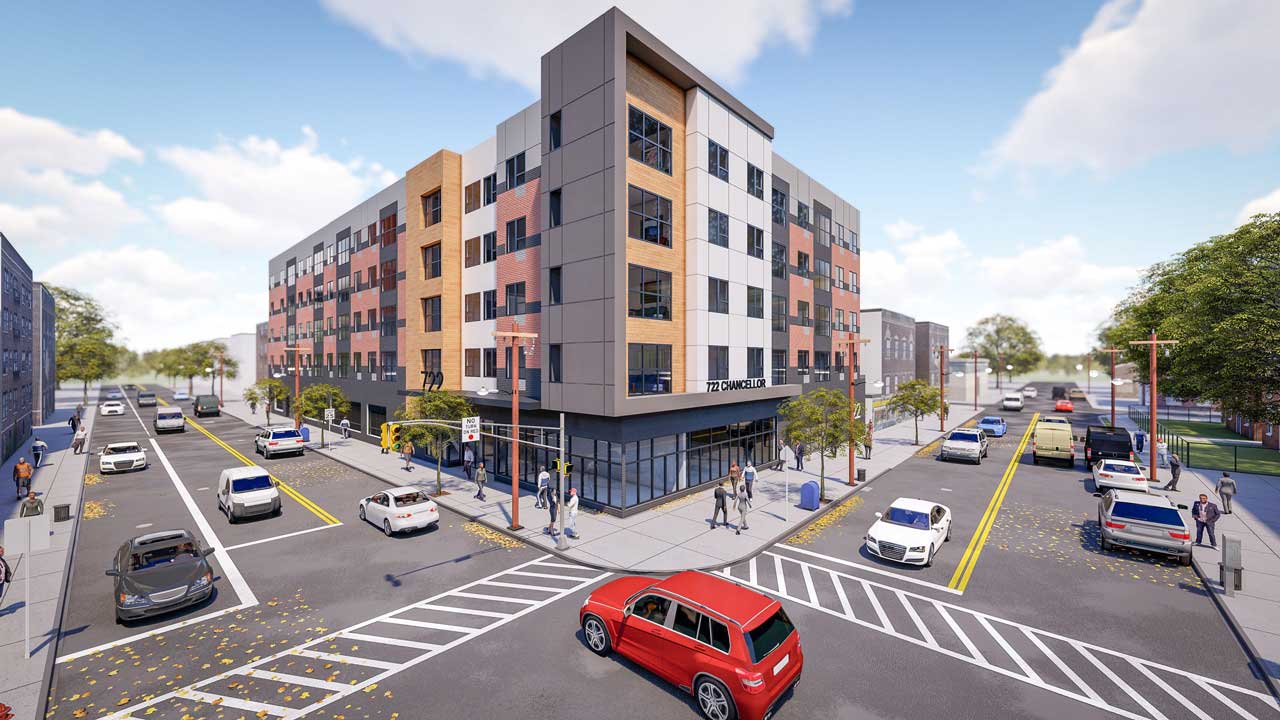 Developers in Irvington plan to convert a long-vacant parcel of land on a Chancellor Avenue corner into a 56-unit affordable housing building, similar to a project already located on the other end of the street.
The five-story apartment building is being described as "the missing bookend to the Chancellor Avenue retail corridor," which includes, at its other end, the 2017 transformation of the old Irvington General Hospital into a mixed-income community called 280 Park Place.
The developers of 722 Chancellor Avenue are Irvington-native Adenah Bayoh, a developer and restaurateur who owns soul food eatery Cornbread in Maplewood, and the NRP Group, a developer of multi-family housing that has built 35,000 affordable and market-rate apartments nationwide.
The proposed project is a "100 percent affordable apartment community that will have an outsized impact on the city's long-heralded economic renaissance…encouraging the growth of an entire neighborhood," according to a press release.
The developers intend to include a fitness and wellness center, off-street parking, and a 1,600-square-foot community room.
They also say that they'll partner with the Urban League of Essex County and the YMCA of Greater Newark to provide residents with on-site supportive services including adult education and literacy, financial education, employment links and coaching, and social service coordination and case management.
An NJ Transit bus stop near the building can take residents to Newark Penn Station, and the neighborhood also provides easy access to the Garden State Parkway and Route 78.
Developers note that while the waitlist for 280 Park Place is years long, the new project would "enab[le] the people who grew up in Irvington to stay in Irvington, consequently stabilizing the neighborhood and local schools."
Adenah Bayoh, who attended the Irvington public schools and went on to redevelop more than $250 million in property in urban areas, said, "This vacant lot can be so much more. We are excited and hopeful about injecting new life and vibrancy to this corner, and affordable housing is the perfect use for it. The working families of Irvington deserve a clean, safe place to live that doesn't eat up their entire paycheck."
Jonathan Gertman said that if the project is awarded a nine percent low-income housing tax credit from the state, they will be able to break ground in mid-2020.
Related: