This listing is brought to you by Megha Moza of Prominent Properties Sotheby's International Realty. Want a listing featured? Contact us, [email protected]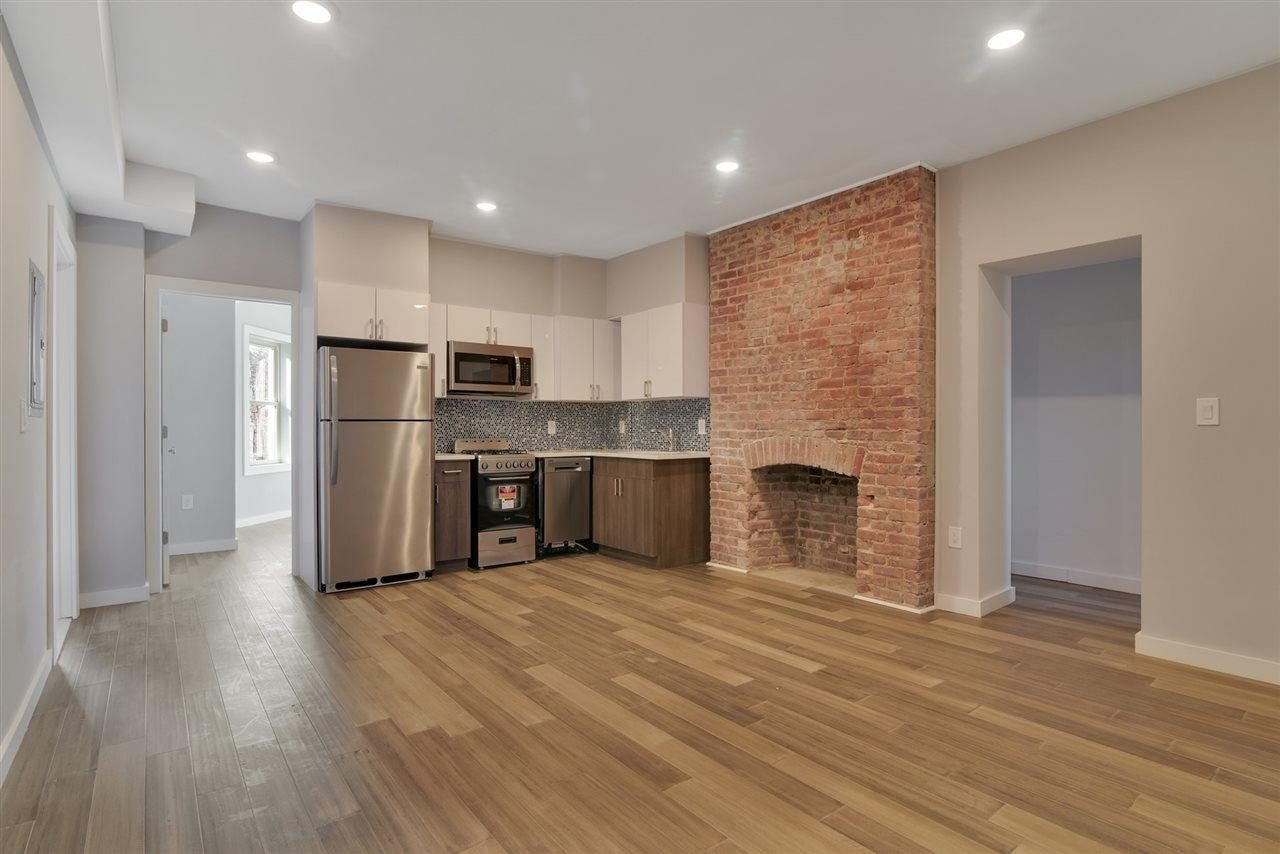 For buyers interested in acquiring a fully rented investment property in the heart of historic downtown Jersey City, look no further than this four-family brownstone.
Carefully gut renovated, this 25×100' property encompasses four units plus a shared backyard. The units have been tastefully updated to offer occupants contemporary upgrades while retaining elements of classic charm. Exposed brick accent walls and beautiful wooden floors seamlessly work together to offer stylish dwellings. Natural light floods through the plentiful windows, with some units featuring bay-windows, to create bright and airy atmospheres.
The thoughtful renovations throughout ensure residents enjoy a comfortable and convenient lifestyle in the heart of downtown Jersey City, which makes these units particularly appealing to renters. The modern kitchens boast stainless-steel appliances, along with ample cabinetry for storage and tiled backsplashes.
Refreshed bathrooms feature contemporary fixtures and finishes, such as chic vanities, glass- or tub-showers, and patterned tiles. Meanwhile, in-unit washer and dryers provide additional conveniences for residents.
The brownstone has a spacious, shared backyard that offers plentiful outdoor space for residents to relax in the fresh air or host gatherings.
This four-family property is situated in a prime location on Wayne Street near numerous dining and retail options. The proximity to public transit, such as Hudson Bergen Light Rail, Grove Street Path Station and buses to Manhattan, offers residents an easy commute.
Consisting of seven bedrooms and six bathrooms overall, the property includes three different floor plans.
Unit 1 offers an open layout for an effortless flow between the living areas. The residence contains one bedroom, one bathroom, plus a den.
Unit 2 features an abundance of natural light and a welcoming ambience. The residence contains two bedrooms and one bathroom.
Unit 3 and Unit 4 each encompass two spacious bedrooms and two ensuite bathrooms, offering additional privacy and convenience for occupants.
Gut renovated and in a prime location, 55 Wayne Street is asking $2,750,000.
For more information or to arrange a viewing, please contact Megha Moza of Prominent Properties Sotheby's International Realty at 978-606-6719 or [email protected]
Listing: 55 Wayne Street, Jersey City
Asking: $2,750,000
Brokerage: Megha Moza of Prominent Properties Sotheby's International Realty