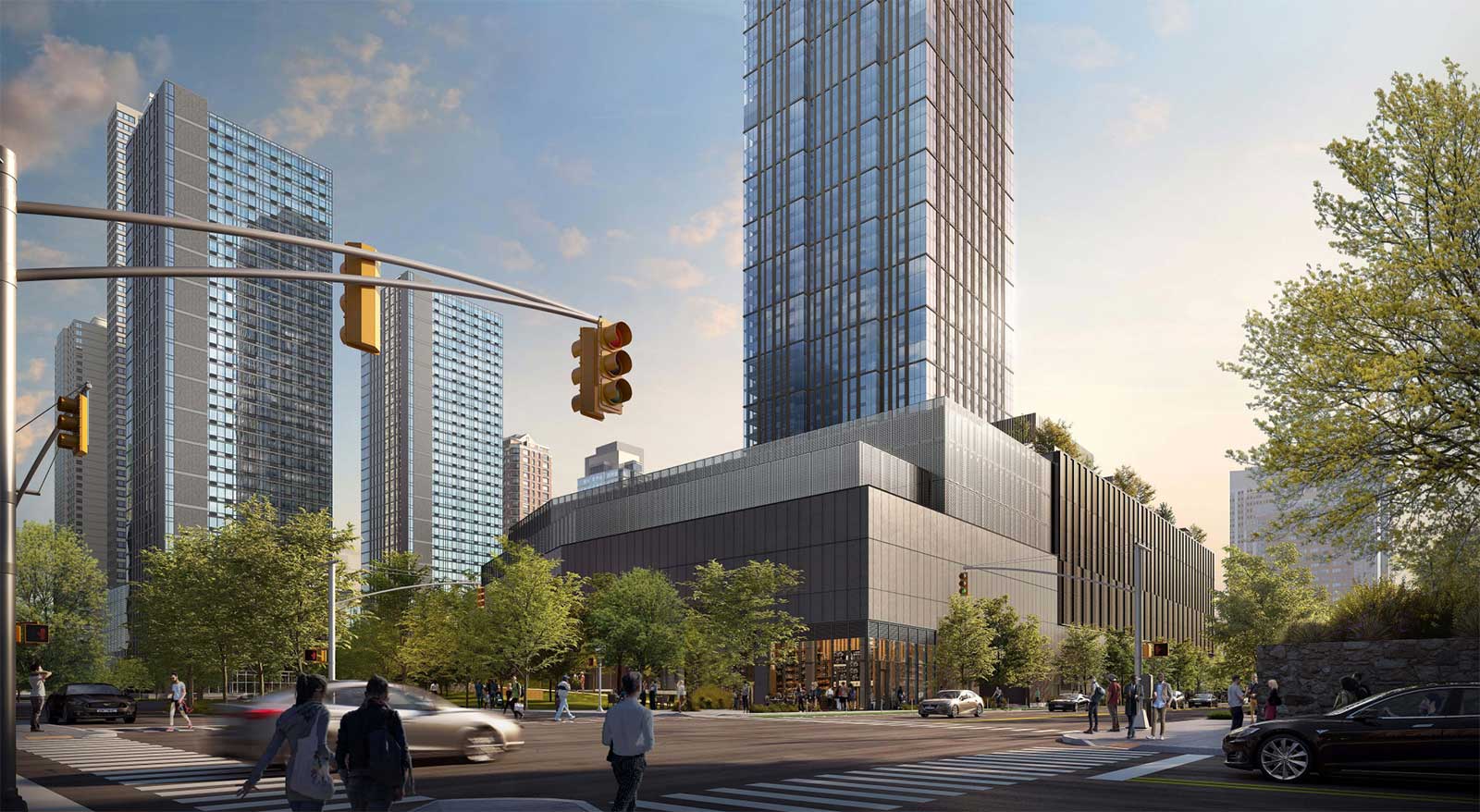 A project that will become one of the tallest buildings in Jersey City's skyline is officially underway as a new mixed-use tower that will host a modern Shop Rite supermarket is under construction.
Brookfield Properties and G&S Investors held a groundbreaking ceremony this week to mark the beginning of the second phase of Hudson Exchange. Situated at 420 Marin Boulevard, the 1.3 million-square-foot, mixed-use tower will include 802 rental apartments and 115,000 square feet of retail space.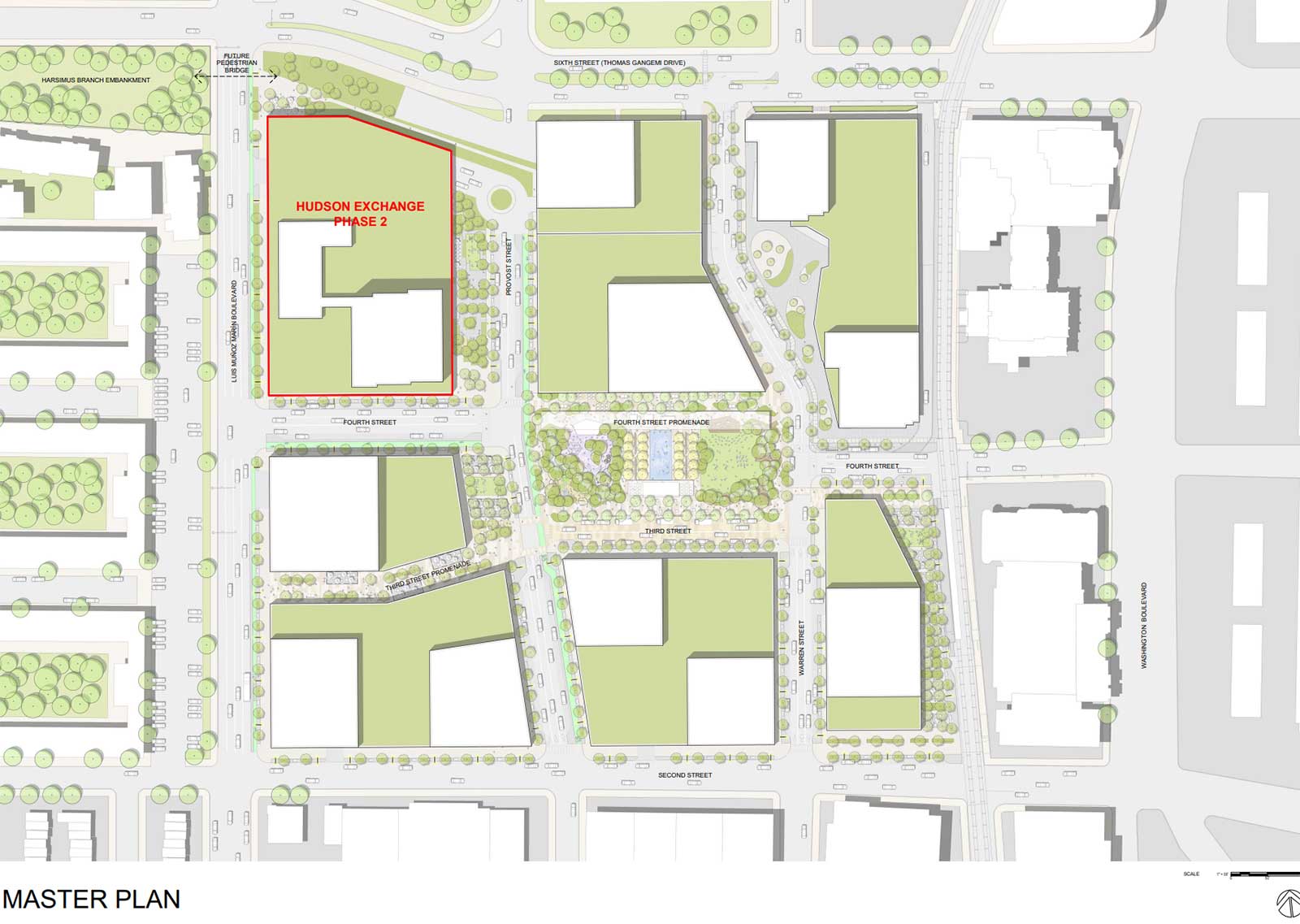 The project, approved last year, will replace a former Bed Bath & Beyond big box store and parking lot previously on the land. Designed by Beyer Blinder Belle, the 60-story tower will rise 634 feet in height.
Residences will feature quartz countertops, walk-in closets, and in-unit washer/dryers along with access to indoor and outdoor amenities like a rooftop pool, a social lounge, a fitness center, a game room, a dining/conference room, and a co-working lounge. An 85,000 square foot Shop Rite will be featured at the development.
"Our residents deserve access to vibrant food stores for their daily shopping needs and I'm thrilled that the new location for this longtime community staple is being built entirely with Union labor," said Mayor Fulop of the Shop Rite component. "We look forward to seeing this highly transformative development continue to come to life."
Besides the residences and retail, a garage facility at the development will have room for 538 cars and 422 bicycles. Materials on the development's exterior will consist of a granite base and a vision glass component on the tower portion.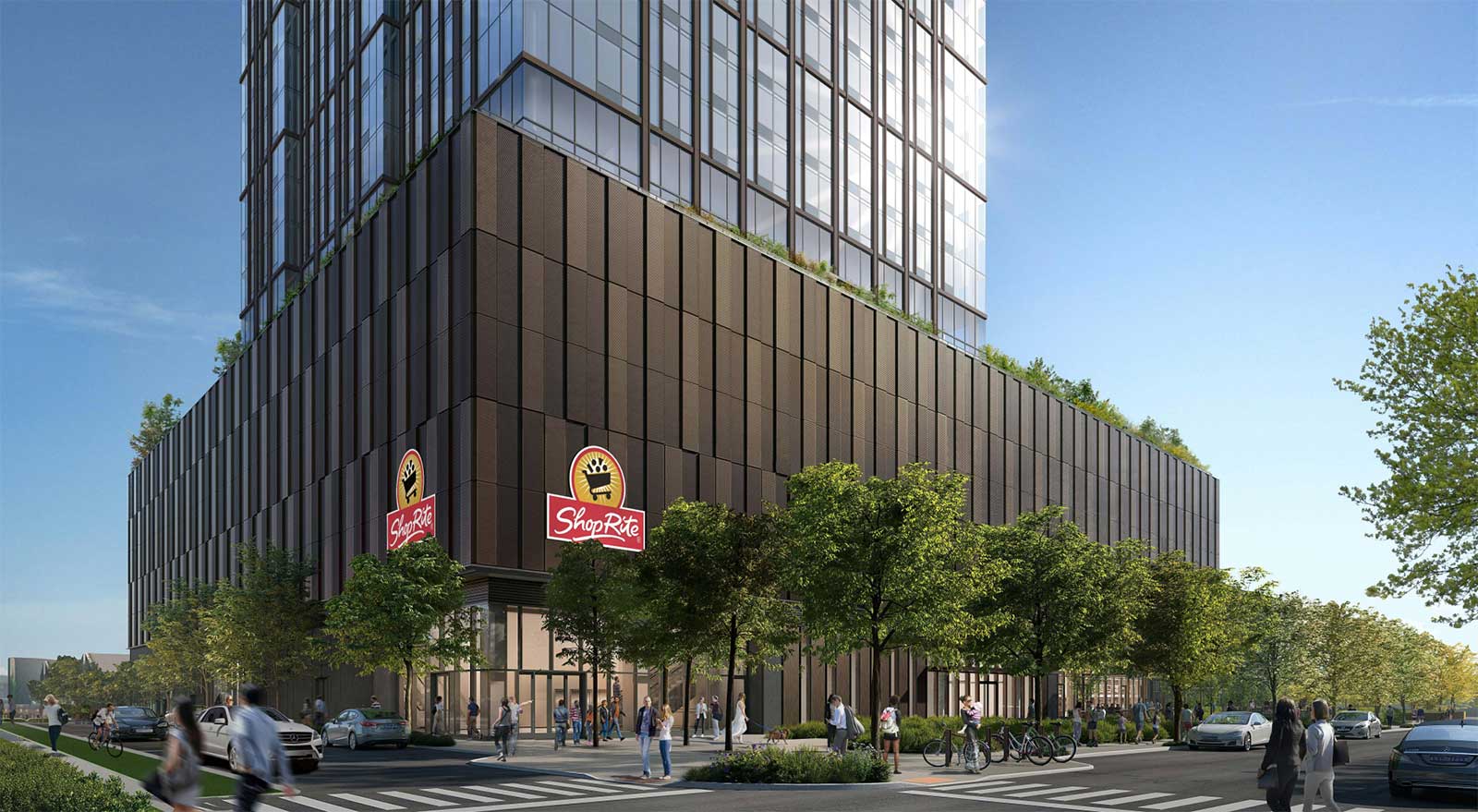 Hudson Exchange Phase II will also feature over 20,000 square feet of publicly accessible green space consisting of plazas, a new dog park, and more along Marin Boulevard. The open space is intended to serve as a gateway to Jersey City's planned Sixth Street Embankment endeavor, an elevated rail line that the city is hoping to transform into a linear public park.
Brookfield Properties and G&S Investors will be collaborating with Jersey City and the Embankment Preservation Coalition Board to incorporate a variety of retail options, public art and green infrastructure in the space. A timeline for the completion of Hudson Exchange's second phase has not been announced.
The soon-to-rise tower is part of a larger 18-acre master-planned development that aims to urbanize and revamp a collection of big box stores and parking lots known as Metro Plaza. Phase one of the work consisted of two 36-story luxury apartment buildings called VYV which include a total of 850 residential units, 20,000 square feet of retail, and 450 parking spaces.
The total plans for Hudson Exchange call for six million square feet of development and 5,500 residential units. Other components of the plan include a centrally located park and new roads that strive to rejoin the city's historic grid network to better connect with nearby neighborhoods.