A vacant plot and two older Hoboken buildings on Madison Street could soon be replaced with a modern development that includes an affordable housing component and flood mitigation efforts.
Hoboken's zoning board is slated to review a proposal for 303-309 Madison Street. The properties span about 10,000 square feet and sit directly across from Madison Street Park, which underwent a renovation in 2019.
The land is owned by an entity called TH Start Madison Multi LLC, which is a subsidiary of Toresco Holdings. Their plans, drawn up by Nastasi Architects, look to demolish everything on the lots and construct a new rental building with four residential stories above a ground-floor parking garage.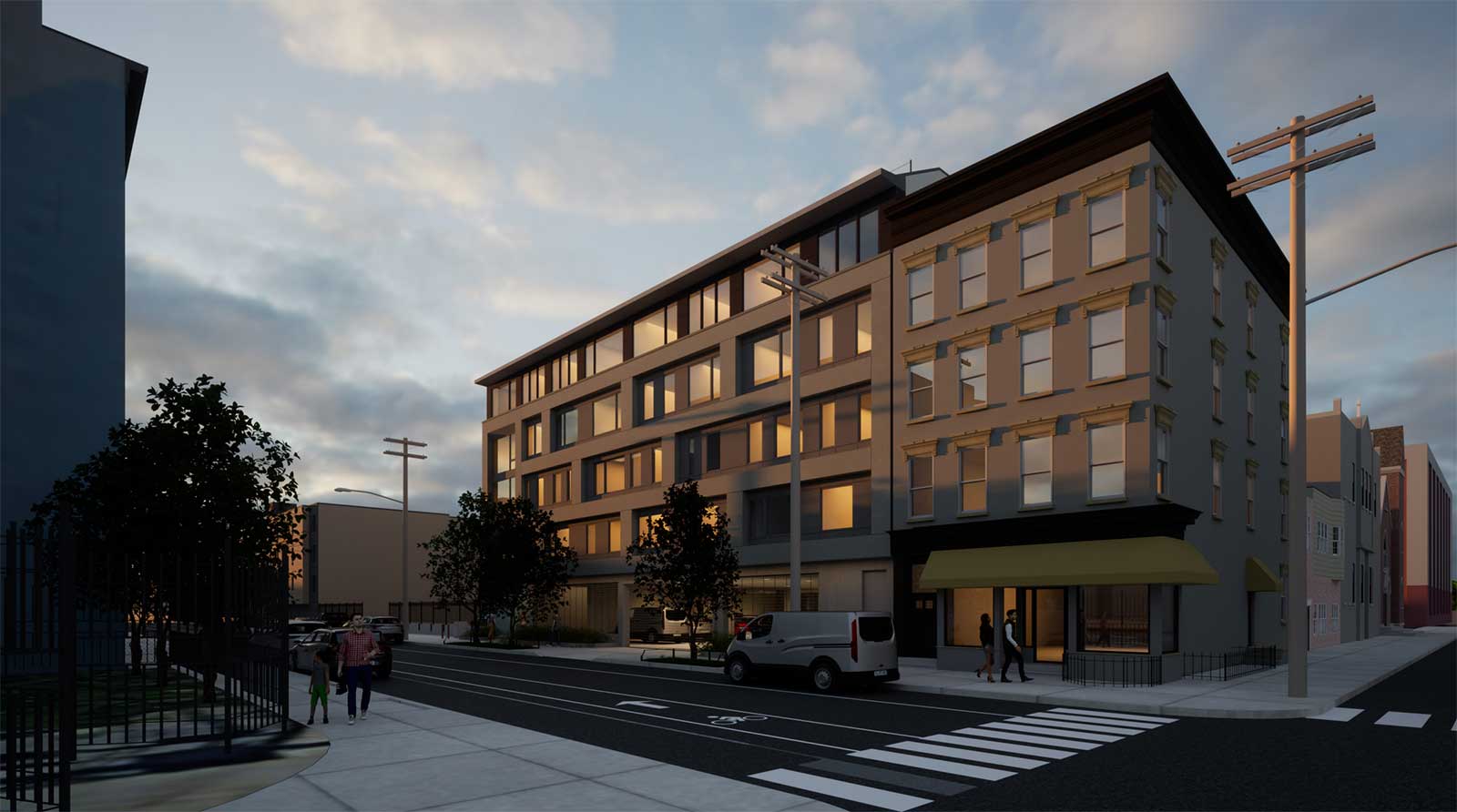 30 dwelling units are proposed at the site, three of which would be set aside as affordable housing for low-to-moderate income households. The development's ground floor includes open-air parking for 17 cars, an enclosed bicycle parking room, and a lobby plus a residential entrance.
Amenities at the proposed elevator building include a 700-square foot lower roof deck on the second floor plus a 2,652-square foot extensive green roof on the upper roof. The top of the structure would also feature a 1,989-square foot common roof deck for residents complete with grilling facilities.
The development of 303 Madison Street aims to alleviate flooding in the area, as the floor garage and common areas are proposed to be wet flood-proofed with a total of 46 flood vents with a capacity to cover 9,200 square feet. The project would also include a stormwater detention tank below the building's garage.
The ground floor façade is proposed to use a metal mesh privacy screen around the open-air garage, while the second through fifth floors would utilize cementitious panels with a strong horizontal element.
Toresco Holdings is seeking five variances to move the project forward, the most significant of which involves about five extra feet in building height and 30 units in a zone that allows a maximum of 15.15.
The application for 303 Madison Street is slated to be heard by Hoboken's zoning board during their March 21 session. The meeting, which begins at 7:00 p.m., will be held virtually on Zoom and can be joined at this link or by using the Webinar ID 968 1679 2285.