This listing is brought to you by Megan Gülick of Sawyer Smith Residential. Want a listing featured? Email us, [email protected].
Built circa 1875 and breathtakingly restored, this former mansion in Bergen Hill is now two palatial duplex condos for sale. 95 Summit Avenue is an Italianate masterpiece at home in the hilltop neighborhood known for some of the most stately brownstones in Jersey City, while both units also offer every luxury and a sleek aesthetic alongside historical architectural details.
Unit 1 is a three-bed, two-and-a-half-bath duplex, totaling 2,000 square feet and boasting a finished basement and backyard. Unit 2 is a three-bed, three-bath duplex also totaling 2,000 square feet and featuring stunning New York City views from the master suite.
Measuring 25 feet by 120 feet, the large lot sets the stage for the enormous full floors of living painstakingly restored and renovated. Original details include arched front doors, exquisite marble fireplace mantles, plaster ceiling moldings, wide door and window moldings, winding wooden staircase banisters, and a wrought iron railing along the iconic front stoop — all precious elements preserved through quality craftsmanship on an impressive scale.
Kitchens are thoughtfully designed and decidedly modern. A mix of materials — high-gloss white cabinets, islands and range hoods wrapped in wood veneer, marbled Quartz countertops and backsplashes — is complemented by high-end stainless steel appliances.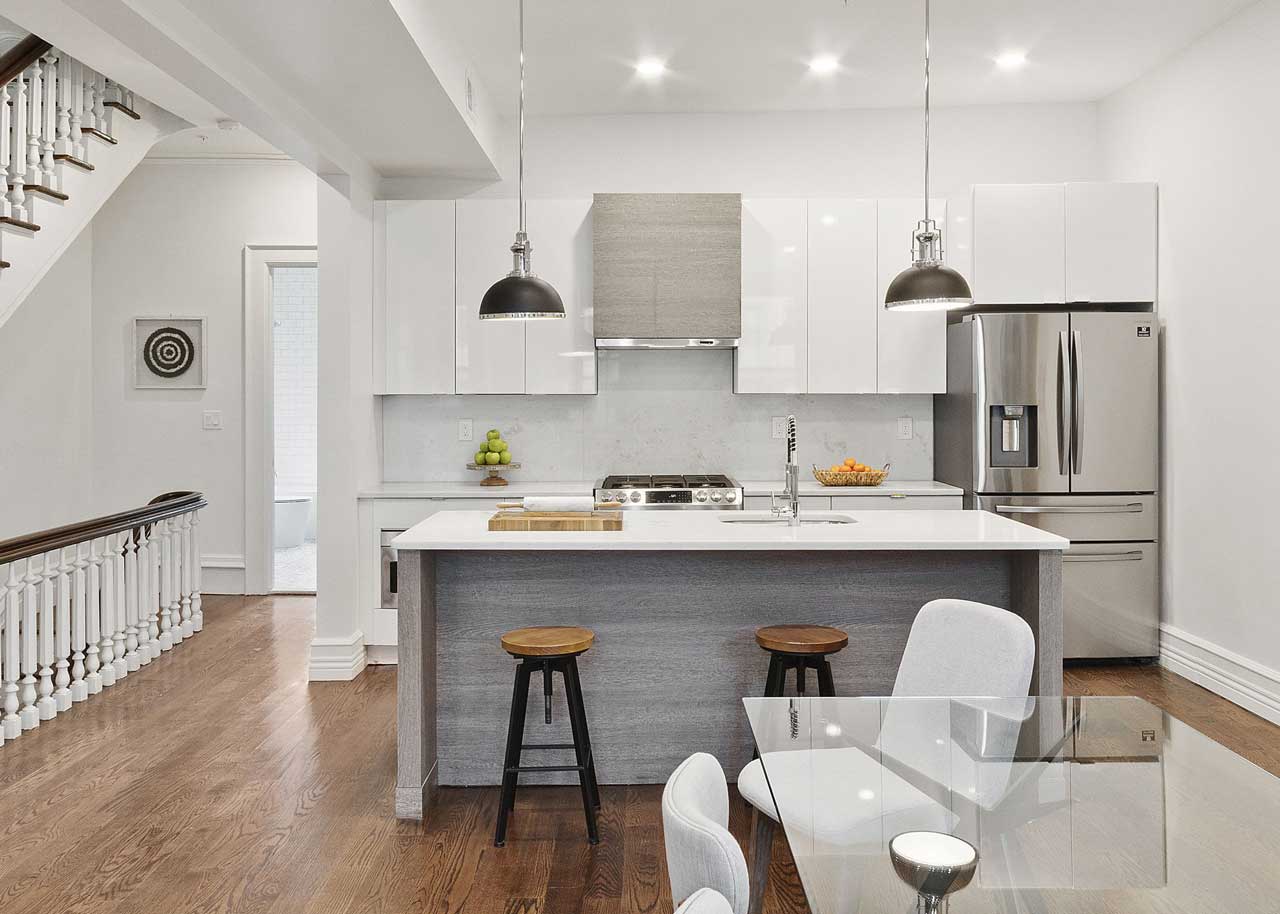 Baths are truly transformative spaces with wonderful light, gorgeous marble and porcelain tiles, wood accents, seamless vanities and fixtures, and singular soaking tubs and glass-enclosed standing showers.
The proportions of each duplex unit are nothing less than grand, defined by a bygone era, but the true magic of 95 Summit Avenue is where two different centuries meticulously collide, also offering modern floating glass staircases, central air conditioning, wall paneling, new hardware, and laundry.
Located in the sought-after Jersey City neighborhood Bergen Hill, 95 Summit Avenue is just over one mile from the Journal Square Transportation Center and is near both Berry Lane Park and Lincoln Park as well as the bars, restaurants, shops, and services of both Bergen-Lafayette and McGinley Square.
Unit 1 is asking $900,000 and Unit 2 is asking $979,000.
For more information and to schedule a showing, please contact Megan Gülick at 551-697-5158 or [email protected].
Listing: 95 Summit Avenue, Unit 1 & Unit 2, Jersey City
Asking: Unit 1 ($900,000); Unit 2 ($979,000)
Agent/Brokerage: Megan Gülick/Sawyer Smith Residential