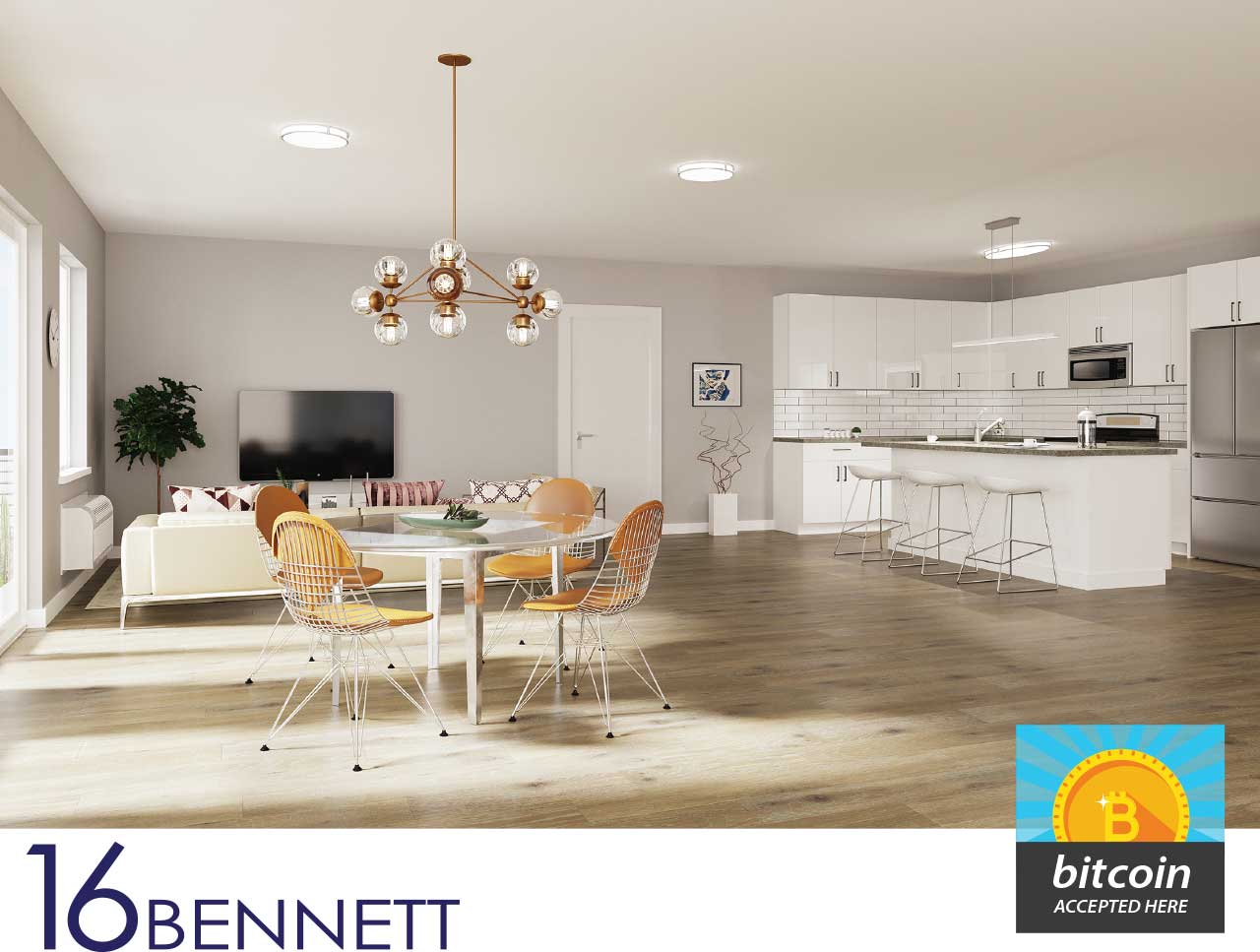 As apartment developers try to differentiate themselves to their potential tenants, many of them are turning to technology. Smart home features can add convenience and connectivity to residents' lives, while thoughtful common spaces and services can solve the pain points of everyday apartment living. 16 Bennett Street takes it a step further, breaking new ground as the first property in New Jersey that accepts Bitcoin as payment.
Bitcoin has taken the world by storm, and it was only a matter of time before a forward-thinking developer like 16 Bennett Street's Jeff White started taking it for rent. Besides Bitcoin ($BTC), they also accept Ethereum ($ETH), Litecoin ($LTC), and Bitcoin Cash ($BCH), the other major cryptocurrencies traded on Coinbase.
Bitcoin and other cryptocurrencies, for the uninitiated, are digital assets that are bought and sold via online exchanges. Users can send Bitcoin from one virtual "wallet" to another; transactions using this decentralized digital money are written to a blockchain ledger, creating an unalterable, publicly verifiable record.
"If there is a demand for it, we will service that demand," said White.
Paying with your Bitcoin bags is just one forward-thinking feature you'll find at 16 Bennett. The building is fully keyless, using a ButterflyMX system as a virtual doorman, smartphone intercom, and package concierge. Another innovation on the payment side is a lease option that's security deposit free.
The location, on Jersey City's West Side, puts residents right in the heart of an up-and-coming neighborhood. 16 Bennett is one of several high-end residential developments rising above unique shops and tempting restaurants. A complimentary shuttle service connects 16 Bennett Street to the Journal Square PATH station and the West Side Avenue Light Rail, and Newark Liberty International Airport is only 15 minutes away. You can walk to Lincoln Park, where neighborhood residents enjoy sports fields and courts, a golf course, and a lake stocked with fish.
Other amenities available to residents at the pet-friendly 16 Bennett Street include on-site parking, bike storage, a gym, and a fire pit. The lobby and rooftop offer WiFi hotspots. Capping everything out are the views, enjoyed from upper floor units and a chic roof deck. From here residents can take in the vistas of New York City, West New Jersey, and the Hackensack River.
The apartment homes at 16 Bennett Street offer lots of room, filling those oversized spaces with upscale finishes. Swedish Krono wide-plank hardwood floors can be found throughout the homes, while the kitchens include Caesarstone countertops and premium stainless steel appliances including dishwasher and microwave. Each has LATCH entry and a full-size washer and dryer along with individually controlled heating and cooling and custom roller shades. A variety of layouts are available, some even including private balconies.
Availability at 16 Bennett Street includes one-bedroom, one-bath homes starting at $1,725 for 697 square feet, two-bedroom, two-bath units starting at $2,625 and 1,064 square feet, and three-bedroom, three-bath corner units with at least 1,523 square feet of space from $3,600.
For more information, visit 16Bennett.com, and contact Liberty Realty's Daniel Silverman or Michael Reichel at 201-422-2011 or [email protected].
—