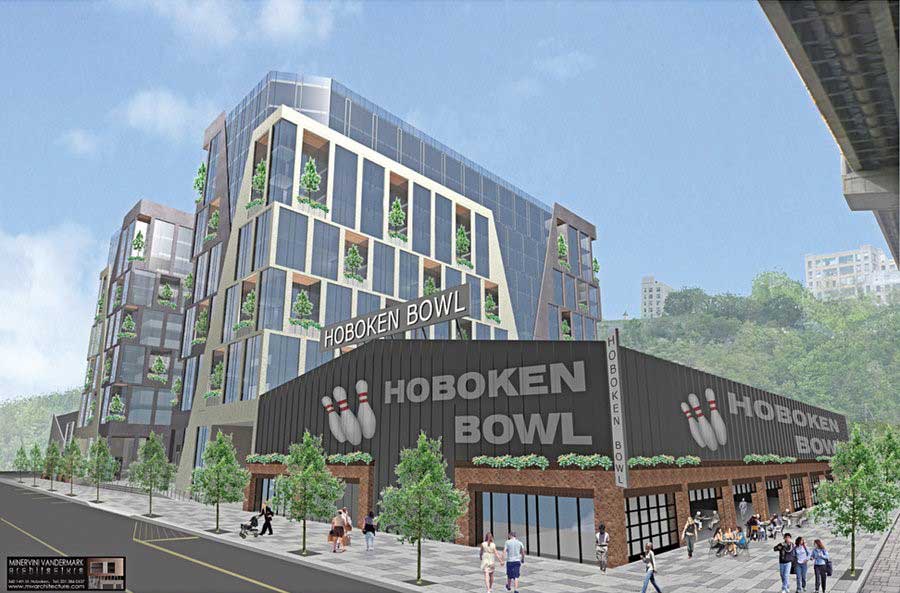 Two local builders are hashing out the details of a redevelopment plan that will potentially bring Hoboken two new residential towers, a hotel, and a bowling alley, also partially reusing an existing warehouse in the city's burgeoning northwest area.
Mark Villamar and Henry Ahmed, the developers behind the Pilsner Haus Biergarten restoration, submitted a 'Pre-Submission Form' to the city back in October last year as part of their ongoing work at 1300 Jefferson Street. The project, known as Block 112, is right next to the renovated 14th Street Viaduct at the city's western edge. The current proposal is the second set of plans the duo has put forth for their property.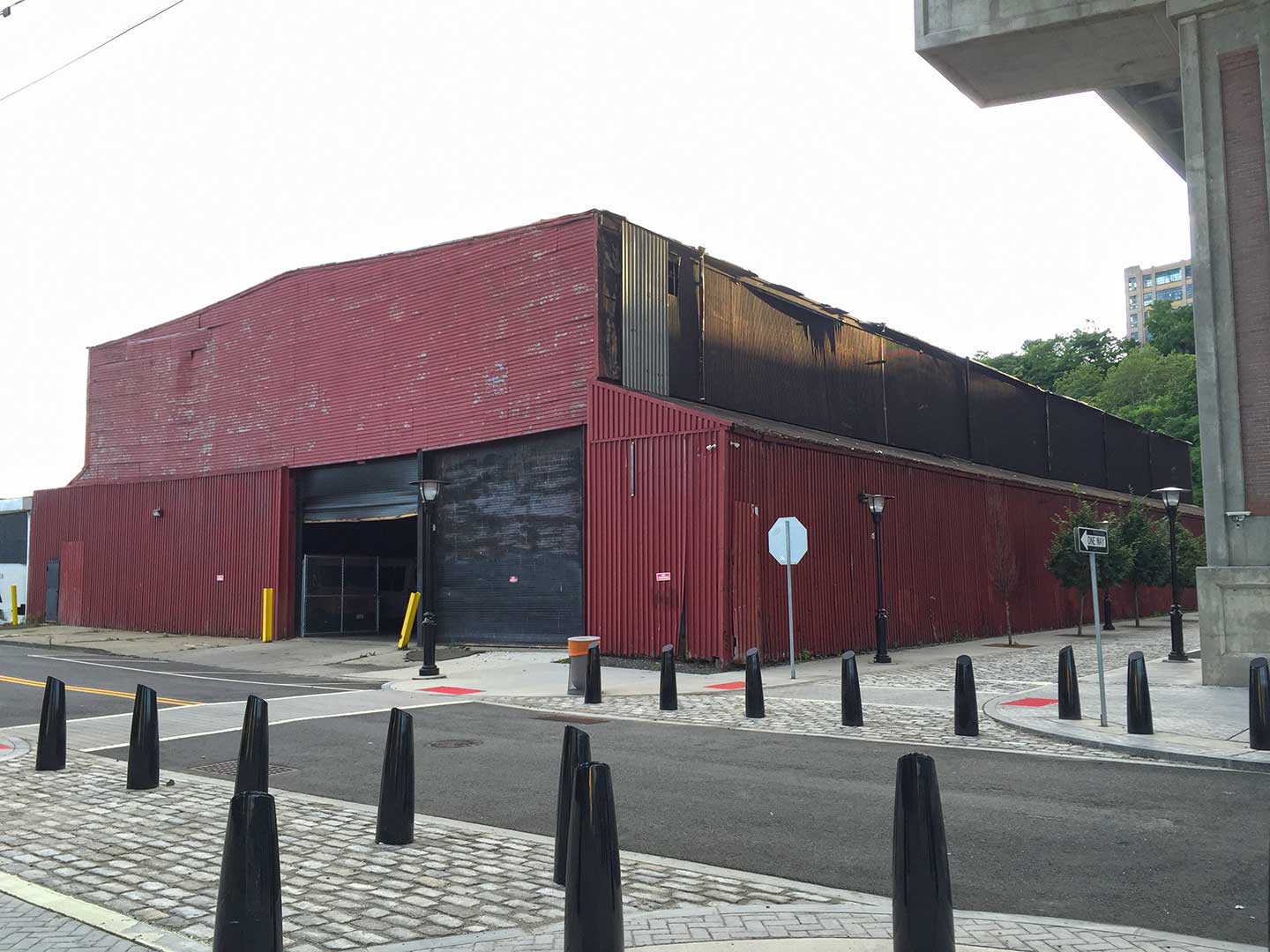 A previous application to build a bowling alley from the skeleton of an old warehouse, along with two towers, was rejected by the city's Zoning Board back in June of 2014, mostly over height concerns. Since then, Hoboken's City Council passed the Western Edge Redevelopment Plan in August last year, doing away with the archaic industrial restrictions that applied to the area and rezoning the neighborhood for residential and mixed-use development.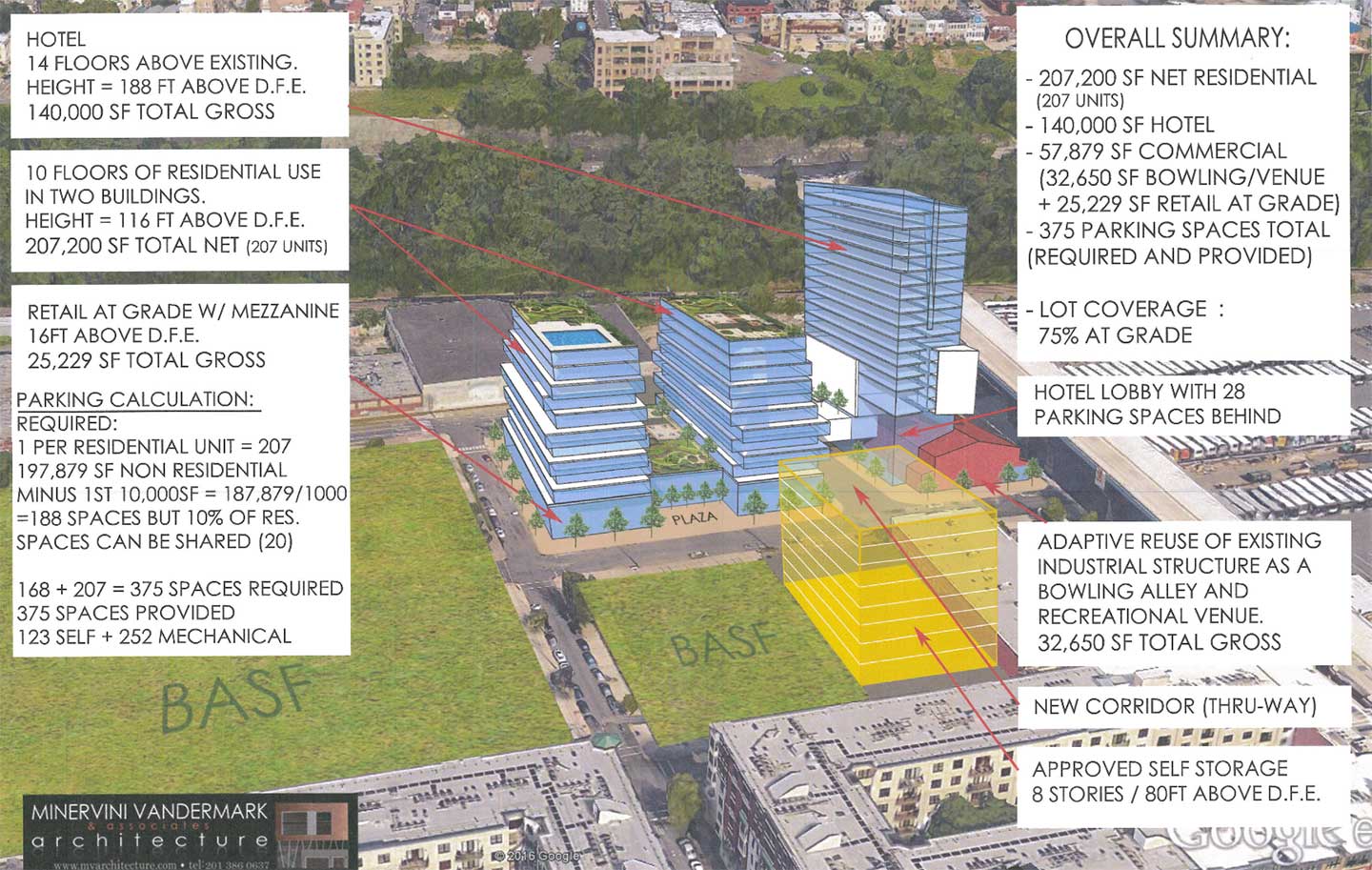 Mostly following those guidelines, Villamar and Ahmed have proposed a mixed-use development featuring three towers, with the northern most and tallest one being a hotel. The plans are being drawn up Phillips Preiss Grygeil, with Minervini Vandermark handling the architecture. They envision 25,000 square feet of retail all around the development and a 32,000 square foot bowling alley on the lower level within an existing industrial structure they will adaptively reuse.
The bowling alley would also have a restaurant and feature occasional live music, with the developers specifically citing Brooklyn Bowl in their application as inspiration for the venue. Preliminarily plans for the 14-story hotel, which would be built above the bowling alley, include a banquet hall, two bars, a 5,000 square foot restaurant and rooftop pool.

The remaining two mixed-use residential towers would reach 10 stories and comprise of 207 total residential units and include 375 parking spaces. The project would have 10% affordable housing and the application states that the buildings would be LEED certified. The developers would also create an east-west access road between the residential and the commercial portions of the site for loading purposes.
The plan is still fairly early on in the process. After sending their Pre-Submission form to the city, the team is now seeking to be designated a redeveloper, which would clear one of the hurdles the project has between now and its finish line. For their part, the City Council did agree to enter into redevelopment negotiations with Block 112 during last week's council meeting, perhaps creating hope that the second time is the charm for this project.
[gmap height="250px"]1300 Jefferson St, Hoboken, NJ 07030[/gmap]
1300 Jefferson St, Hoboken, NJ 07030