This listing is brought to you by Megan Gülick of Corcoran Sawyer Smith. Want a listing featured? Contact us, [email protected]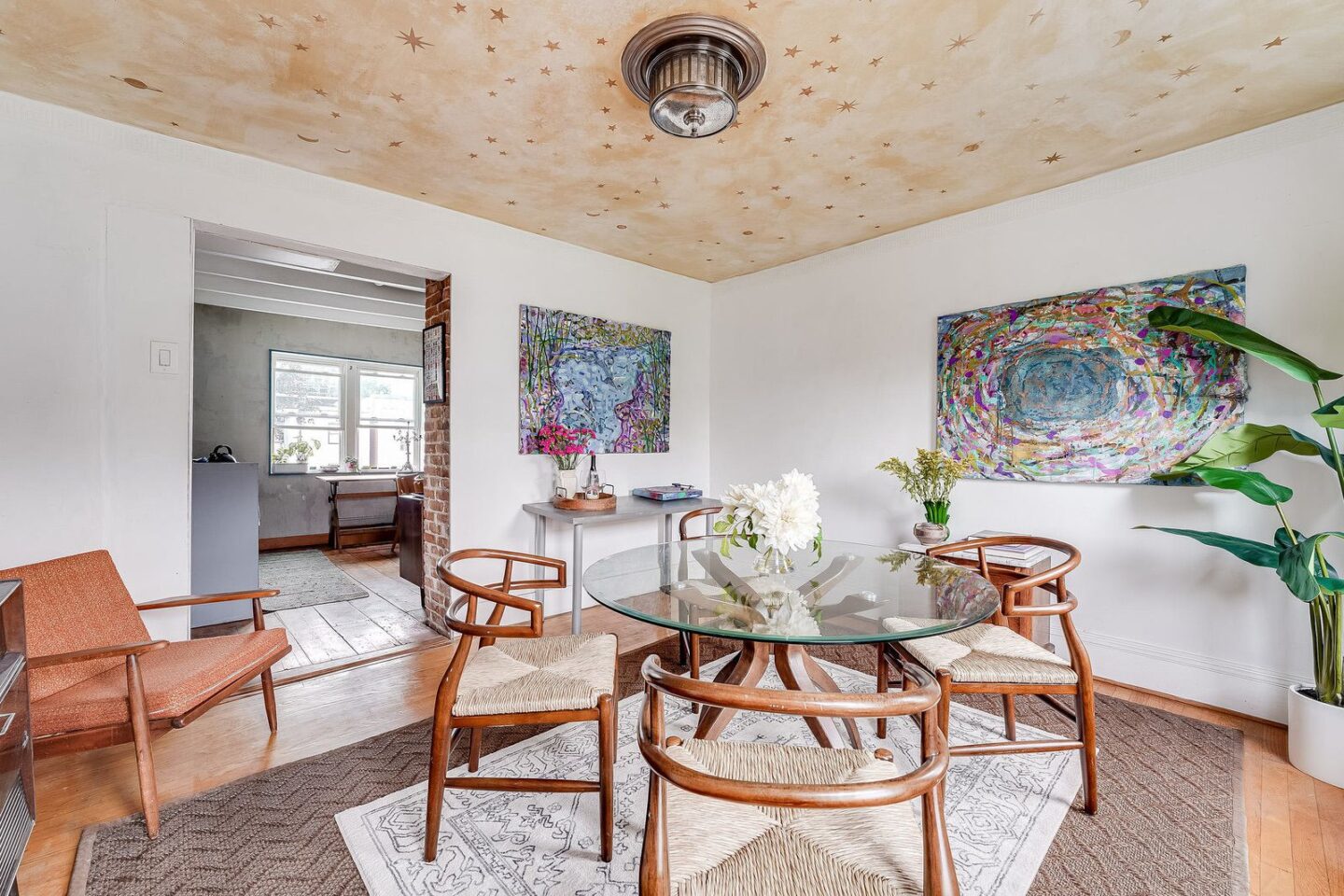 Opportunities are endless with this carefully maintained, historic home nestled on a quiet, tree-lined street in the heart of Jersey City Heights. With three stories of living space and an oversized backyard, there is plenty on offer in this single-family home.
Residents will no doubt enjoy this move-in ready, blank canvas that showcases preserved historic details. Imagine curating your dream abode while highlighting irreplaceable features, such as the chandelier medallions, original over-door story cornices, and the carved wood banister that guides you between the floors. Beyond these beautiful historic features, the home's original hardwood floors and exposed beams provide additional charm, along with exposed brick walls, a brick fireplace, and built-in bookshelves that enhance the uniqueness of the home.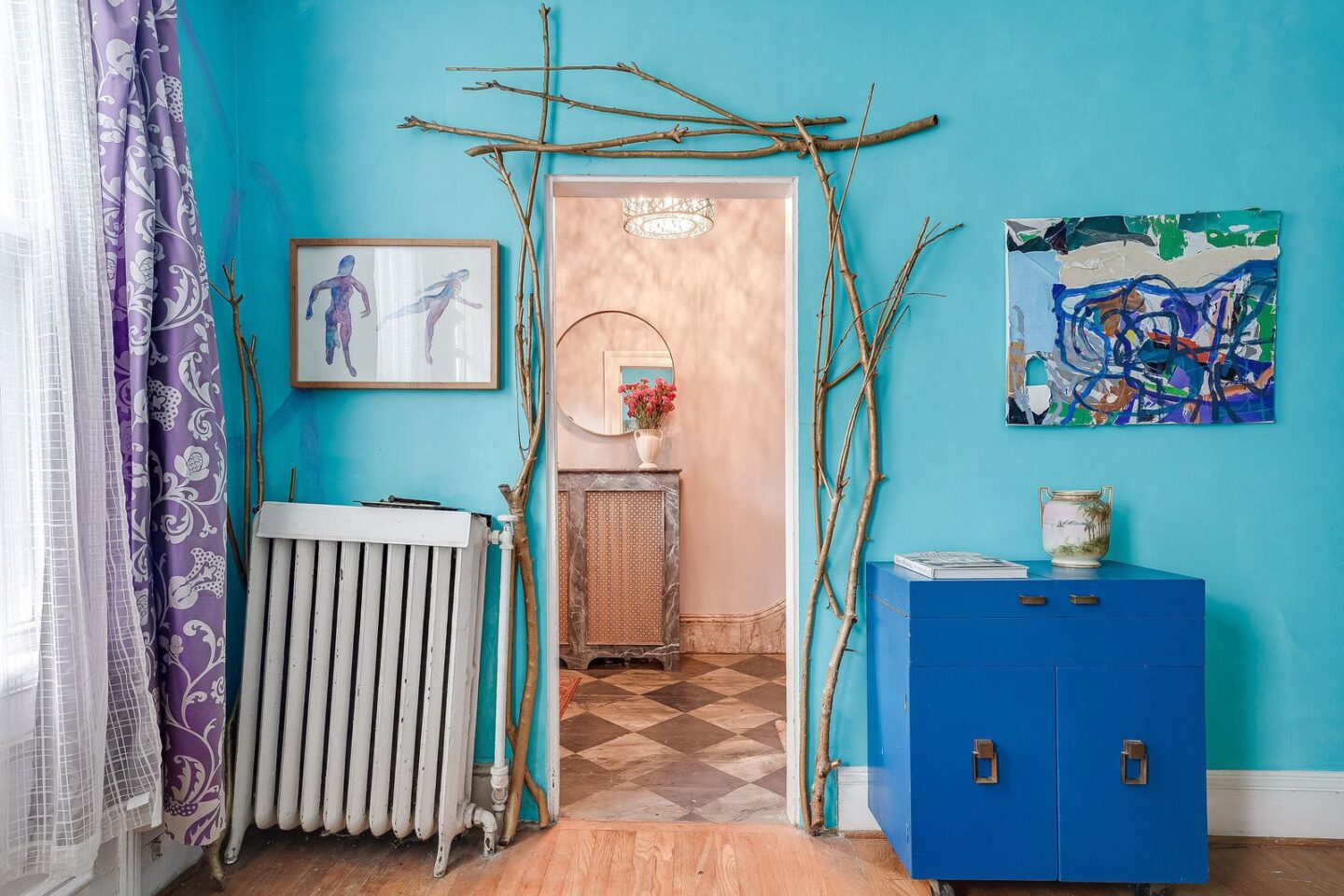 The home's living space is astutely shared across the three floors, with each floor encompassing multiple rooms that are easily adaptable to suit your lifestyle. The full-floor, garden-level offers residents a range of possibilities. The floor currently contains a half-bathroom, storage, and a utility room, but there is also space for an office, home-gym, studio, or recreation room. Simply decide what best suits your needs and easily adapt this lower level to make the most of your historic home.
Situated on the middle floor is a spacious bedroom that welcomes natural light through an oversized window while a built-in closet provides storage. An adjacent living room provides additional space, serving as a private sitting area or dressing room, and offers further storage with another built-in closet. A refreshed, full bathroom is also on this floor, along with a bright, but serene, sunroom that is perfect for relaxing.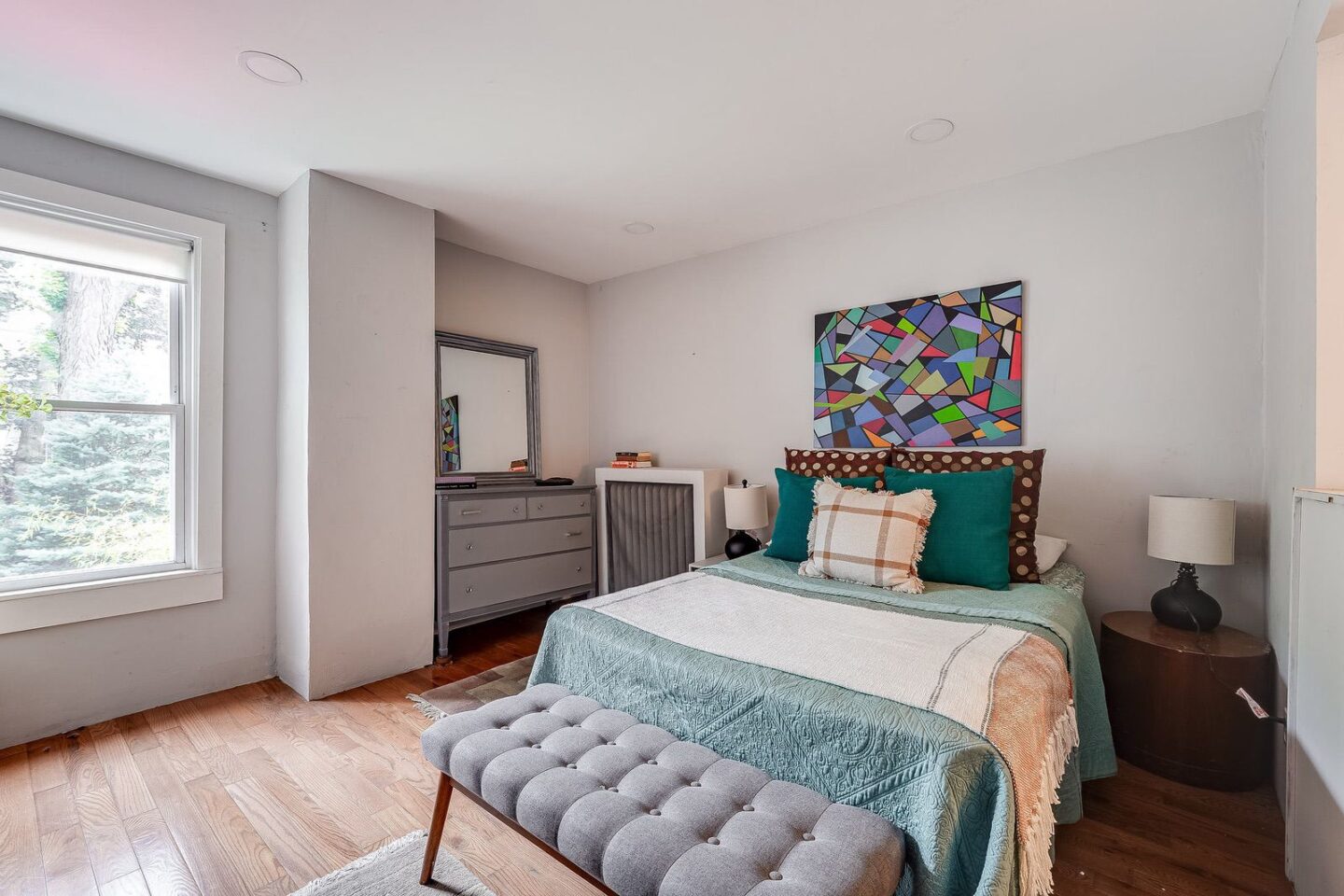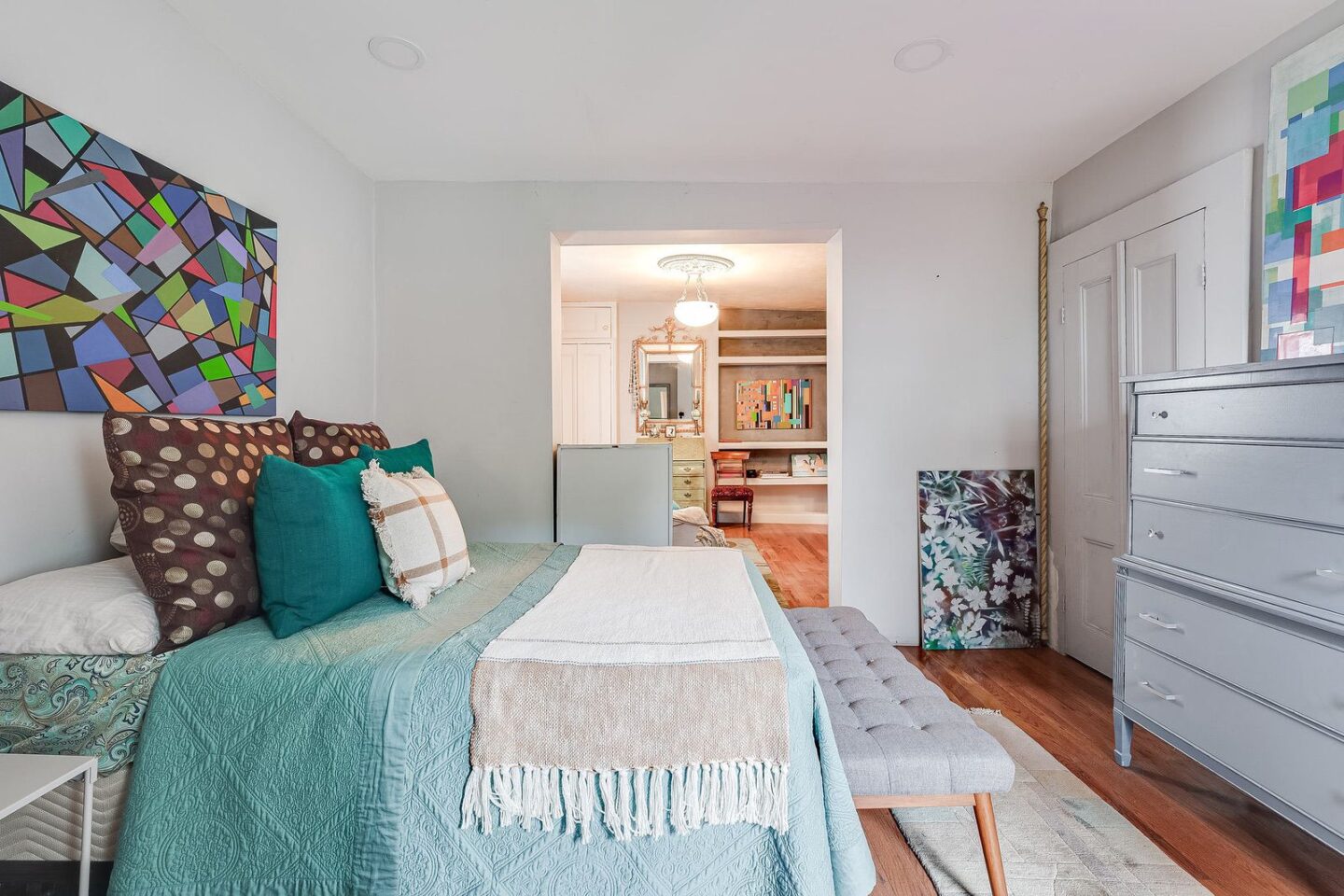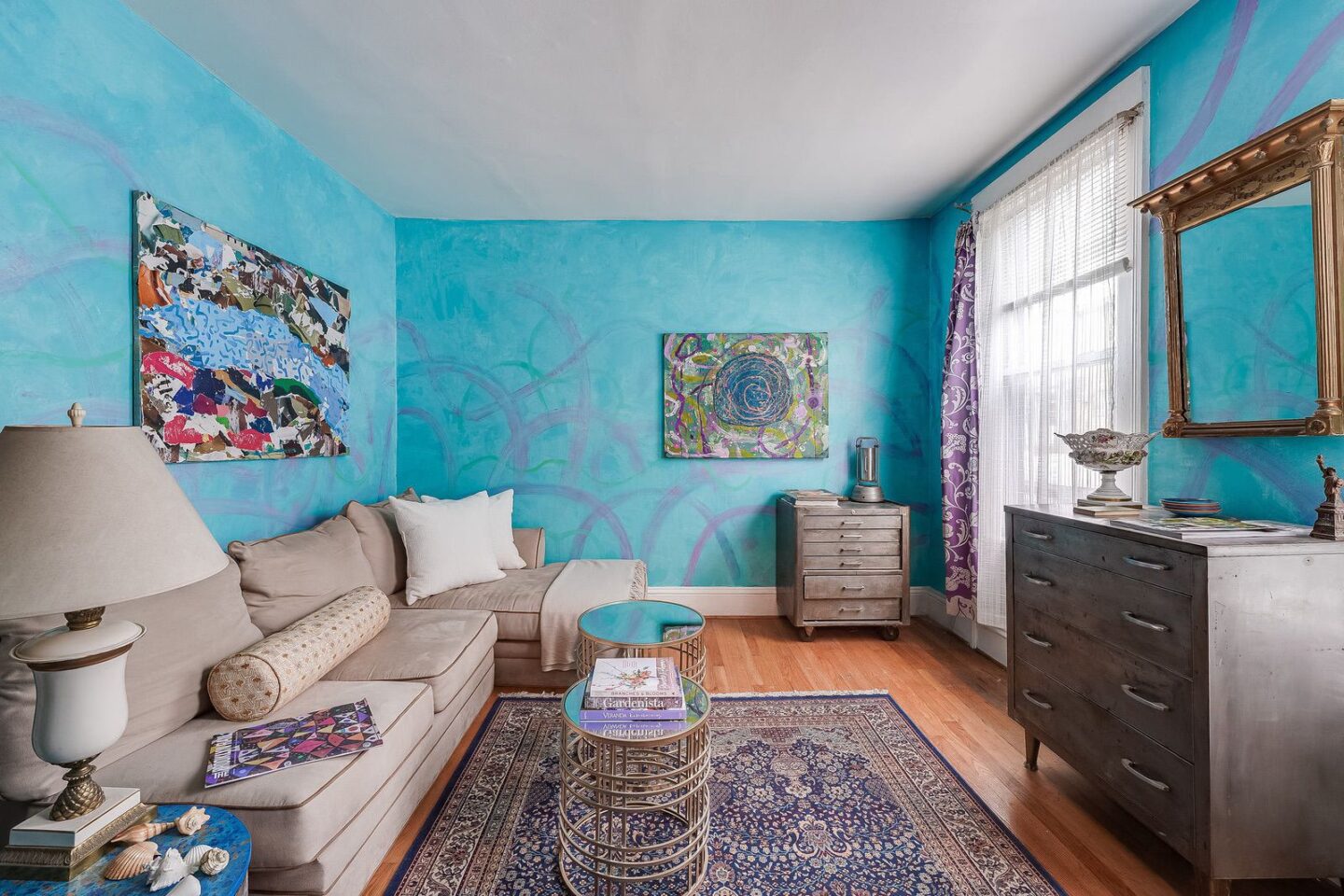 Natural light filters through the numerous windows on the top floor, highlighting the multiple living areas and open kitchen-dining area. This floor's layout offers residents endless opportunities to customize each room for various purposes, with two cozy rooms and an expansive living area providing copious living space.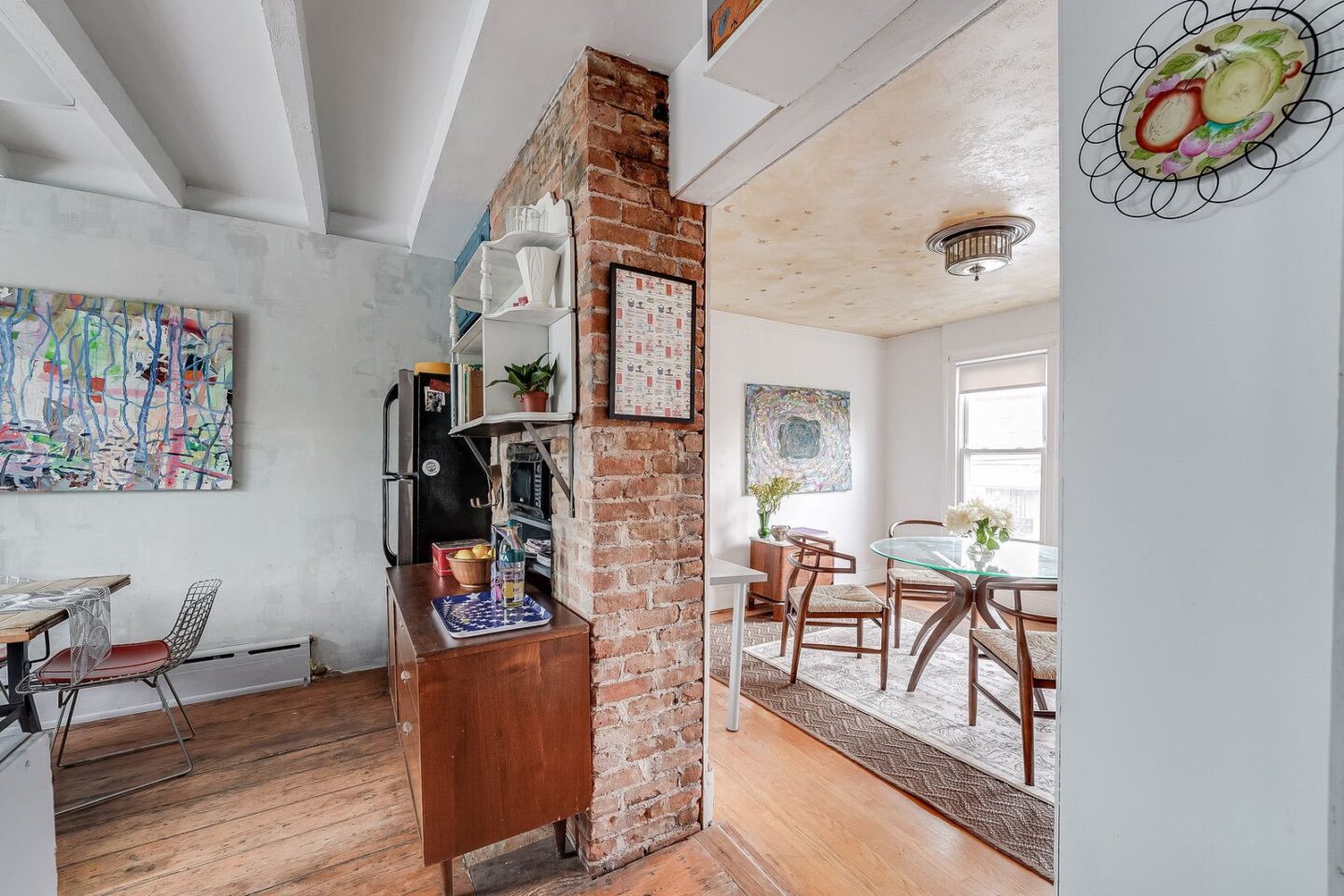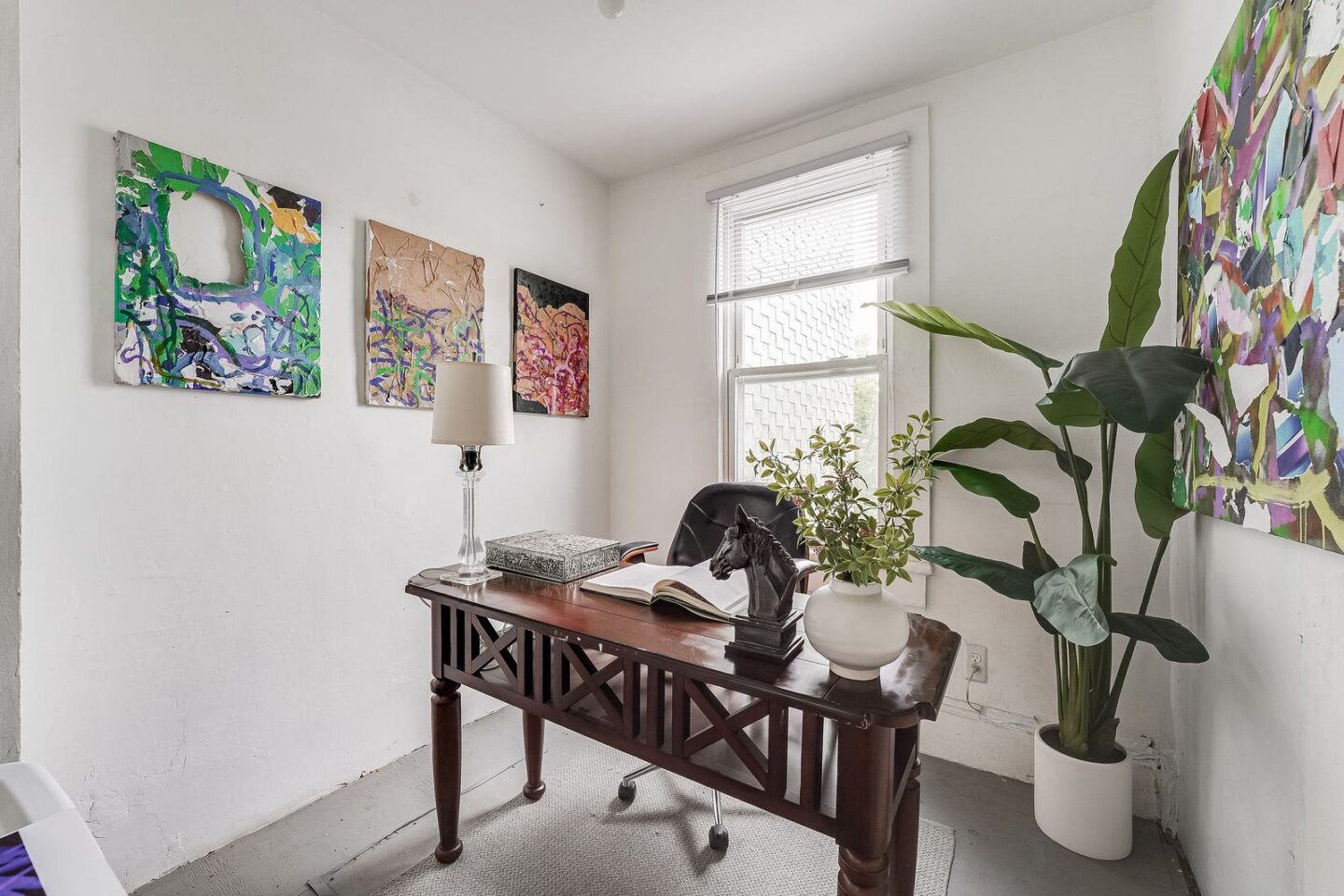 The kitchen's modern updates include charming, butcher block wood counters, a delightful mosaic tile backsplash, painted blue cabinets, and stainless-steel appliances, including a free-standing gas range. Residents can effortlessly enjoy or host intimate meals in the charismatic kitchen-dining area, which can easily fit a rectangular table. Alternatively, flow through to the expansive living area, which could be used for living or dining purposes – the choice is yours!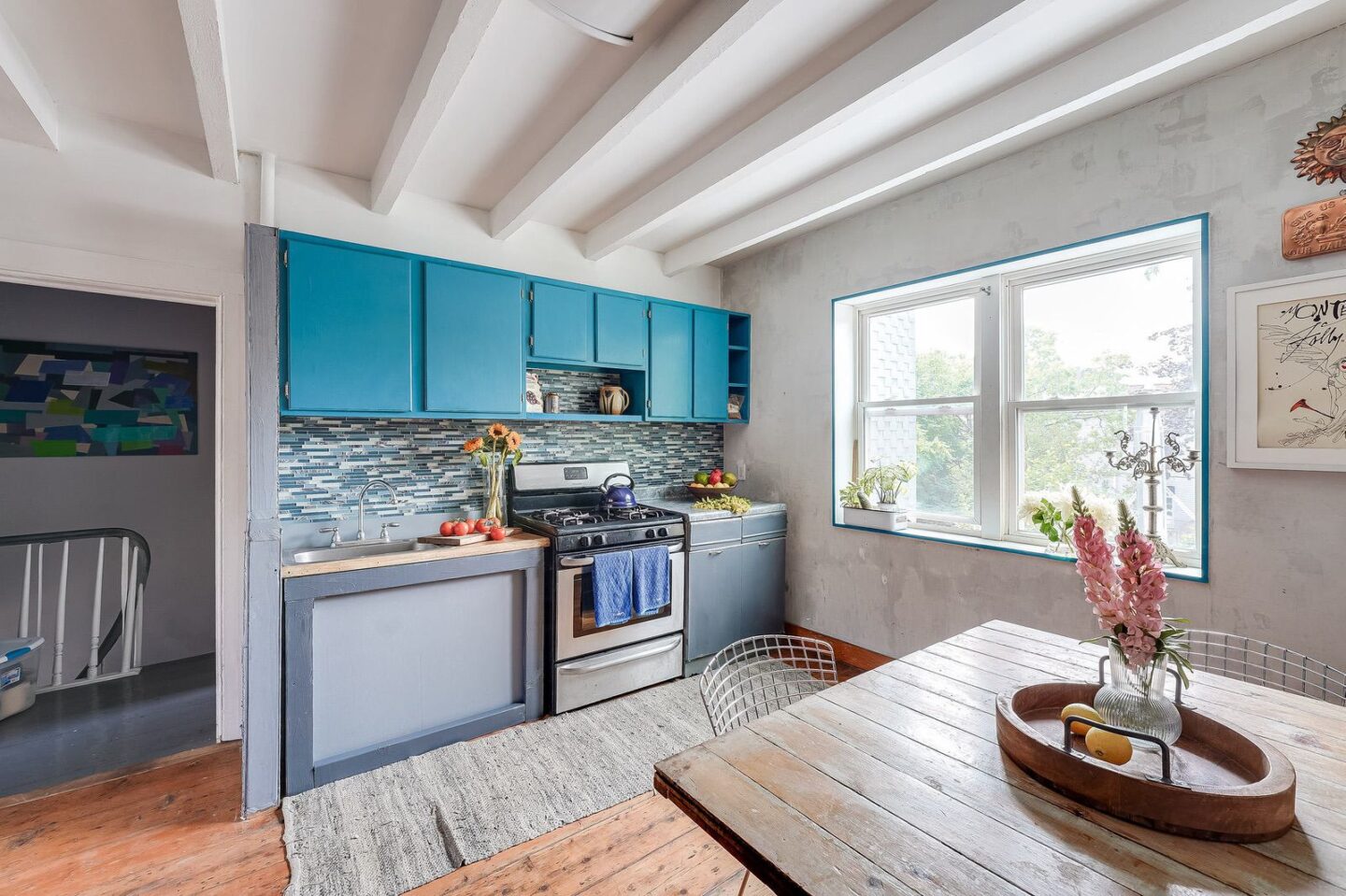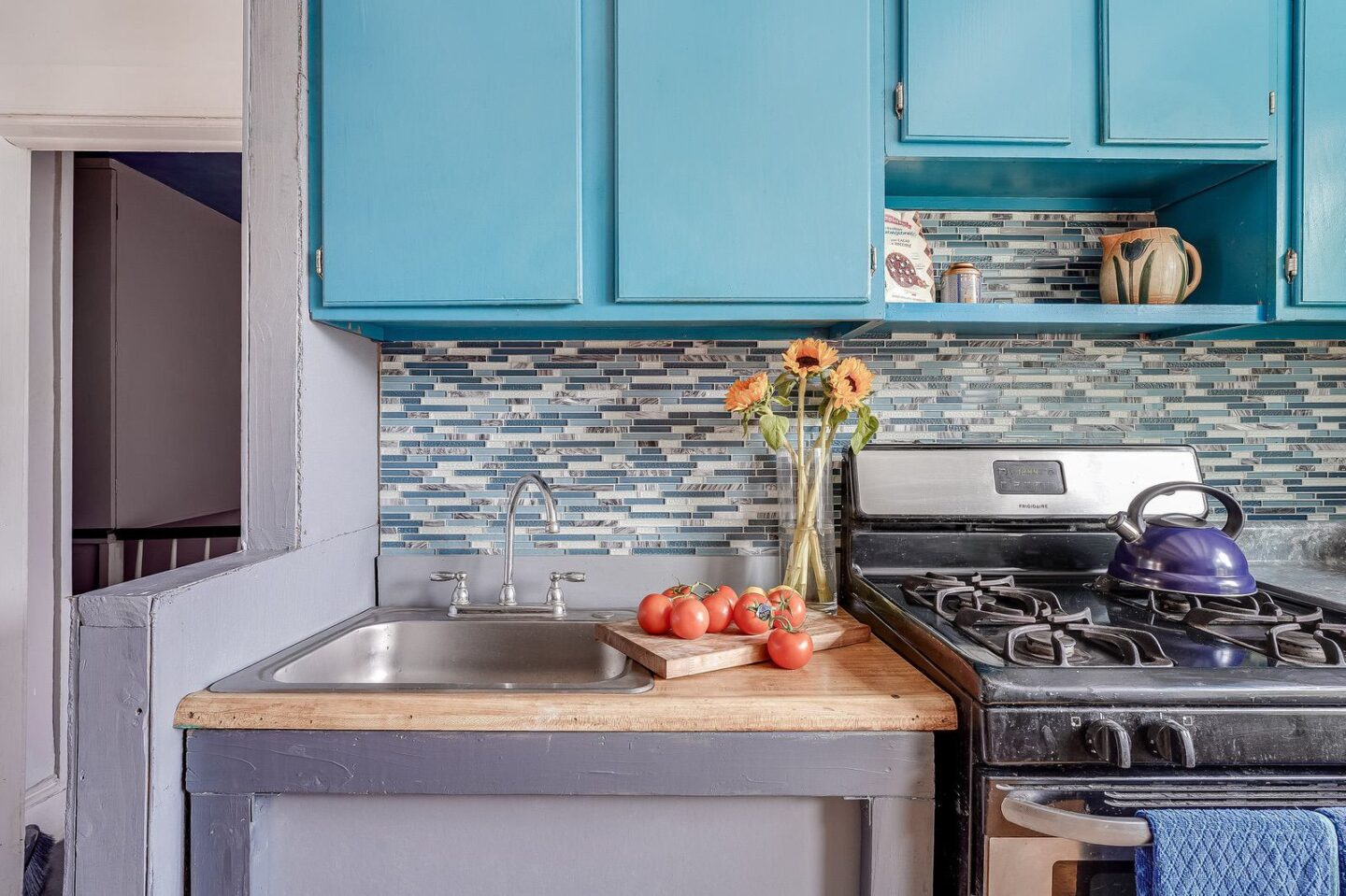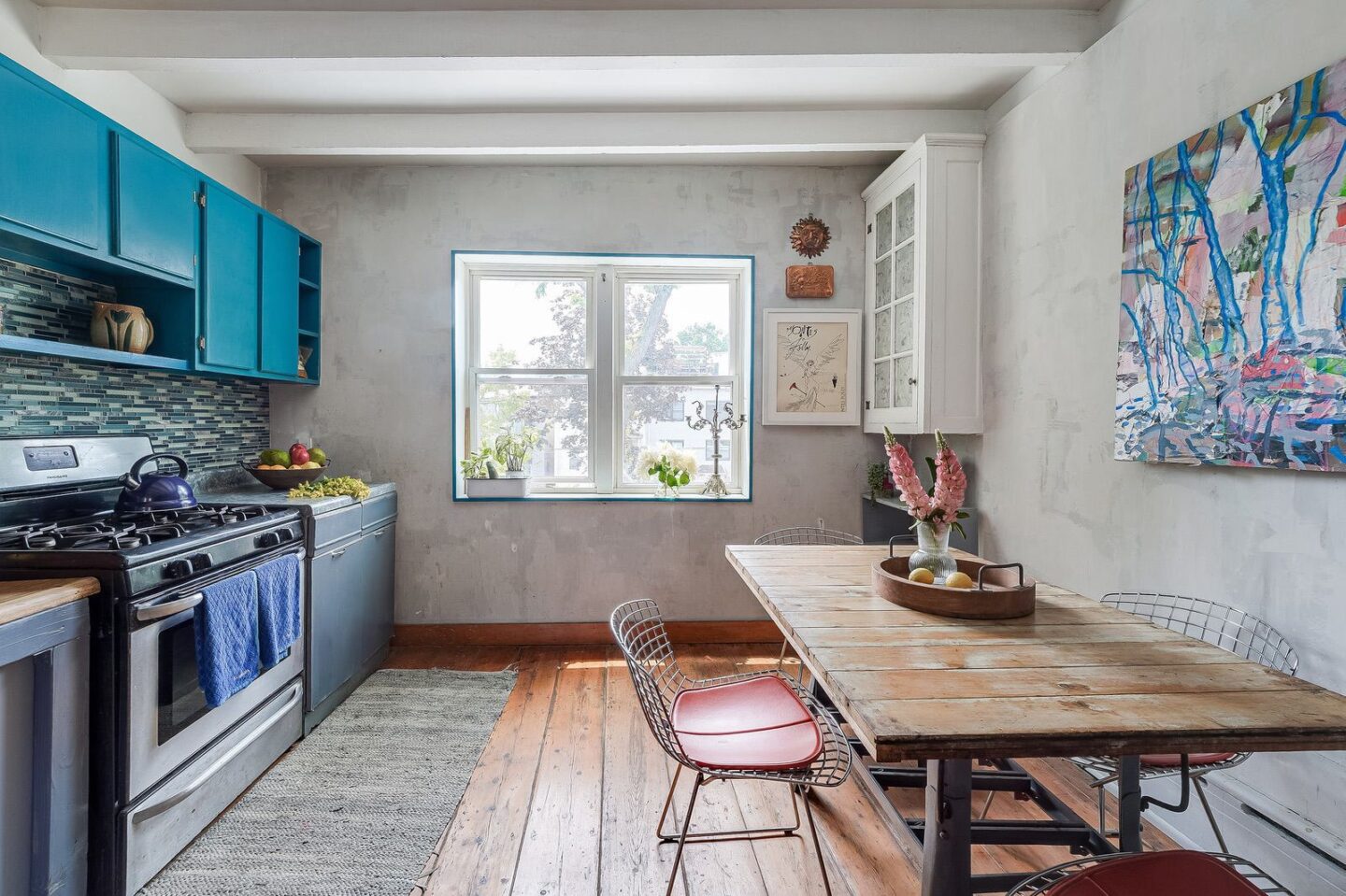 Prepare to be overjoyed by this beautiful home's private outdoor spaces. A front garden and classic front porch welcome you to the property, along with a garden-level pergola courtyard that is perfect for relaxing. The home's enormous backyard offers residents a natural oasis to escape the hustle-and-bustle of daily life. Complementing the interior's preserved, historic charm, the garden is encased with greenery while stone pavers guide you to the far end of the outdoor space. A flat, mulched area provides a place to set up your outdoor furniture and host guests. Alternatively, reimagine this oversized garden and create your own, custom outdoor space to suit your lifestyle.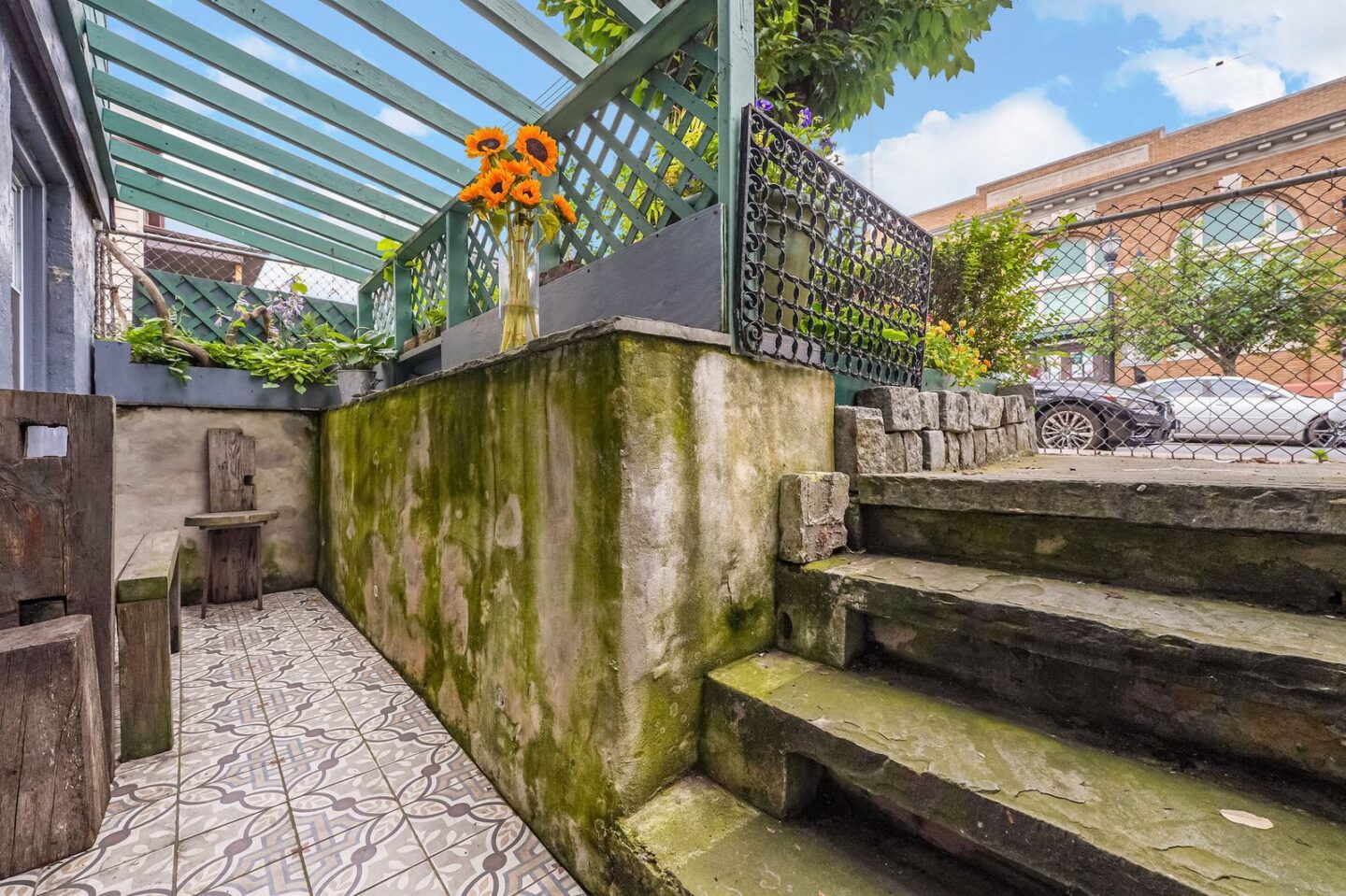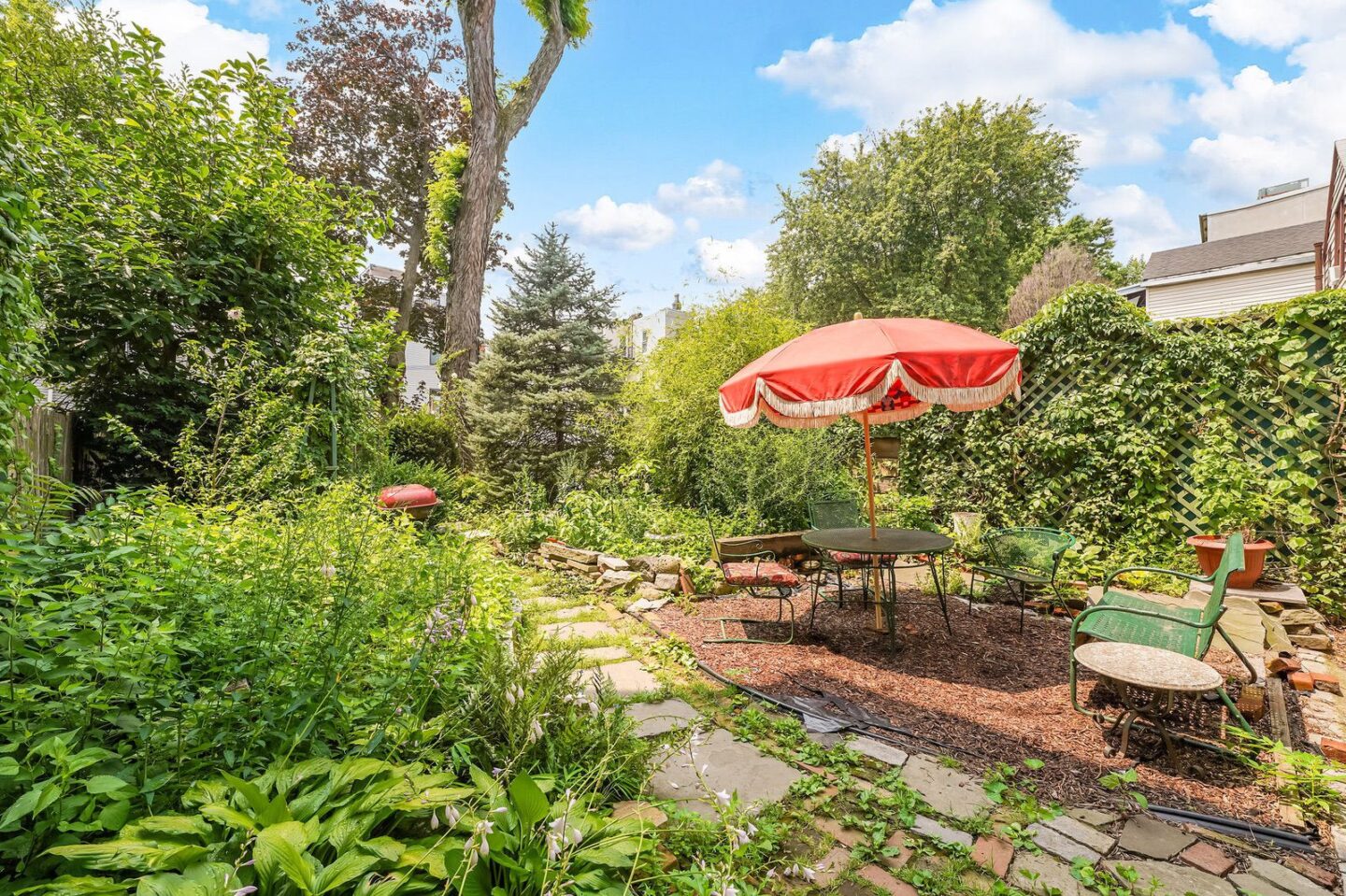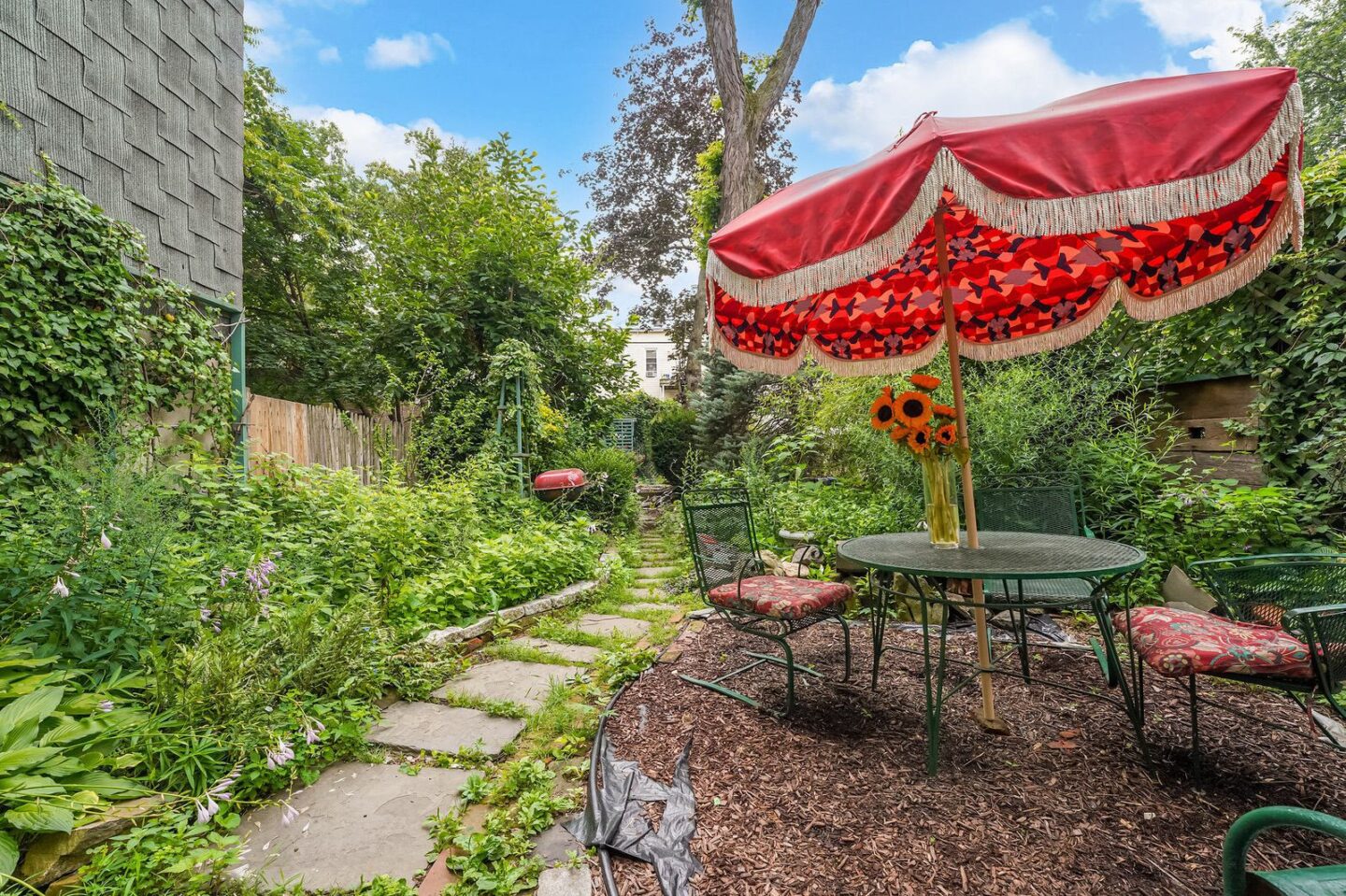 Situated directly between Central Avenue and Summit Avenue, you can easily walk to Pershing Field and Riverview Fisk Park or visit other nearby parks with trails, playgrounds, sports facilities, or pools. When in need of a meal or hot beverage, easily stroll to your favorite local restaurant or café without having to worry about sitting in traffic. Numerous, local retail options, schools, transit, and other amenities complete a perfect urban lifestyle, while views of NYC remind you city adventures are easily within reach.
With historic features and a large backyard, 13 Zabriskie Street is asking $849,000.
A broker's open is scheduled for Thursday, 27th July from 12-2pm to view this charming property.
For more information or to arrange a viewing, please contact Megan Gülick of Corcoran Sawyer Smith at 551-697-5158 or [email protected].
Listing: 13 Zabriskie Street, Jersey City
Asking: $849,000
Brokerage: Megan Gülick of Corcoran Sawyer Smith