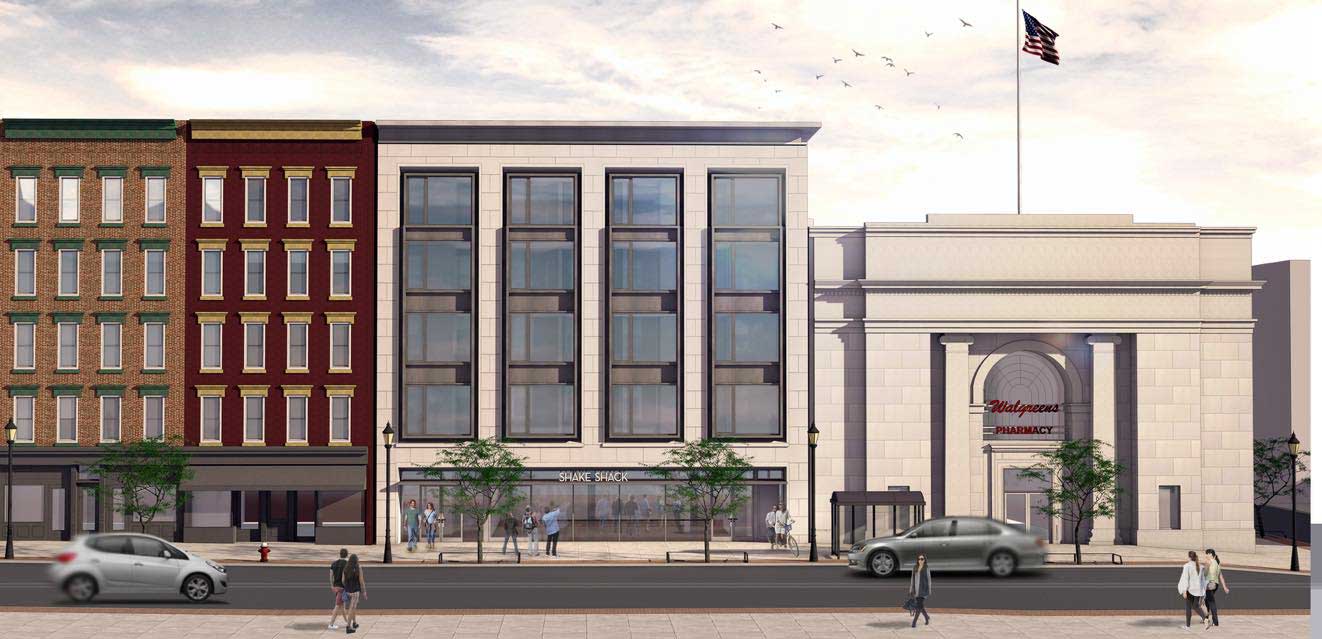 Hoboken's Zoning Board denied an application for a new development along Washington Street earlier this week that was allegedly going to house a Shake Shack, but there's some debate as to the popular burger chain's involvement with a project whose future is now uncertain.
A four-investor LLC was looking to gain approvals for a new mixed-use property at 107-111 Washington Street, currently home to a parking lot for neighboring Walgreens. The development, designed by Nastasi Architects, would have contained 14 rental units that broke down as ten one-bedrooms of varying sizes, two 1,120-square foot three-bedrooms, and two studios, one which would have been set aside as a low-income affordable unit.
The project would have included some outdoor space and a green roof, also creating two paved parking spots in the back of the building off Court Street where the residential entrance would be. The front of the building would feature two separate retail spaces, one of 3,990-square feet at street level and one of 3,970-square feet in the basement.
Renderings of the building included the words "Shake Shack" above the retail's awning, although their connection with the project isn't clear. In the development's application submitted to the city, there is nothing included from Shake Shack that officially indicates that the company had committed to the space, and the restaurant is not mentioned by name in any of the forms, descriptions, or various planning reports.
A rep for Shake Shack told Jersey Digs that "we have no news to share about an opening in Hoboken" and added "as you can imagine, rumors often circulate about our potential openings." But a Zoning Board isn't supposed to take proposed tenants into account when making their decisions and retail leases are never permanent anyway, so Shake Shack's involvement or lack thereof shouldn't have been a factor in the denial.
Update: Shake Shack just tweeted this out:
@hMAG @CityofHoboken @mike_defusco @JerseyDigs @HobokenGirlBlog @TotallyHoboken @HobokenInc @hobokenmenus @dontsithome @HudsonCoView @Gothamist Hey Hoboken, no plans for this site or any other just yet, but we're thankful for the support and hope to see ya soon!

— SHAKE SHACK (@shakeshack) April 21, 2017
Nonetheless, the Board voted the proposal down at their April 18th meeting by a 2-5 vote, likely due to the number of variances requested. Per the application, the developers were seeking variances for lot coverage of 80% where 60% is allowed, density for 14 units where eight are allowed, and parking for two cars where 14 spaces are required.
Washington Street's zoning also doesn't allow commercial space in a cellar area, which necessitated another variance. Because the city determined the retail space in the basement counts as a floor, a height variance for six stories was also needed, bringing the total sought to five.
But is this rejection a case of the Zoning Board doing their job? Or are they overreaching by rebuffing a proposal of this type? While some have railed against the board's decisions for many years, others have suggested a few of the variances this proposal was seeking, particularly the parking one, demonstrate how antiquated the city's zoning code is and perhaps updating and modernizing it would be a more effective avenue to address the issue.
The architect for the project, John Nastasi, did not respond to a Jersey Digs inquiry but told the Hudson Reporter that he's not sure if the developers will pursue recourse about the rejection through the Planning Board.