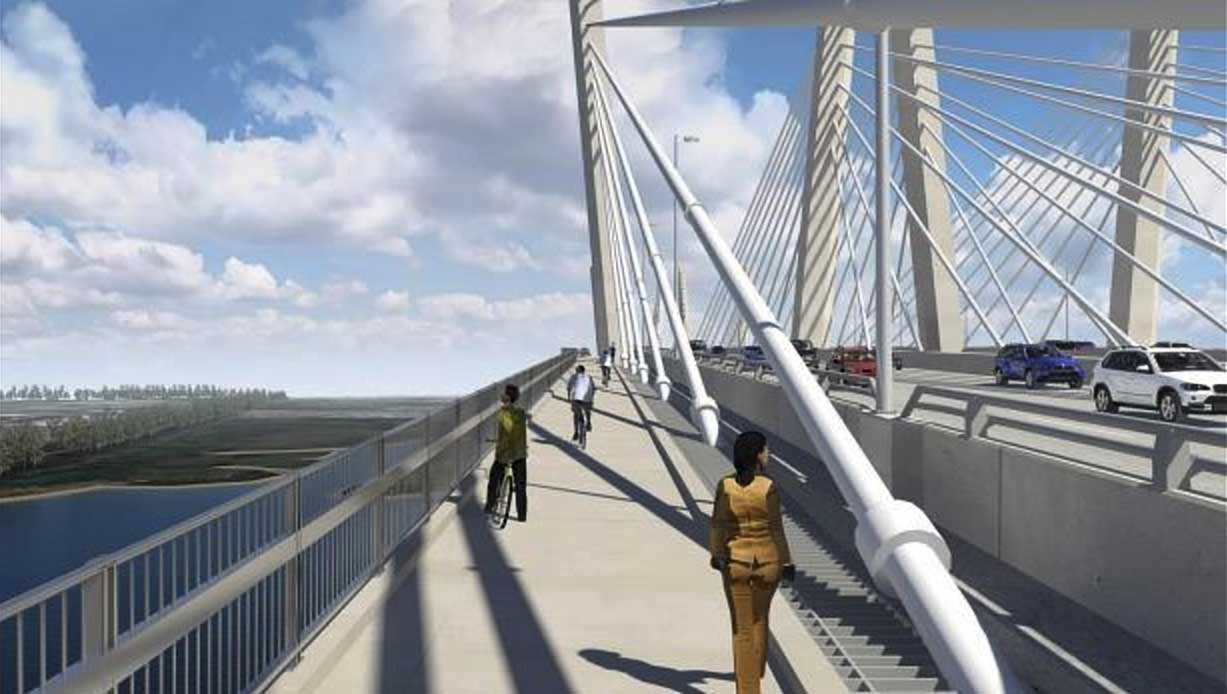 Although Elizabeth and Staten Island are situated directly across the Arthur Kill from each other, getting from the Union County seat to New York City's smallest borough without a car is far from an easy task. The old Goethals Bridge, which was torn down in January after serving commuters for 90 years, did not have an open pathway for pedestrians and cyclists. There are also no bus or passenger train lines that directly connect Elizabeth and Staten Island.
However, traveling between the Garden State and the Empire State by foot or on two wheels will soon get a lot easier as the Port Authority of New York and New Jersey (PANYNJ) prepares to open the pedestrian walkway and bike path on new Goethals Bridge. Steve Coleman, a spokesperson for the agency, told Jersey Digs that the pathway, which will be 10 feet wide, is now expected to open this fall. It will connect Elizabeth's Bayway neighborhood with the Old Place section of Staten Island and be located on the north span, allowing for views of the Manhattan skyline, Brooklyn, Downtown Newark, and the Watchung Mountains in the distance.
Pedestrians have not been able to travel between Elizabeth and Staten Island for decades, but The New York Times reported that when the old Goethals Bridge first opened, pedestrians could cross for five cents while horse-drawn carriages could cross for 50 cents.
Meanwhile, the pedestrian walkway on the west side of the Bayonne Bridge is now expected to open in the summer of 2019, according to Coleman. The pathway, which runs from West 4th Street in Bayonne to Morningstar Road in Staten Island's Mariners Harbor neighborhood, has been closed since 2013 to allow for the bridge to be raised by 64 feet. Those without a car who needed to travel across the Kill Van Kull have turned to the PANYNJ's occasional shuttle bus and the Metropolitan Transportation Authority's S89 bus as alternatives.
Currently, the only way to walk from New Jersey to New York City is by taking the George Washington Bridge in Fort Lee. The Outerbridge Crossing in Perth Amboy does not have an open walkway and pedestrians cannot access the Lincoln or Holland Tunnels.