Home
Tags
Washington Street
The company behind Teachers Village wants to bring 226 units and retail space to a Downtown Newark intersection. Jersey Digs has exclusively obtained renderings of the project.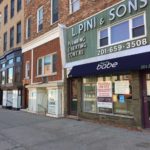 The Mile Square City could possibly be designated Hudson County's next Special Improvement District.
In their request to have the project's deadline extended into late September, the company managing Hoboken's much-delayed street revamp says they will likely need an additional five months to finish the job.
At last night's city council meeting, Hoboken's elected officials quickly approved funding for the revitalization of Washington Street, quite literally paving the way for relief to one of the city's most pothole-ridden roads.