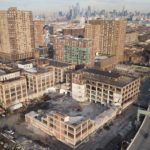 Several companies are bringing over 3,000 housing units, a 1.5-acre park, and more than 73,000 square feet of retail space to a post-industrial neighborhood near the Hoboken border.
Recently, the development team hosted Jersey City Mayor Steven Fulop for a ceremonial ribbon cutting to officially open the new property.
Developers BNE Real Estate Group, Hoboken Brownstone Company, and McKinney Properties recently launched leasing of 260 units at 675 Monmouth Street in Jersey City.
The upcoming development in Jersey City near the Hoboken border will include over 250 units.