A Downtown Jersey City food scene staple will be closing their doors next month as the chef behind Latham House is departing for a new venture.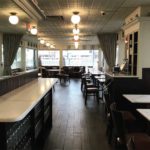 A "daughter" restaurant of Latham House has launched food and drink service via delivery and to-go orders as they look to reveal their newly renovated sit-down space later this year.
After closing abruptly late last year, the folks behind Kitchen at Grove Station promised they'd be back after a short break. Well, that's not looking too good. Word on the street is that a new operator is taking over the space.