Home
Tags
Landmark Developers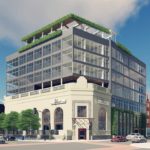 Jersey Digs reported in October that the old Capital One bank site at 201 Newark Avenue in Jersey City had been sold for more than $5 million. Now, we've learned that a 100-room hotel called "The Albion" and a restaurant could come to the premises.
A developer reached an agreement with the Jersey City Redevelopment Agency to build a hotel on NJ Transit-owned property near Liberty State Park.
The Jersey City Redevelopment Agency extended Landmark Developers designation to construct a 120-room hotel adjacent to Liberty State Park.