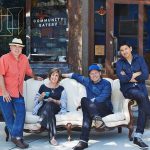 Get to know Journal Square eatery, Square 1, a community eatery that is committed to shared space, connection, good food, and nourishment.
Journal Square commuters seeking a caffeine kicker are going to have to wait a little while longer, as the Starbucks Coffee scheduled to open is now delayed a few months.
A new 16-story mixed-use tower called 289 Jordan is being proposed near the corner of Mercer Street and Jordan Avenue in the McGinley Square neighborhood of Jersey City.
A long-neglected building just a stone's throw away from Journal Square's building boom is finally getting some much-needed TLC, perhaps a small sign that some of the neighborhood's older properties might soon see a piece of the area's revitalization.
Journal Square's big moment of truth is rapidly approaching and the neighborhood is preparing for the pending residential boom in several ways, which include some spruced-up streets, a transit hub renovation, and emerging community organization.
After months of planning, construction is finally set to begin on another new infill residential development in the booming Journal Square neighborhood of Jersey City.
A temporary planetary alignment yields a rare phenomenon – an exciting new listing in Jersey City's popular Island Section is guaranteed to wow visitors with its stately brick face and old world charm.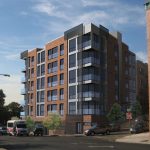 A new development has been proposed for 461-469 Newark Avenue, at the southeast corner of Waldo Avenue, in the Island section of Jersey City.
For decades optimistic prognosticators have predicted Journal Square's renaissance. Largely, it remained just that, a prediction, with little "on the ground" to back it up. That's all about to change.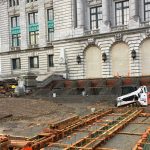 The giant granite stairs leading up to the Brennan Courthouse are currently in disarray for a good reason, as repairs are being made to the century-old foundation in an effort to restore one of the county's landmark buildings.