The Plaza at Harmon Meadow was sold in 2015 by Hartz Mountain for $64 million to the Manhattan-based Carlton Group, according to Robert K. Futterman & Associates. Now, the new owners have big plans for the property.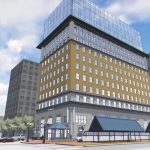 An upcoming hotel in Jersey City is slated to include a rooftop restaurant and lounge featuring views of the Manhattan skyline through a cutting-edge retractable roof design.
The Real Deal interviews the president of KRE Group on his $1 billion luxury rental complex coming to Journal Square Living in East Brunswick, NJ A...
In 2014, plans were announced for a 14-story Marriott hotel over the Grove Street Path Station in Jersey City. The $21 million hotel is...